Continuing our journey through the Similkameen Valley our final stop took us to Vanessa Vineyard in Cawston.
For lovers of fine wine Vanessa Vineyard should be high on your list of places to visit and wines to taste. Known for exceptionally high quality red varietals of Cabernet Franc, Cabernet Sauvignon, Merlot, and Syrah produced in limited quantities by Master Winemaker Howard Soon.
Soon has over 30 years of wine making experience retiring in 2017. For Soon retirement meant embarking on the opportunity to create small lot wines of distinction. He has definitely accomplished his goal with the wines of Vanessa.
If you have not had the opportunity to sample the Vanessa Vineyard wines a good place to start is in their Tasting Room in Cawston. Friendly, knowledgeable team members take the time to introduce you to their portfolio of fine wines. An appointment is always optimum but drop-in visitors are also welcomed. Given the distinctive characteristics of the wines the Tasting Room team member will skillfully walk you through the nuances of each wine. Be sure you have allowed yourself enough time to sip and savour these special wines. I like to enjoy my wine tasting experience by finishing with a charcuterie board and pairing on their patio (advance arrangements recommended).
Tasting the wines of Vanessa Vineyard:
2018 Viognier
Light gold in colour, with aromas of sun ripened peaches and honeysuckles, this unctuous wine is one to savour. With its lovely structure and beautiful mouth-feel, it has just the right amount of acidity to keep wine refreshing and food-friendly. Pair it with a luscious starter like baked brie and apricots.
The Vanessa Vineyard 2018 Viognier is everything I look for in a Viognier, or should I say, rather it doesn't have  the traits of a Viognier which I avoid. No heavy cloying perfumey, after shave scents or taste instead a lighter much more approachable version that many viogniers never achieve. I had first tasted the Viognier in March and I was pleased with how it has continued to improve. On this late May tasting is was superb. $24.99
2018 Rosé

A 100% estate grown blend of 67% Syrah and 33% Merlot picked early to make a dedicated, fresh, dry Rosé. Pale pink in colour with a subtle but complex nose showing strawberry, raspberry, potpourri, red apple, orange zest and some dried thyme and sage notes. The palate is dry, medium-bodied, intense and fresh with crisp acidity and flavours running from dried herbs through tart strawberry and raspberry, orange zest, grapefruit, pepper and with some complex wet stone minerality on the long finish. Pair this with local charcuterie, pulled pork sandwiches, picnics or caprese salad.
Even before you taste the Vanessa Vineyard 2018 Rosé you are intrigued by the delicate colour, beckoning you to sip and savour it's fruity flavour with a delightfully acidic finish. The Vanessa Rosé is quite outstanding and produced in limited quantities. For those wine lovers with discriminating taste you are advised to order this wine sooner than later. $24.99
2014 Meritage

A rich Cabernet-based cuvée, our 2014 Meritage is a softer, yet more complex vintage that has been contoured and sculpted by our winemaker. Elegantly layered with deep berry flavours, this is a wine with excellent structure and concentrated flavour. The ripe, silky tannins are balanced by fresh cherry, dark berry, coffee and licorice flavours. The fruit and oak are particularly well integrated with a smooth lingering finish.
The Vanessa Vineyard 2014 Meritage is one fine wine. Made with grapes from two Bordeaux clones and one Pyrénées-Atlantiques clone the Meritage is rich, soft and still complex enough to be an all around choice for the pairing with the flavourful Wagyu Beef. And don't forget even though the grapes have their roots in France – do not pronounce it with an accent, it is Meritage like heritage. I know this because Master Winemaker Howard Soon says so!
2014 Merlot
Handsomely rich and intensely aromatic, our inaugural Merlot opens with a bouquet of black currant, ripe cherries and cocoa. Ruby in colour, with a palate that delivers dried fruit flavours of currants, apricots and prunes, with smooth chocolate undertones. Careful execution of oak integration, with fine-grained tannins and balanced fruit creates an engaging wine with a silky, polished finish. An exceptional 2014 growing season delivered a fabulous vintage.
Despite Miles disdain this Merlot is a gold standard and delivers exactly what lovers of this varietal are looking for. Deep, dense and full of flavour. A winner at $34.99
2014 Syrah

Dark ruby in colour, this classic Syrah expresses earthy aromas with vanilla, leather, mocha and mint accents. Full-bodied with concentrated dark berry fruit flavours, filling the palate are tobacco, vanilla bean, black pepper, clove and ginger spices. A wine with an opulent mouthfeel layered over well-rounded tannins, this vintage is built for aging with good structure and seamless fruit and oak integration. The lengthy finish shows exotic spices and smoky oak. Enjoy this elegant wine as you might any Syrah based northern Rhône red. Crafted from only 100% estate grown and hand-picked fruit.
Syrah in general, and in particular the Vanessa Vineyard 2014 Syrah, is really the go-to
standard of red wines. When in doubt bring out the Syrah, you really can't go wrong with this juicy, fruity, smooth, big flavour red wine. $34.99
2014 Right Bank
Crafted in a classic "Right Bank" style of Bordeaux, this is a Merlot-dominate Meritage with Cabernet Franc and Cabernet Sauvignon rounding out the blend. Deep garnet in colour with seductive aromas which promise brambly fruit, raspberries, blackberries, and blueberries with smoky notes. The rich palate shows ripe black cherries, blackberries and a dusting of cocoa with a lingering, pleasing finish. An elegant 100% estate wine, this generous vintage demands full flavoured dishes or try with Entrecôte Bordelaise.
After careful consideration of the wine menu at Spirit Ridge Resort's the bear, the fish, the root & the berry we selected the Vanessa 2014 Right Bank. The Right Bank was exceptional, full bodied, boldly flavoured and paired equally beautiful with both the bison tartar and the medium rare grilled bison as well as the dark chocolate dessert. I highly recommend you try this wine. $39.99
2016 Cabernet Franc

Intense aromas of black plum and raspberry meld with complex violet and potpourri floral notes along with some dried sage, black liquorice, charred meat, dark chocolate and a graphite minerality. The palate shows fine, dusty, integrated tannins and crisp acidity along with fresh sun-warmed berries, clove infused shortbread, some pepper and a long finish of salty minerality and dried herbs.
One of my favourite varietals in a BC wine. A high end wine without the high end price tag. This is my idea of a splurge worthy wine. One of the first Vanessa wines to sell out so don't wait too long to enjoy this bold and delicious wine. $49.99
2015 Cabernet Sauvignon

This powerhouse BC Cabernet Sauvignon evokes aromas of dark brambly fruits, raspberries, currants, and chocolate. Big ripe flavours abound with a full palate of fudge brownies, exotic dried fruits, and ripe Mission figs. A well balanced tannin-acid structure delivers a full-bodied wine with a graceful, long finish. While this wine is an ideal pairing for beef, lamb, and game, enjoy as you would any full-bodied red wine.
The Vanessa Vineyard 2015 Cabernet Sauvignon was made to pair with rich premium cuts of beef, bison or a beef bourguignon. The unmatched quality of the 2015 Cabernet Sauvignon was the result of much higher than normal temperatures and a longer than average growing season. This exceptional Cabernet Sauvignon is a Wine Club exclusive. $79.99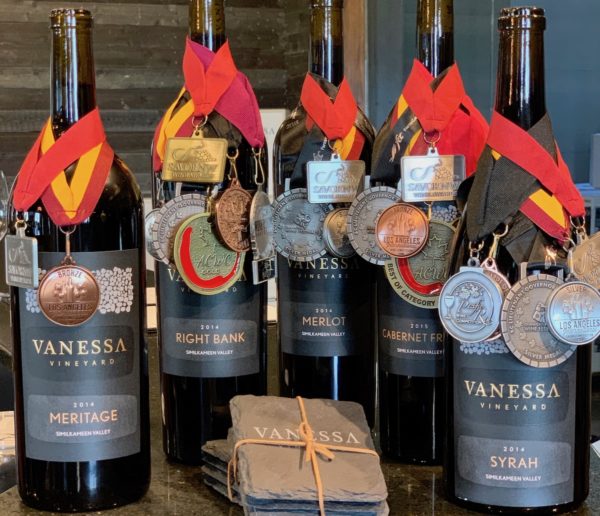 Become a Wine Club Member and enjoy access to scarce and exclusive wines of Vanessa Vineyard. We highly recommend the wines of Vanessa and we think a gift of a wine club membership is the perfect gift for the wine lover on your list, or for yourself.
"Just join the Vanessa Vineyard's wine club and never worry about buying any other wines again, their wines are that good." Sam Hauck, the Wine Teacher
THE WINE CLUB ADVANTAGE
Acquire wines which are not available in any liquor or wine stores
Invitation for The Wine Club member & three guests to our biannual private club parties
Unlimited complimentary private tastings for The Wine Club member & their guests in our stunning Similkameen winery tasting room
Access to limited production magnums & library wines
Seasonal club newsletters
Specially crafted recipe pairings from our restaurant partners
No membership fee
WINE FULFILLMENTS
Six bottles, four times a year
Shipping included in B.C. with the purchase of 12 or more bottles per shipment
Membership is a wonderful gift for family and friends in celebration of life's special occasions.
Refer a friend & receive a special gift!
Available for retail only from Vanessa Vineyard, our wines can also be enjoyed at select restaurants in the Lower Mainland, Whistler, and Okanagan.
Vanessa Vineyard – Our Vision
Our vision is to produce only the highest quality grapes that reflect the terroir on which they grow and, in time, to become one of the best red sites in Canada. For the first five years we were exclusively grape growers, selling our high quality fruit to a select few wineries in British Columbia. In 2012, the decision was made to begin producing small quantities of premium wine. We hope that by using only 100% estate-grown fruit in the making of our wines that we can properly represent the Similkameen Valley and strengthen its reputation as what EnRoute Magazine calls one of the "world's five best wine regions you've never heard of ".
We are committed to achieving uncompromising quality and production efficiency and, most importantly, to respecting the land on which we operate. We aim to bring innovation to the Similkameen Valley, and build a strong reputation in the wine industry through our standard of quality and environmental consciousness.
Tasting notes, featured image and bottle shots courtesy of Vanessa Vineyards. Feature image photo credit: Lionel Trudel. I received four bottles without charge in order to facilitate this review. I purchased an additional five bottles of wine at wine club prices. All opinions are my own.