Day Three and it falls on a #WineWednesday. That seems apropos for the legend that was Harry McWatters. Dubbed the "godfather" of BC Wine meant with great respect for this pioneer of the British Columbia wine industry. 
The 50th vintage of wine is our #FavouriteThings Holiday Gift Suggestion that we personally recommend. This Meritage would make a perfect gift for that important person on your list.
McWatters Collection 2016 Meritage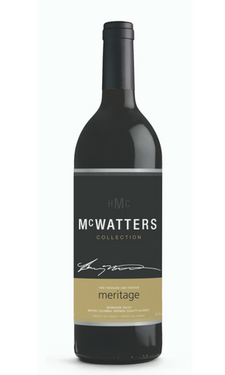 Tasting Notes
Bold and elegant, with velvety tannins, well-balanced fruit and oak characteristics. Blackberry and cassis with dark black fruits and supple texture. This Meritage is crafted with 50% Cabernet Sauvignon, 35% Merlot, and 15% Cabernet Franc. Matured in small French oak casks for 15 months prior to bottling. Ready to drink now, this wine should age well through to 2024 and beyond.
Enjoy with grilled meats, roasts, rich tomato pastas, but best when shared with friends (new and old). It is ready to drink now, but will continue to age gracefully through 2023.
This wine was grown in sandy loam soil on the Black Sage Bench in Oliver, which is located in the southern part of the Okanagan Valley, where we enjoy long hot days and cool nights. The grapes (Cabernet Sauvignon 50%, Merlot 35%, Cabernet Franc 15%) were carefully selected at the peak of ripeness and the wine was matured in small French oak casks for 15 months.
$34.99 To order: 236-422-2556 or email: info@nullencorevineyards.ca
In the words of the late Harry McWatters:
"Thank You…for celebrating my 50th vintage with me. I am so proud of our industry and the role I play. It is gratifying to see how far we have come, and to have the next generation of my family creating the new BC wine movement. As our family's legacy label, I personally guarantee every bottle of this wine."
Tradition. Legacy. Benchmark.
Harry McWatters launched his namesake wine brand in 2011 with a red Meritage blend and Chardonnay. These wines are the two pillars of the McWatters Collection, crafted from premium grapes grown in the south Okanagan Valley. More than a name, this small portfolio is a testament to McWatters' dedication and perseverence of spirit in helping create a world-class wine growing region in British Columbia.
Since inception, production has been and will remain at fewer than 1,000 cases per year. We hand select premium grapes and use French oak barrels to age our wines. Luscious and textured, each wine is structured to cellar for years to come.
We allow the vineyard to speak its best voice – a journey that begins well before first bud break. It's a story that develops through the growing season and past harvest, continuing to the barrel and into the bottle. Meanwhile, next year's journey has already begun in the vineyard and the cycle starts over.
From our cellar to your table, we offer the legacy that is our Collection.
Words in italics are mine, the rest are courtesy of the winery, with appreciation from me. Photo credit: Jeff Bassett. I received with gratitude a complimentary bottle of McWatters Collection Meritage.
[wdi_feed id="2″]