I am a big fan of tasting groups.   Tasting wines blind (the bottles are wrapped in brown paper to conceal their identities) forces you to rely on your senses to assess how good they are.  The latest session for our group focused on BC Cabernet Sauvignon.  Janice decided months ago that this is what she wanted to do, but at first, was unsure if she could find eight cabs from BC.  She knew that a lot of cabernet grown in this province typically ends up in Bordeaux styled blends (Meritage).  During a couple of trips to the Okanagan, she was pleased to find far more examples than she had expected.
Some/most in our group of ten know that BC reds have improved dramatically in recent years, but it is fair to say that some skepticism remained.  Why have red wines and cabernet sauvignon, in particular, gotten better?  There are several reasons including climate change, site selection (finding the best sites suited to each grape variety), better grape growing (viticulture) and better winemaking as well as a growing understanding that BC can make age-worthy wines to rival some of the world's best.
Cabernet sauvignon, the offspring of cabernet franc and sauvignon blanc, is often referred to as the 'king of grapes' and it is grown in most wine-producing areas.   It is a late ripener, so it does best in hotter climates.  France, Chile, United States, Australia, Argentina, Spain, Portugal, Italy, and South Africa are among the biggest producers.
In France, cabernet is the chief component in left bank Bordeaux wines especially Medoc, Graves, Pauillac, and Margaux.
What can you expect when you buy a good bottle of cabernet sauvignon?  Some will be quite fruity, while others can lean more to the savory side.  Typically, it is a big wine with dark, earthy aromas and flavours that can include – dark berries, black cherries, black currants, green pepper, mint, spice, chocolate, cedar and graphite among others.
Cabernet tends to be quite tannic in its youth, especially when it isn't blended, so it benefits greatly from aging for as long as you have the patience.  They can retain their youth for five to eight years and the better ones can continue to improve for twenty years or more.  If you drink them on the younger side, decanting for a few hours will help them show their best.
OK, so much for your cabernet 101.
As we waited for everyone to arrive, we began with a glass of sparkling wine, the delightful Summerhill 1996 Cipes Blanc de Blanc.
Then the session began.  Here are the wines we sampled: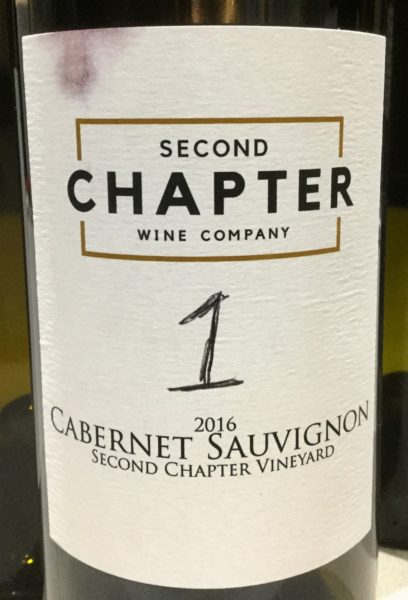 2016 Second Chapter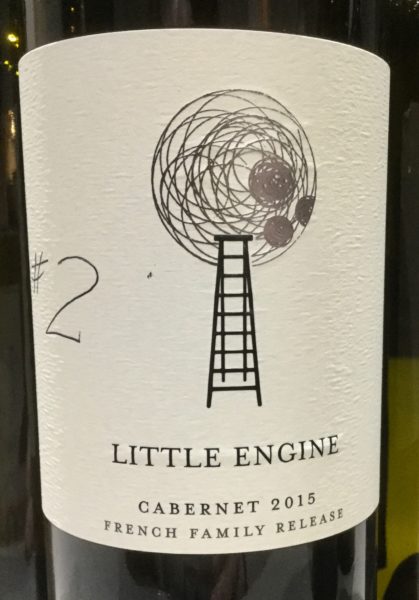 2015 Little Engine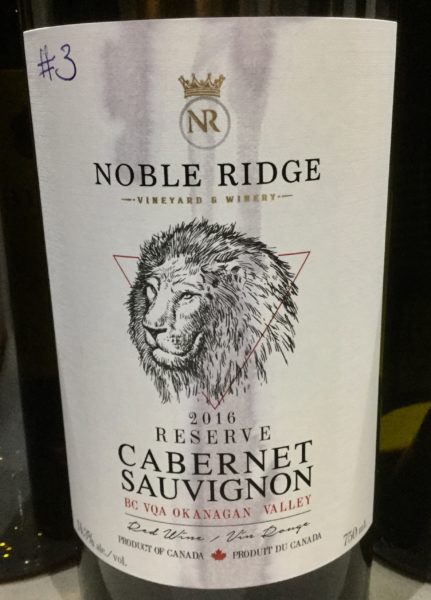 2016 Noble Ridge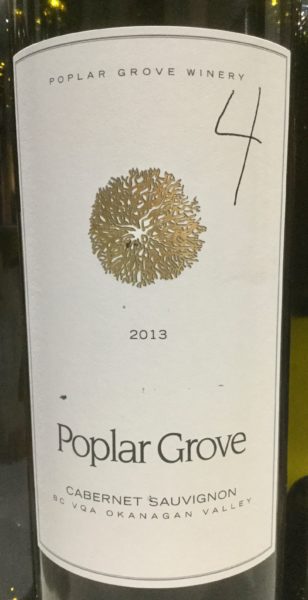 2013 Poplar Grove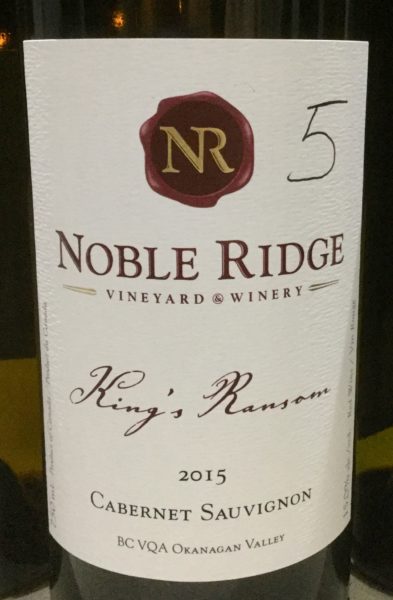 2015 Noble Ridge King's Ransom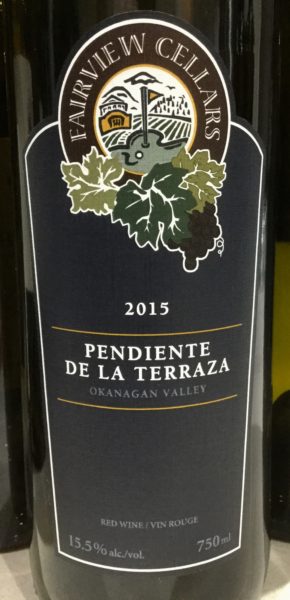 2015 Fairview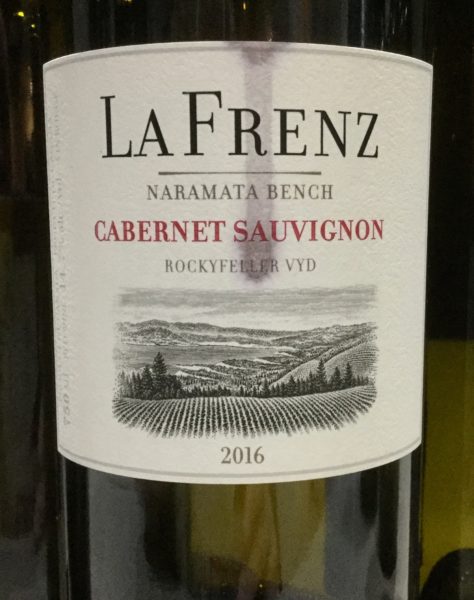 2016 La Frenz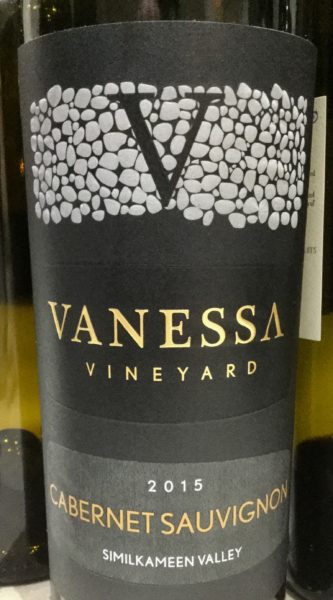 2015 Vanessa Vineyard
With wines of this caliber, it is no wonder that the scoring was very tight.  We use a 20-point system and based on the group average, here was only a 1.4 point spread between the highest and lowest.  None-the-less, here is how they fared.
2015 Vanessa Vineyard
2015 Noble Ridge King's Ransom
2016 Second Chapter
2015 Little Engine
2013 Poplar Grove
2015 Fairview
2016 La Frenz
2016 Noble Ridge
Most reds need time to age, usually in barrels, before being released so are more expensive than white wines.  You can expect to pay $30 to several hundred (even thousands) for top name international brands.
These are 'big' wines so they pair nicely with foods with big flavours, such as pepper-crusted steak.  For cheese, consider aged Cheddar, aged Gruyere or Comté.
All this reading has likely made you thirsty, so do yourself a favour and seek out some of these impressive BC cabernet sauvignon wines and enjoy.
(All photos, except as noted – Sam Hauck) Feature image: stock Pixabay.
[wdi_feed id="2″]