OPEN STAGE
Edition #1
From contemporary and flamenco to tap and Irish dance, Open Stage features five dance works spanning a varied range of styles and approaches by Adelynne Addington, Ana Sosa, Anouk Froidevaux, Jhoely Triana Flamenco,and Tomoyo Yamada/Clala Dance Project. Open Stage is a new program initiated by The Dance Centre, offering the opportunity for dance artists to present short works in an uncurated, shared performance.
The virtuosity of Irish dance meets the freedom and creativity of tap in percussive dancer Adelynne Addington'sTrading Taps, a dazzling display of footwork featuring Addington with tap dancer Jennifer Bishop and Irish dancer Luc Benoit. Addington's dynamic and versatile percussive dance style is deeply rooted in her traditional Irish dance training, and she has performed, taught and competed throughout Canada and Ireland.
Ana Sosa's new solo System of Strings is inspired by the ethereal imagery of the song Sawdust and Diamondsby acclaimed singer/songwriter Joanna Newsom, and combines release techniques and ballet to tell a story through the body. Mexican-born, Sosa has trained and worked in New York City, Mexico City and London (UK) as well as Vancouver, and her work has been seen most recently at 12 Minutes Max and Small Stage.
Anouk Froidevaux's solo Body and Belonging uses movement and voice to approach the body as a meeting point where past, present and future converge, while looking at the climate crisis as a mirror response to the violence inflicted on the female body. A Vancouver native, Froidevaux has been based in Europe for much of her career, working with directors, composers, designers, and visual artists for durational performances, interactive installations, and physical theatre. In 2018, she studied with Anna Halprin and Daria Halprin at Tamalpa Institute in California, after which she created Body and Belonging and premiered it in Berlin in 2019.
Jhoely Triana Flamenco presents Alegrias y Solea, two traditional, contrasting flamenco solos performed by Jhoely Triana and accompanied by guitarist Gary Hayes and singer Emad Armoush. Alegrias, choreographed by Kasandra Lea, expresses happiness; Solea, created in collaboration with Oscar Nieto, explores sorrow and pain.  Born in Colombia, Triana trained at the Goh Ballet Academy, completed a BFA in Contemporary Dance at Simon Fraser University, and now continues her artistic development with Kasandra "La China" and Oscar Nieto at Al Mozaico Flamenco. She has performed at the Kino Cafe, East is East, Victoria Flamenco Festival, Vancouver International Flamenco Festival and Kitsilano Showboat.
Tomoyo Yamada/Clala Dance Project's yane-ura focuses on the embodied energies and histories of abandoned objects. Inspired by broken furniture in lanes of East Vancouver, the work explores embodying the history of each item, the memories they hold and stories that are lost. It is choreographed by Tomoyo Yamada, and performed by Charlotte Telfer-Wan, Ana Daria Vieru, and Athena Lewis. Born in Japan and educated in the US, Yamada has presented her work at  Dancing on the Edge Festival and Vines Art Festival (Vancouver), REVERBdance Festival (New York) and All Japan Dance Festival (Kobe, Japan). yane-ura was first presented as part of the MFA Spring Show at Simon Fraser University in 2019.
Tuesday February 11, 2020 at 8pm
Scotiabank Dance Centre, 677 Davie St, Vancouver
Tickets $10/$18/$28 (sliding scale: pay what you can afford)
Tickets Tonight: 604.684.2787 www.ticketstonight.ca
Info www.thedancecentre.ca
A program of The Dance Centre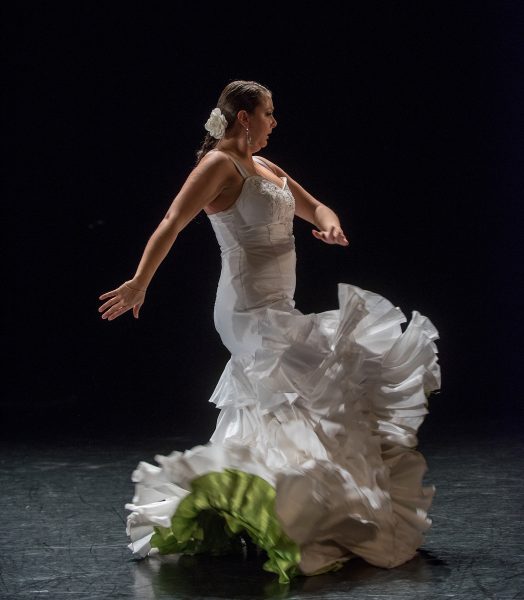 Jhoely Triana  photo by Chris Randle
Open Stage 2020 Performances:
Edition #1: February 11, 2020 Adelynne Addington, Ana Sosa, Anouk Froidevaux, Jhoely Triana Flamenco, and Tomoyo Yamada/Clala Dance Project
Edition #2: May 11, 2020 Anya Saugstad, Lamondance, Rachel Maddock, Sophie Maguire, Voirelia: Dance, Psychology, & Philosophy Hub
The Dance Centre was established in 1986 as a resource centre for dance professionals and the public in British Columbia, and has evolved into a multifaceted organization offering a range of activities unparalleled in Canadian dance. Its goal is to support the development of dance and to develop an environment where it can thrive. The Dance Centre offers programs and resources supporting the professional development of artists, presents public performances and events, manages Scotiabank Dance Centre, one of Canada's flagship dance facilities, and works to promote BC dance.
Facebook.com/thedancecentre | Twitter.com/dancecentre | Instagram.com/thedancecentrebc
Media release and images provided by Heather Bray, The Dance Centre. Feature image Tomoyo Yamada, photo by Lula Belle Jedynak.
[wdi_feed id="2″]