YAYOI HIRANO artistic director of YAYOI THEATRE MOVEMENT Society introduces the newest, and the last, company's production for the stage. IHirano will continue to perform on the stage but just as a solo performer. This is the company's 30 year anniversary production.
The show is based on the Dante's "Comedia" known as "Divine Commedia", Hirano will perform as a solo mime/movement/dance with cellist Marina Hasselberg.
When & Where

Feb. 21 (Fri) 8pm-
Feb. 22 (Sat) 2pm-
Feb. 22 (Sat) 7pm-
at
The Faris Family Studio at Scotiabank Dance Centre
(677 Davie Street, Vancouver)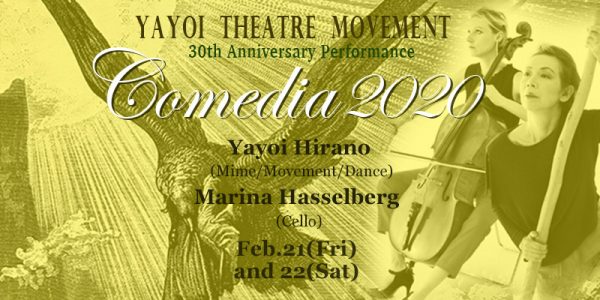 Cast
Yayoi Hirano
(Mime/Movement/ Dance)
Marina Hasselberg
(Cello)
Directorial Advisor : Catherine Le
Lighting Design : Gerald King
Visual Design : Kyle Stooshnov
Photographer : Yukiko Onley
Original Composition : Goushi Yonekura
Stage Manager : Andie Lloyd
Poster & Ad Design : Mariko Ando
Yayoi Hirano and her company have performed for international and national festivals including in Germany and Slovakia and her performances have toured parts of Asia and North America. Hirano has performed in numerous works including Four Seasons (2005, Scotia Bank Dance Centre), Mothers (2007, Waterfront Theatre), Shinju (2008, Performance Works), Alms (Vancouver Fringe) and Gauche the Cellist (2009, Vancouver Island).
Hirano has also collaborated with numerous international artists including Artistic Director of Kokoro Dance, Jay Hirabayashi (2010), Performer, Manami Hara (2008), Canadian photographer Courtney Milne (1995), Japanese Jazz musician Terumasa Hino (1996) and Halina Witek (Holland 1997,1998).
Her collaboration with Bulgarian actor Nikolai Sotirov in both Japan and Bulgaria was awarded Bulgarian Experimental and Avant-garde Performance Art in 2001.
Her recent work, Identity, looked at the life of late Japanese Canadian painter, Roy Kiyooka. For this project Hirano collaborated with Jay Hirabayashi of Kokoro Dance and several other artists from music and visual arts backgrounds. The workshop presentation was shown at Centre A Centre for Contemporary Asian Art in April 2010 and the final presentation was shown in May 2011 at the Arts Club Revue Stage on Granville Island.
In May 2010, she worked with Vancouver Opera on their production of Madama Butterfly as a movement coach.
A life long dream to present a Greek tragedy in Kabuki style let to Yayoi's collaboration with director Peter Hall of Mortal Coli to produce Medea/Rokujo in November 2013 at the Orpheum Theatre Annex.
Since 2011, Yayoi and her company have participated in the Canada Day Parade presenting a traditional Japanese festival dance "Vancouver Ondo" with over 100 dancers.
COMPANY MANDATE
■ To educate and increase the public's understanding and appreciation of the arts by providing traditional and/or contemporary Japanese dance and theatre performances
■ To provide instructional workshops on Noh, Kabuki, Kagura and mime movement
■ To educate and provide opportunities for dancers and choreographers with opportunities to develop through theatrical performances) it also, by way of cross cultural collaboration and experimentation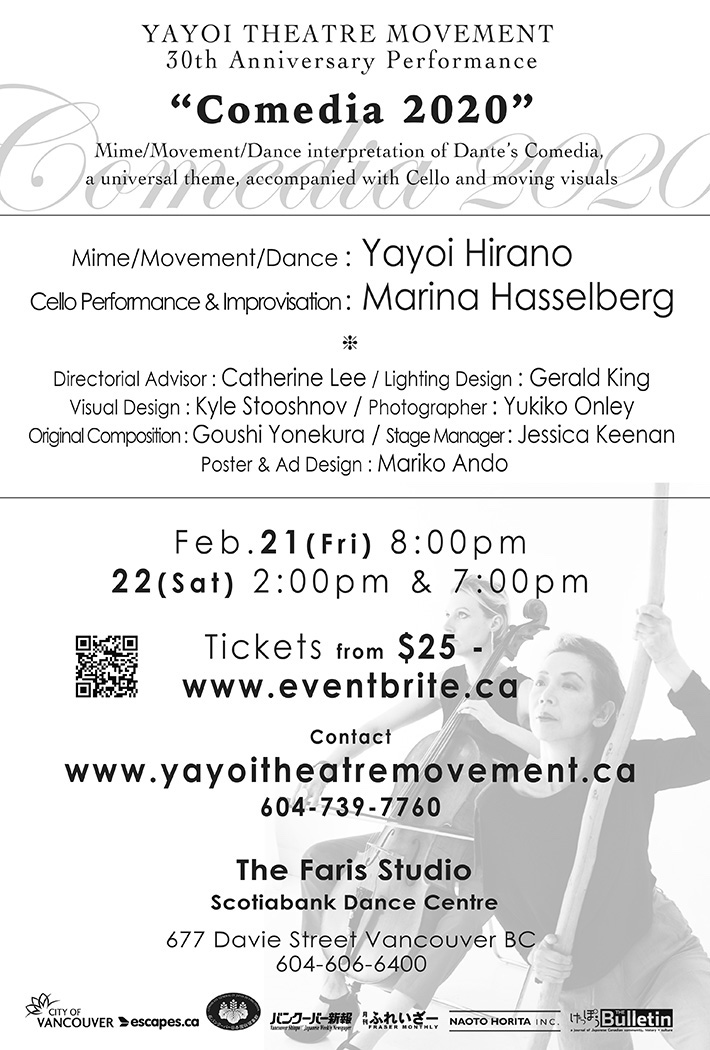 Supported by
City of Vancouver, Consulate General of Japan, Escapes.ca,
月刊ふれいざー, バンクーバー新報, Naoto Horita INC, 月報 Bulletin
[wdi_feed id="2″]