CelticFest Vancouver is Western Canada's biggest annual Celtic festival. CelticFest is a rich cultural celebration of the seven Celtic nations' kinship and community. The festival showcases the best of Celtic music, dance, spoken word and supports the rich Celtic Community based here in Vancouver.
CelticFest Vancouver will return in March 2020 with an ever-expanding line up of guests and events. Starting with a night of music and celebration on February 20th in the Billy Bishop with a Trad Session open to all! Bring your own instrument and join in, or just bring your dancing feet.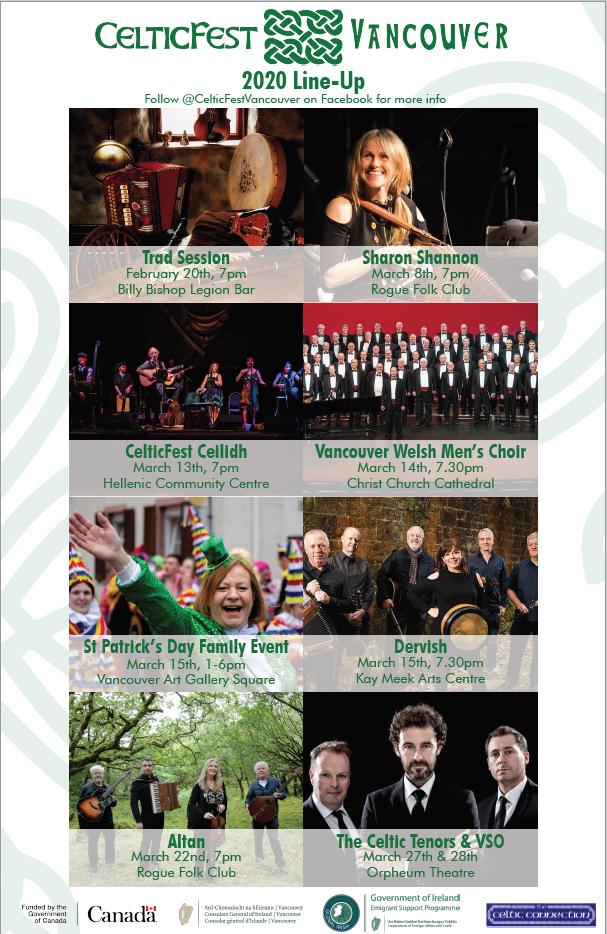 On Sunday March 8th, Sharon Shannon will be back in the Rogue Folk Club again; entertaining the crowd with her accordion and fiddle technique. Beginning with Irish folk music, her work demonstrates a wide-ranging number of musical influences, including reggae, Cajun music, Portuguese music, and French Canadian music. Her gig is bound to sell-out so book your tickets fast at the Rogue Folk Club website. http://www.roguefolk.bc.ca/concerts/ev19122020
Friday March 13th, the Hellenic Community Centre will host the CelticFest Ceilidh from 7.30pm. With traditional Irish performers and dances being taught throughout the night, there is something for everyone here. The beating heart of the CelticFest, the Ceilidh is central to the Fest's ethos and mission; to bring Celtic culture to Vancouver. A Ceilidh is the essential Celtic tradition – so make sure not to miss out on this one! Tickets at this link https://www.eventbrite.com/e/celticfest-vancouver-ceilidh-2020-tickets-73040210235
The acclaimed Vancouver Welsh Men's Choir will perform at Christ Church Cathedral on Saturday March 14th at 7.30pm, their voices will lift the roof with their mix of traditional Celtic Music & Modern songs. https://celticfestchristchurch.bpt.me/
The much anticipated St. Patrick's Day Family Event will kick off on Sunday March 15th, with a free daytime event for families and people of all ages. This year, the Family Day will take centre stage at Vancouver Art Gallery's front square, where there will be dancing, music, kid's crafts, food vendors and more to be announced! Look out for our second announcement with the full list of the day's events coming soon!
On the evening of March 15th, The Kay Meek Arts Centre will host Dervish. Described by the BBC as "an icon of Irish music" and The Guardian as "simply brilliant," Dervish has played its soulful folk drawing from the tradition song cycles of counties Sligo and Leitrim in north-west Ireland. On tour with its new studio release, The Great Irish Songbook, it celebrates the group's 30th anniversary. Tickets at this link https://kaymeek.com/events/dervish
To round off the month of events there will be more live gigs; The Altan Irish Trad band will perform at the Rogue Folk Club on March 22nd. Altan continues to be one of the most important live acts to play traditional Irish music in Ireland and on the World stage. Tickets at this link; http://www.roguefolk.bc.ca/concerts/ev20032220
The Celtic Tenors will perform alongside the Vancouver Symphony Orchestra on March 27th & 28th at the Orpheum Theatre from 8pm. With a polished international reputation and with over a million CDs sold worldwide, The Celtic Tenors offer something truly unique — the skill, range and ability of world-class tenors, combined with the personality and fun of genuine performers. Tickets at this link; https://www.vancouversymphony.ca/event/the-celtic-tenors/
More Events may be announced and added to the program so keep an eye on our Facebook page and Website for more details and ticket links.
Our Family Day will need a team of volunteers. If you are interested in Volunteering please email celticfestvolunteers@nullgmail.com
Any questions about sponsorship opportunities, food vendors & general inquires please email celticfestcoordinator@nullgmail.com
Media release and poster provided by Emma McKeagney.
[wdi_feed id="2″]