VANCOUVER'S PREMIER LUXURY WEDDING SHOW FLEUR RETURNS FOR ITS THIRD YEAR THIS MARCH
An enchanting afternoon awaits at the most exquisite wedding show on the West Coast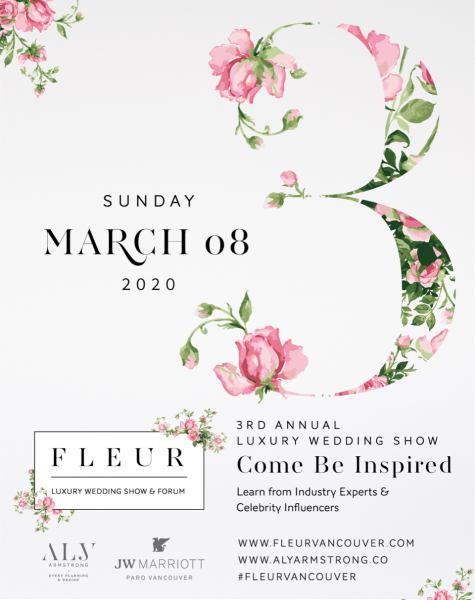 There's no sweeter sound than wedding bells celebrating the union of two souls who promise to love each other forever. Whether you're getting hitched or simply adore romance, you need to attend FLEUR, an exquisite annual wedding show produced by Aly Armstrong Event Planning and Design.
Taking place on March 8 at JW Marriott Parq Vancouver, the glamorous affair is perfect for brides- and grooms-to-be, wedding party members or anyone dreaming about their big day.
FLEUR is a true wedding wonderland, connecting elite industry professionals and celebrity influencers with the public in a magical environment. Guests are spoiled for choice with matrimonial activities, including a riveting panel discussion led by Desiree Siegfried, The Bachelorette (season 9) and designer at Desiree Hartsock Bridal; an immersive stroll through diverse décor concepts with enviable details, enhanced by tantalizing bites crafted by the JW Marriott culinary team; and a fashion show starring a breathtaking parade of classic, sultry and dramatic dresses.
Attendees keen to explore the hottest wedding trends for 2020 won't want to miss the lively breakout session hosted by Alison McGill, editor-in-chief of Weddingbells. Those seeking photography perfection can score a seat at the second breakout session with experts at Blush Boutique, who will share insider tips like creating a shot list for your photographer. Both breakout sessions are first come, first served, so arrive early to claim your spot!
"We are thrilled to return for another season of inspiring brides and grooms, families and loved ones, and anyone seeking support in planning the perfect wedding," said Aly Armstrong, principal planner of Aly Armstrong Event Planning and Design. "FLEUR offers something for everyone – a fun afternoon out with your friends, practical education for your upcoming wedding, glimpses at upcoming trends and breathtaking environments that can be replicated for weddings, parties or simple gatherings. You won't want to miss it!"
Tickets include a welcome glass of champagne, sessions with in-demand industry experts and special gifts from the gifting suite. To scoop up your ticket to this elegant event, visit www.fleurvancouver.com.
About FLEUR:
FLEUR is a luxury wedding show and forum produced by Aly Armstrong Event Planning and Design, and hosted by JW Marriott Parq Vancouver Hotel. It will take place in Vancouver on March 8th 2020. FLEUR is the city's first wedding show to bring together elite industry professionals and celebrity influencers, offering guests hands-on workshops, a panel discussion and fashion presentation in a fully immersive setting.
Media release and images provided by Avery Nicholson, Avenue PR
[wdi_feed id="2″]