Here's a combo you don't want to miss! Bench 1775 has two great wine packs especially curated for Easter – yay! We've added the Spring Fling and Dying for Colour to our #ShiptoSip campaign.
Just check out these colourful varietal packs for your enjoyment. Free shipping on the Easter packs and for orders of 6 bottles or more. Don't miss out, hop to it!
SPRING FLING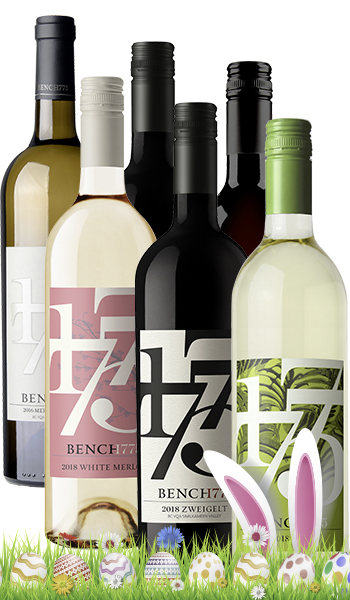 Easter Pack!
Hop into Spring with an assortment of Bench 1775 White, Red & Rose. Easter dinner isn't complete without our 2016 White Meritage to pair with roast turkey! Or, indulge in our 2016 Cabernet Sauvignon Syrah if cooking ham. And if you're keeping it simple this year, plan on having a relaxing weekend away from the holiday gatherings by enjoying any one of these beautiful wines by the glass!
1 x 2016 White Meritage
1 x 2018 VVV
1 x 2018 White Merlot
1 x 2016 Cab Sauv Syrah
1 x 2016 Cab Franc Malbec
1 x 2018 Zweigelt- New Release
*Free shipping on Easter packs
DYING FOR COLOUR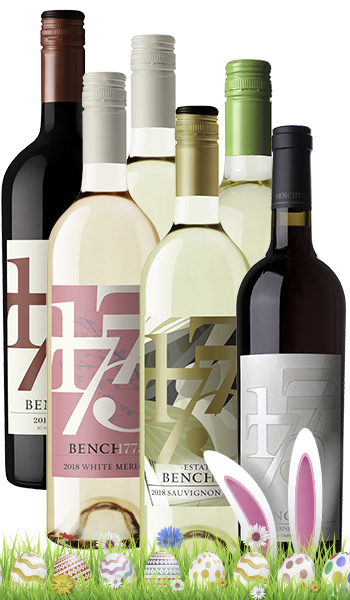 Easter Pack!
If colouring Easter eggs isn't your thing than might we suggest sipping on a selection of our most colourful wines this Easter! Pair our staff favourites with your upcoming Easter dinner and we promise, there's a wine for everyone sitting at your table!
1 x 2018 Getaway Gew
1 x 2018 VVV
1 x 2018 White Merlot
1 x 2018 Estate Sauv Blanc
1 x 2017 Groove
1 x 2015 Cab Franc
      *Free shipping on Easter packs
Images and notes courtesy of the winery.
[wdi_feed id="2″]