Early on a Sunday morning this summer I met up with Winemaker and General Manager of Bench 1775 Val Tait. Tait is a virtual dynamo who is constantly on the go. Tait is the purveyor of an extensive number of wine varieties and I was lucky to find her available to walk me through a curated wine tasting.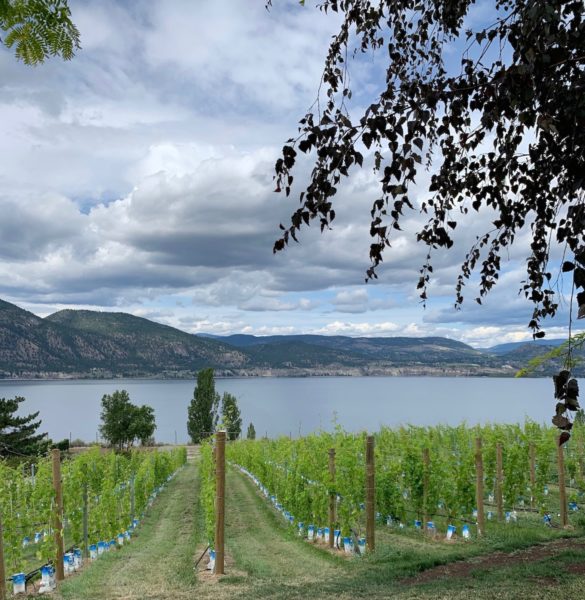 Before we began our tasting we took some time to stroll the grounds and vineyards. The vines are amazingly close and it is interesting to take the opportunity to do a little exploring. The lake is a factor in not only the sweeping views but in how its close proximity affects the growth and ripening of the grapes grown in that vineyard.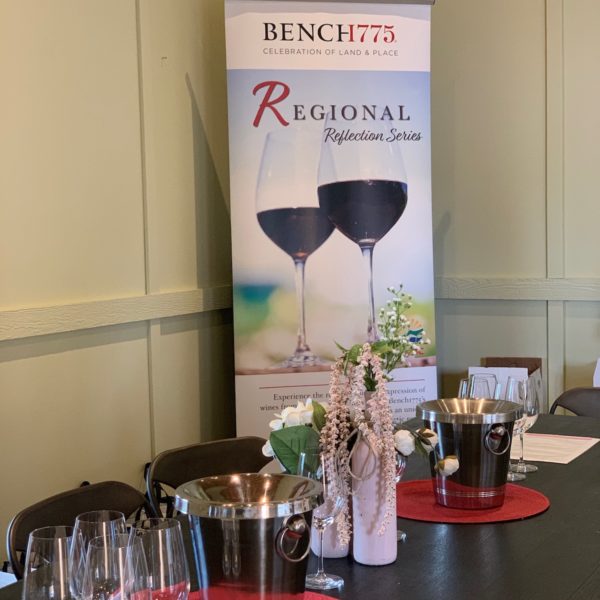 When talking about how the location and other factors have an affect on the grapes and consequently the resulting wines Tait was unapologetic regarding her philosophy of vintages. While some winemakers strive to replicate their wines vintage after vintage Tait embraces the diversity of her winemaking practices. Rather than manipulate the grapes Tait lets the fruit and conditions dictate the end result and the end result is a line-up of excellent wines exhibiting the discriminating methods of the winemaker using grapes from select areas of the vineyard.
Here is what we tasted with Val Tait in the Bench Wine Lounge: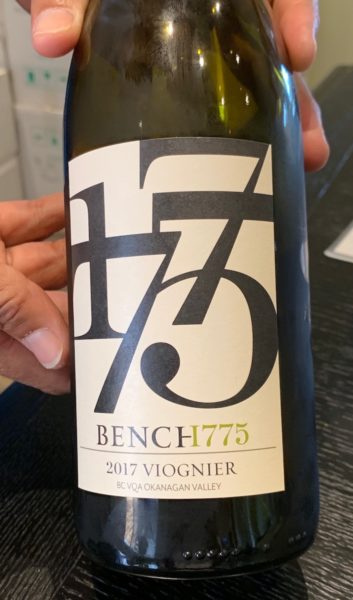 Unfortunately this wine is already SOLD OUT! The new vintage will be available in the Fall and will benefit from the extra time. The grapes will be half from Osoyoos and half from Naramata. I found this wine to be woodsy with oaky scents (no oak), toasty with low acidity. Cold fermentation. This was the first using Osoyoos grapes and the last to be blended with Naramata grapes with a 4 to 6 week window between pickings. It was tropical, mild, delicate with sweet scents, fruity, citrus, excellent taste with big flavour. This was my #1 pick of the whites.
2018 VVV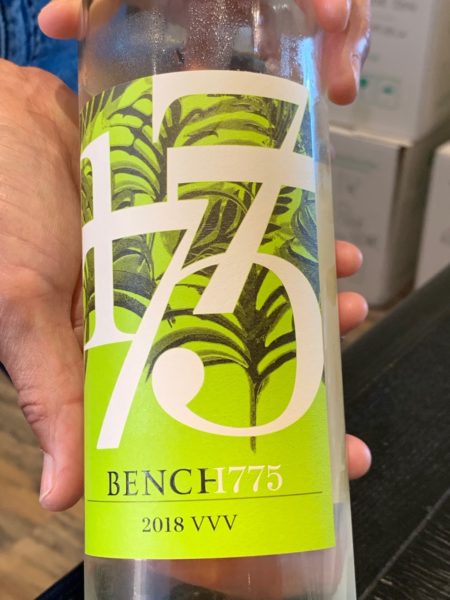 Inspired by Vinho Verde, this refreshing and light citrusy wine is the perfect go-to afternoon sipper. Made from 100 % Viognier, the fruit was picked early to capture floral green notes with a backbone of grapefruit and lemon zest. Enjoy this wine with hot summer temperatures, good friends and lazy beach afternoons. Relax, kick off your sandals and savour your summer moment.
The grapes for this wine came from the Gold Hills Vineyard in Osoyoos and were picked very early at the end of August. It was slightly lower in acidity. It is light, soft and pleasing with citrus aromas. A perfect patio wine. A fun wine. 100% Viognier
2015 Post Modern Chardonnay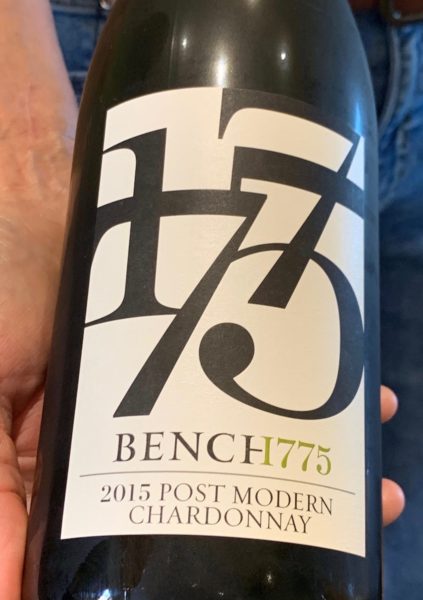 With 2-3 barrels, approximately 25% of the volume in half new oak and the rest in stainless steel. A light wine with typical chardonnay scents of freshness, wet stone. Mellow and inspiring and very nice. This was my #2 pick of the whites.
2108 White Merlot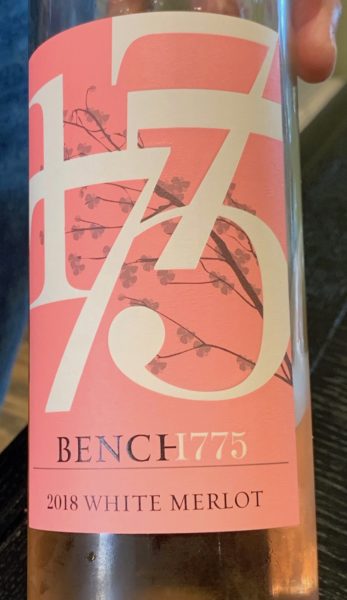 Sorry, this wine is also SOLD OUT!
This was the third vintage of the White Merlot previously with Pinot Gris. It had heavenly aromas of mandarins. 95% Naramata white merlot and 5% viognier. Scents of fresh bread, slight sulphur or egg giving way to citrus, acidic and flavourful.
2015 Cabernet Sauvignon Syrah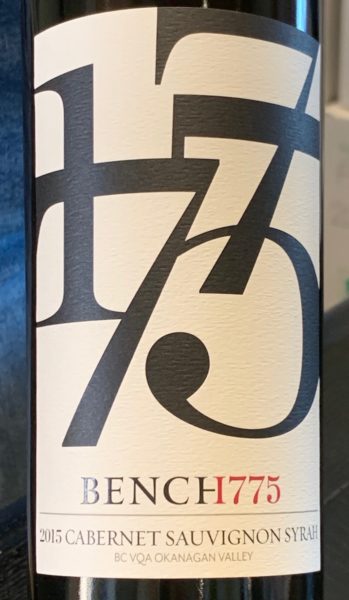 Scents of mushrooms, stones and forest floor. Savoury musk, rhubarb and stinky in a good way. Bold, not tart but with tannins. Heavier. Age for 10 – 20 years.
2015 Cabernet Franc Malbec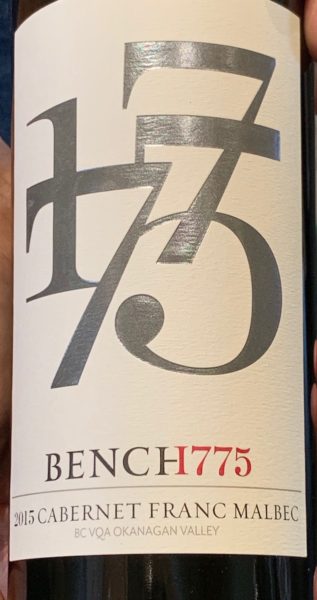 Now available the Gold Medal award winning 2016 Cabernet Franc Malbec.
This interesting and delicious wine is a play between the bright elegant floral notes of Cabernet Franc and the brooding, forest floor earthiness and fruit juiciness of Malbec. If you're a wine geek or love the unusual, then this is the wine for you.
Dark cherries, rich, delicious with very light tannins. Would be lovely served slightly chilled. Earthy but not too heavy, ripe, medium body. Cinnamon, blackberries, green and fresh, herbal aromas. Age for 5 – 10 years.
Following are the wines we tasted in the Bench 1775 Tasting Room:
2016 Pinot Noir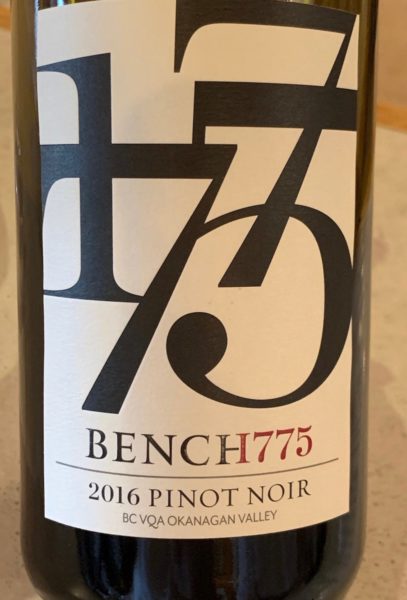 Concentrated aromas of dried strawberries, lavender and tarragon fill the nose followed by nuances of plum and a touch of cinnamon. The palate is juicy and mouthwatering with notes of strawberry jam and Okanagan cherries. Pair this fresh Pinot Noir with mushrooms and caramelized onions, grilled BC Salmon or margarita pizza.
This wine was delicious! Medium to dark fruit aromas. Fresh, sweet scents, medium body. Really good. It would pair really well with food. Blueberry scents. Perfect! My #1 of the reds.
2015 Malbec Similkameen

This wine is generously expressing rich ripe fruit, struck stone and dried berries, with notes of salty umami. Dark and brooding, with soft tannins, it is perfect to drink on its own now or paired with aged gouda, pepper steak, or rich onion soup. 
Brussel sprouts, cabbage, mushrooms with a slight woodiness. Taste of spices, dark fruit. Intense and deep as the scents become more root vegetable. Delicious. This was #1 or #2 of the reds.
Still lots of summer left wine lovers! Enjoy more of the Bench 1775 with their special Summer Sipping packs. To order and to learn more click here.
About Bench 1775
OUR LAND & WINES
Found in the heart of wine country in beautiful British Columbia, Bench 1775 is located on the southern shore of Lake Okanagan. Named after the address of our winery, 1775 Naramata Road, along the beautiful Naramata Bench, Bench 1775 Winery is a celebration of land and place.
Wines from Bench 1775 are produced with the unique expression of fruit grown in the Okanagan Valley from three vineyard locations: Oxbow Vineyard, on the original Golden Mile in Osoyoos, South Okanagan, and at Paradise Ranch Vineyard and Soaring Eagle Vineyard in the Central Okanagan.
OUR PHILOSOPHY
The philosophy at Bench 1775 is to capture the full expression of the grapes grown in vibrantly healthy and balanced vineyards. We then manage the winemaking to allow for the natural expression of the grapes. We believe that great wines start in the vineyard, so all of our vineyard sites were analyzed in detail before being planted with clones and rootstocks best adapted to our soils and the climate of our sites.
Carefully managed vineyards and beautifully balanced wines could not be produced without an amazing team of dedicated and focused individuals all working together. The team, led by Viticulturist/Winemaker Val Tait, is supported by Alain Sutre, our wine consultant extraordinaire from Bordeaux France. Our tireless vineyard workers, our diligent cellar staff and our enthusiastic sales and marketing group round out our team.
Winery tasting notes (in italics) and About Bench 1775 courtesy of the winery. All images, except Summer Sipping pack images, MyVanCity. I received a complimentary tasting for myself and a guest in order to facilitate this review, all opinions are my own. We purchased three bottles of the 2015 Cabernet Franc.
[wdi_feed id="2″]