I enjoy a little mayhem in my life, I also like wine. Mayhem wine is one of my very favourites because, first and foremost, it is so good, and second, it is one of the best priced #BCwines I've come across in a long time.
Full disclosure these just happen to be varietals that I never say no to. At this fantastic price point and tasty, acidic white wines you really should have a stock of Mayhem wine on hand at all times. If I'm drinking reds these two perfectly fit the bill; rich, dark and delicious. Plum good!
If you're like me you may be missing public tasting events and visits to the wineries. The good folks at Mayhem have a cure for that. Can't get out? Want to join in a little wine tasting? Join Winemaker Ajay Chavan and host Terry Meyer Stone Wednesdays at 5 pm on Zoom. We'll taste through some wines, chat a little and maybe… create a little mayhem! Next Zoom experience will be April 1st, so don't be foolish, join in!
Join the Zoom Meeting on #WineWednesday at 5:00 pm
https://us04web.zoom.us/j/236521289…  Meeting ID: 236 521 289  Password: 032343
In the meantime place your order and receive free shipping on six bottles or more! #Shiptosip here are our recommendations for your drinking pleasure.
2018 Pinot Blanc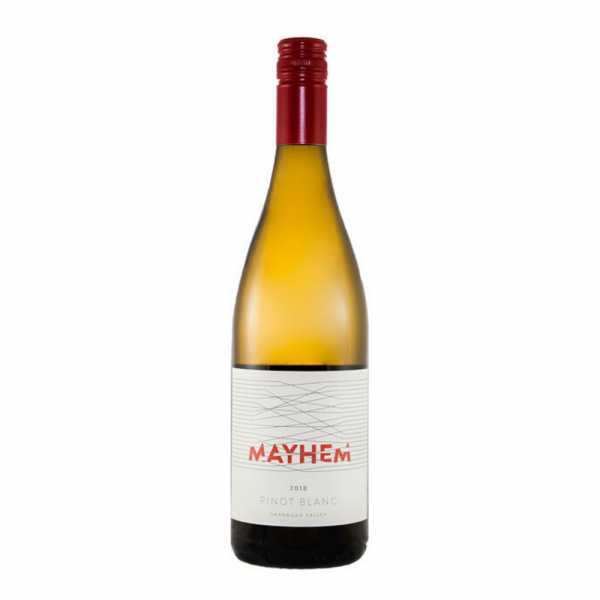 The Pinot Blanc arrived on the crush pad at 23Brix after being handpicked at a vineyeard on the Naramata Bench. The juicy fruit was whole cluster pressed, cold-settled, and racked into two separate tanks for fermentation. Each tank was inoculated with a different yeast. After fermentation was complete the wine in each tank spent time on its fine lees. One tank was left to settle for three weeks, while the other tank went through a lees stirring once a week for those three weeks. Both tanks were then racked off that fine lees, married into one tank, settled and filtered before spring bottling.
The vibrant nose reveals pear, apricot, lemon zest citrus, red apples and elderflower. There is the slight hint of savoury lees resulting from the sur lees time post-ferment. This sur lees characteristic also shows on the palate in the rich texture and round soft body. The palate mirrors the nose with pear, and citrus zest with a touch of tropical fruit.
2018 Riesling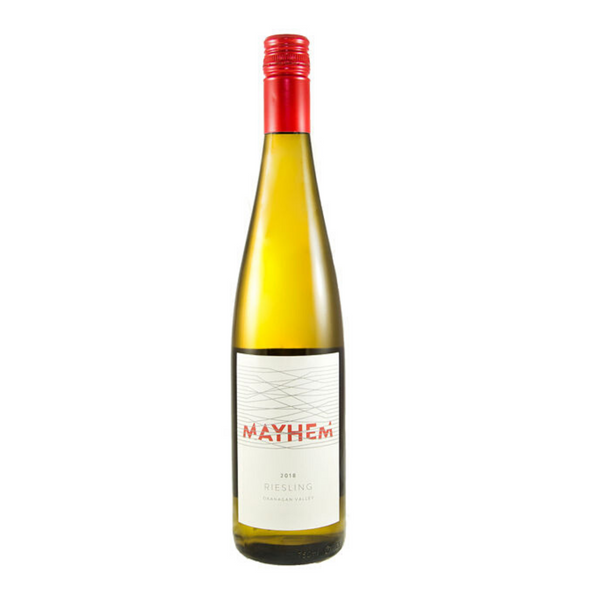 The Riesling was handpicked at a vineyard in Summerland. It landed on the crush pad at 23Brix where is was loaded straight into the press for whole cluster pressing. After a period of cold settling it was inoculated with a single yeast strain undergoing a long slow cool ferment. It was racked off its lees, left to settle, and filtered just before bottling.
On the nose there is a prominent lemon note with softer pineapple and peachskin notes. The palate bursts with Granny Smith apple, lemon and lime, peach and notes of minerality. Bone dry with a thrilling finish.
2018 Gewürztraminer
These grapes are from vines that were planted in 1994 from cuttings of a German variety. Whole cluster pressing was used on the grapes to retain their delicate aromatics. These aromatic traits were highlighted further by employing an aromatic yeast strain during fermentation. The wine was racked off its fermentation lees and left to settle on its fine lees for a short time before bottling.
The nose opens with classic lychee and rose notes, with a touch of ginger and a kiss of coconut. On the palate the lychee follows through accented with notes of clove, mandarin and grilled pineapple.
2017 Merlot Cabernet Franc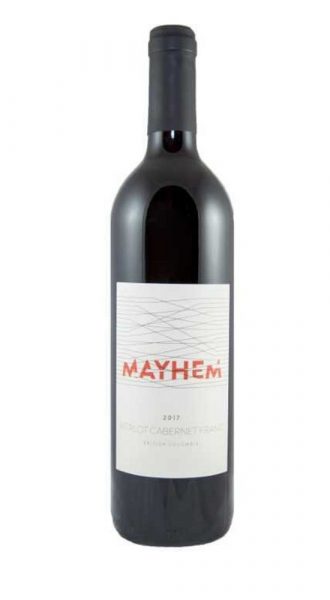 75% Merlot/25% Cabernet Franc.
A portion of the Merlot was sourced from one of our home vineyards on Anarchist Mountain, Osoyoos BC, along with a grower vineyard in Oliver. The Cabernet Franc grapes were sourced from the Naramata Bench. Each variety was processed separately and aged in a combination of new and seasoned French oak for nine months before being married together in the final blend.
The nose reveals herbaceous notes of sage and eucalyptus, followed by hints of wet forest floor, leather and a medicinal quality. A baked cherry bouquet also shows through on the fruit forward palate with juicy red berries and plum. It finishes with a light hint of herbaceousness, integrated tannin structure, and a lingering finish.
2018 Cabernet Franc – New Release!
These Cabernet Franc grapes were sourced from the Munson Mountain area. Fermentation occurred in stainless steel tank with a portion undergoing wild ferment, after which it was barrelled down into only two barrels: one new French oak and the other neutral. Here it rested for 11 months while undergoing natural malolactic fermentation. Unfined and unfiltered.
The nose opens with the fruity characteristics of raspberry and blueberry followed by Red Velvet cake with subtle nuances of tobacco leaf, licorice root, and floral notes.
On the palate, the raspberry follows through accompanied by plum, chocolate, cedar, and cinnamon. A juicy fruit-forward wine with a round savory mid-palate.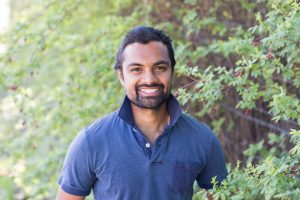 Ajay Chavan, Winemaker
Ajay is Australian born, New Zealand raised. After receiving a cricket scholarship out of secondary school, he completed the Oenology program at Lincoln University in Christchurch, NZ. Ajay did his first winemaking vintage in 2012, followed by harvests in Austria, New Zealand, Australia, and the USA. Ajay set his sights on BC to discover more about this young wine region and be closer to family in the Pacific Northwest.
After working at Checkmate in Oliver for over four years, he is excited about the new challenges and opportunities with Mayhem Wines. He loves Merlot, Riesling and fortified wines and is delighted to work with these varieties, along with others. Off the clock, you are most likely to find Ajay enjoying the Okanagan backcountry, playing tennis or snowboarding.
Ajay Chavan can be contacted at info@nullmayhemwines.com.
Mayhem Wines
During this challenging time, our priority is to keep our customers, our employees and our neighbours safe.  If you are at home and require delivery we are offering free shipping on six bottles or more.  Just use the code  'ShiptoSip' to enable the discount.  Live in Penticton, Oliver or Osoyoos  – we are offering drive by pickup at Meyer Family Vineyards in Okangan Falls.  Shut in the house in South Okanagan?  Send us a note and we'll drop off at your door.
We are in this together.
Wine reflects the ever-changing environment from which it emanates; from the whims of Mother Nature to the unique talents of the winemaker, the effects of time and distance, and even your mood while enjoying it.
It is, perhaps, a distillation of the beauty found in disorder.
Tasting notes, bottlel shots and feature image provided by the winery.
[wdi_feed id="2″]