While we cannot host you at the Tasting Room at this time, every Saturday at 4pm we will be doing a live Saturday SIP (self-isolation party) broadcast on both Facebook Live and Intagram Live featuring our In House Sommelier, Preston Radford. Every Saturday, Preston will be showcasing a virtual tasting of 2 of our new vintages and some of our favourites. Join him for a in-depth tasting of these vintages and some fun and innovative ideas for sequestered serving suggestions.
If you missed our first broadcast you can watch it here!
Starting the first week of April we will be offering CURBSIDE DELIVERY in our local area with deliveries in Penticton on Tuesdays and Oliver on Thursdays. Simply place your order online or call us at the Tasting Room to arrange. If you are slightly outside these communities we can also arrange a pick-up at a safe location. We will also offer pick-ups at the Tasting Room by appointment on Friday/Saturday/Sunday. To ensure the safety of both you, our valued guests, and our staff, these pick-ups will be by appointment only and safe physical distance measures are all in place. Please contact us at the winery and we can arrange a time for you.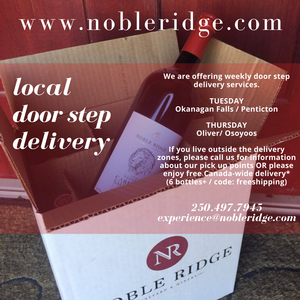 We will continue of offer COMPLIMENTARY SHIPPING for all orders of 6 bottles or more (to major centers, rural or remote areas may incur additional shipping costs.) Just enter the code FREESHIPPING at checkout. All orders placed either online or by phone until the end of April will be entered into a draw for 2 tickets to our Signature Harvest Work Day event (either October 3rd or 4th). Value is $198.00. We look forward to hosting you at Noble Ridge once this situation has been resolved.

We want to take a moment to showcase 2 of our local suppliers here at Noble Ridge, whose products you would normally see here at the tasting room.
Taste of the Okanagan is a local company that produces small batches of Artisan Foods that use in season produce from our local farms.
Seachange Seafood is a BC company that uses exclusively wild salmon and seafood and donates a portion of its profits to local foodbanks.
For those of you in Vancouver here is a great option for Easter Brunch from the Water Street Cafe:
This Easter, enjoy all your Water Street favourites in the comfort of your own home. The Vegetarian Brunch Box includes house-made apple and walnut seitan sausages and roasted vegetables with a house made salsa verde. The Meat Lovers Box includes grilled local pork and leek sausages and ponzu glazed pork belly bacon. Both options include our famous stuffed french toast, asiago and parmesan quiches, crispy potatoes, house-baked croissants, fresh fruit salad, and of course, Easter candy treats! Brunch boxes are created for two and available for $50. Please place your brunch box contactless order 1 day in advance from your pick up at Water Street Café:
These are just 3 of the small BC businesses that we support here at Noble Ridge that embody the BE NOBLE philosophy. We encourage you to visit their websites and support them, we also have a small amount of their products available on our own website for you to sample.

2017  Reserve Pinot Noir

For those of you who joined us last week at Saturday SIP, this was one of the wines featured.  If you missed the broadcast you can watch it here.
Grown using Geneva Double Curtain trellis system, our Reserve Pinot Noir is a beautiful representation of the diversity of our land. We are one of the only wineries in the valley to utilize the GDC system for Pinot Noir. The unique style, depth and complexity truly shine in this stunning vintage.
Deeply complex and bold with intense blue and black fruits with subtle floral undertones. These notes are followed through on the palate with well integrated tannins creating a long lingering finish.
Sourced from blocks 11, 12 and 13 on the north facing slope of the Noble Ridge Vineyard, this vintage was hand picked and sorted on October 11, 2017. Destemmed and cold-soaked for 5 days befor a cool ferment kept between 22 and 25 degrees celsius. Aged in French Oak for 14 months and then bottle aged for 12 months before release.
Classic pairings include duck, grilled salmon and mushrooms. For something a bit more adventurous try with your favourite BBQ and game meats such as quail.
In addition to our New Vintage of Reserve Pinot Noir we have also released our highly anticipated 2017 Reserve Meritage.
2017 | Reserve Meritage
We will be featuring this wine on the April 11th Saturday SIP broadcast.
The 2017 vintage started out with a cold Canadian winter, unusually wet spring and dry summer which contributed to a well-balanced growing season. Slightly lower yields and phenomenal fruit quality delivered an excellent 2017 vintage, characterized by high flavour concentration, moderate alcohol, balanced tannins, complexity and natural acidity.
The 2017 Reserve Meritage continues in the classic tradition with rich aromas of black fruit, tobacco leaf, dark chocolate with undertones of subtle earthiness. On the palate flavours of cassis, licorice and spice with undertones of well-integrated oak. Graceful tannins grace this wine with a cellaring potential of 10+ years.
Classic pairings include steak, grilled lamb, blue cheeses and Portobello mushrooms. For something just a bit different try this luscious vintage with your favourite dark chocolate dessert.
Whites for Spring (3 pack)
Spring is the season of transitions; we are emerging from the cold darker days of winter into the promise of sunshine and summer. Especially in these uncertain times that first breakthrough of a bright warm day brightens the heart and mind. We have put together a 3 pack of our brightest and freshest whites that will bring those radiant and cheerful Spring days to your glass!
1 bottle each of Mingle, Pinot Grigio and Stony Knoll Chardonnay
Complimentary shipping for all orders of 6 bottles or more (to major centers, rural or remote areas may incur additional shipping costs.) Just enter the code FREESHIPPING at checkout.

After their winter sleep the vines are starting to wake up! This shot is of one of our Merlot vines from Block 4 with its bud just starting to peek through.
Benoit and his awesome team continue their work in the vineyard and with acres of vines to coax out of their winter slumber, it has been fairly easy for them to maintain social distancing.
Pruning was slightly ahead of schedule and if the weather co-operates, we are ready for spring and look forward to bud break!
We wish to thank you for your continued support of Noble Ridge Vineyard and Winery during these uncertain times due to the continued situation with COVID-19. 
This is a very unprecedented time for everyone. Remember to stay home, and check-in with loved ones. If you can, please help support local businesses to keep going at this time, buy local wine, order gourmet food online, call your favourite small restaurant to order take out. Try to take things one at a time. We will get through this. Stay Safe!
The Noble Ridge Vineyard and Winery Team