We hope that everyone had a lovely Thanksgiving weekend and had a chance to pause and reflect upon the good things in each of our lives. Here at Noble Ridge, we continue to be so grateful for the support and love all of you have extended to us throughout this crazy and unusual year. Thank you.
For the past 2 years, we have chosen to share our good fortune with 4 organizations that we believe deserve ours and your support – West Coast Kids Foundation, Vaseux Lake Stewardship Associaton, South Okanagan Women In Need Society and the South Skaha Housing Society. To learn more about these 4 Noble Causes, please go to www.nobleridge.com and see how you can support them and/or get involved too.

Harvest continues in the Vineyard. Benoit and his team have been working diligently, dodging Mother Nature's heavy winds, rain and hail and enjoying her sunshine. To date, the Pinot Gris, most of the Pinot Noir and Chardonnay, and some of our Merlot are safe in the tank. The rest of the Merlot and our Cabernet Sauvignon will come in later this month.
"What stands out in this vintage so far is the most amazing month of September. It really helped to bring out the fruit and flavour development. I'm a happy guy!"  Benoit Gauthier, Winemaker. Oct 2020.
Visit our Facebook page to view the videos in the vineyard.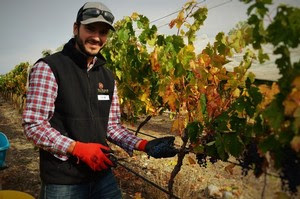 Featuring | 2019 Noble Series
Stony Knoll Chardonnay
Aromas of Bartlett Pear and Orange Zest are enhanced by a well-rounded mouthfeel and balanced acidity. Notes of crisp apple, citrus and pronounced minerality lingers on the finish.
Pair with shellfish, Paella, chicken in a cream sauce and soft cheeses.
Reserve Series | 2018 Reserve Chardonnay
Aromas of ripe orchard fruit with subtle notes of citrus and tropical notes. On the palate notes of toffee, melon and burnt sugar. A long and lingering finish with hints of baking spice and caramel.
Serve with rich shellfish, white meats and truffle popcorn.
As we continue to navigate the Covid-19 situation, we are offering complimentary shipping for all orders of 6 bottles or more.
*No promo needed as it will be applied automatically at checkout.
*Shipping to major centres – Rural locations may incur additional shipping costs. Please contact us for details.
Not yet a Member of The Noble Round Table? 
There are a few spots available before we have to cap it again. As part of the Round Table, you will have privileged access to the greatest selection of Noble Ridge wines including King's Ransom and Noble Knights and Dames Vintage Series plus much more!
EXCLUSIVE: From November 1 – 30 only, we will be offering access to an exclusive, curated list of Noble Ridge wines, to our Round Table members. First come, first serve – some offerings are very limited and we expect them to sell out quickly. To gain access to this list, you need to sign up to the Round Table.
See here for more information or email Preston@nullnobleridge.com.

In the Tasting Room
OCT:    Open Daily 11 am – 4 pm
We have decided to extend our Tasting Room hours until at least the end of October. We will continue to be open daily, 11 am – 4 pm. Reservations are recommended, as there is limited space inside. Please make your reservations at www.nobleridge.com. Regular tastings are available on the hour; Premium tastings are available by reservation at 11:00 am 1:00 pm and 3:00 pm daily.
If you are in the Okanagan Falls area, drop by and say hello, taste some premium wines and enjoy our spectacular view of Fall in the Valley.

 Great Canadian Kitchen Party, Vancouver
  Noble Ridge's Meritage is the choice of Chef Roger Ma   (Vancouver's Sutton Place's Boulevard Restaurant) as he competes in the 2020 Great Canadian Kitchen Party. He will compete against 4 other top chefs from the Vancouver area. The purpose of the GCKP is to support Canadian chefs, musicians and our three chosen charities: MusiCounts, Community Food Centres Canada and B2ten.
For further information, please go to www.greatkitchenparty.com or contact lisa@nullcomlinks.ca.
  Winery Dinner at Oak Bay Beach Hotel, Victoria    November 12th  
 SOLD OUT
Leslie and Jim D'Andrea will be in attendance at one of our only  2020 off-site Winery Dinners at the beautiful Oak Bay Beach Hotel in Victoria. Check out the November month at oakbaybeachhotel.com for more details.    
 Beautiful handmade silk scarves 
Who doesn't love handmade gifts? Give a little of yourself this season and have some fun in the making. Or spoil yourself and create the perfect, custom accent in your favourite colours. Join Krista and the team here at Noble Ridge as we explore making beautiful silk scarves together.
DATES:   Sat, Oct. 24             and          Sat., Nov. 21
TIMES:   11 am; 1 pm; 3 pm       (Maximum 6 people per time slot)
PRICE:    $53.00       (Price includes all materials, instruction and a glass of Noble Ridge wine.)
MORE INFO:              www.nobleridge.com
     Holiday Cheer Open House 
SAVE THE DATE!
The wineries of  Okanagan Falls|Skaha Lake Winery Association are once again opening up their Tasting Rooms to help you celebrate the holiday season. At Noble Ridge, we are planning a few extra special things – think Library wines and Vertical tastings – all complimentary and COVID safe. Mark your calendars!
DATES:   Sat, Nov. 14             and          Sun., Nov. 15
TIMES:   11 am; 12 pm; 1 pm; 2 pm; 3 pm       (Maximum 3 groups of 4 people per time slot)
RESERVATIONS RECOMMENDED.
MORE INFO:              www.nobleridge.com/events
Cornucopia 2020
Whistler Cornucopia is looking a little different this year … while there will be no large events such as Trade or Crush, they will be moving ahead with Drinks Seminars every weekend in November. Noble Ridge will be participating on the weekend of Nov. 21-22 as part of the seminars talking about Okanagan Falls. One seminar focuses on Sparklings from our area; the other will address the big reds coming out of Okanagan Falls. Want to learn more? Go to https://whistlercornucopia.com.  for more information.
We trust that this finds you safe and healthy, even in these times, creating premium wines that share and enhance life experiences continues to be a driving force for us. We have been overwhelmed with the kindness and support all of you have shown towards Noble Ridge, both with your purchases and your thoughtful and generous response as we adjust to our new world. Thank you!
Be Safe, Be Kind and Be Noble
The Noble Ridge Vinyard and Winery Team
Information and images provided by the winery. If you would like to be featured on MyVanCity.ca please connect with your pr agency or email myvancityval@nullgmail.com for full details. Wine samples accepted for review.