March Upcoming Events Calendar
Looking for something fun to do this month? We've got your covered.
International Women's Day Dinner – March 8th
Reserve your Seat
Join guest speakers Leslie D'Andrea and Katherine Gaulin and our neighbors from Liquidity Bistro at the Fourth annual International Women's Day dinner. Hear remarkable speakers and raise money for mental health awareness inititatives.
Tickets are $165 each, but your impact is priceless. #EachForEqual
*All ages welcome.
BC VQA Wine Info Centre – March 21st
Complimentary
Come by the BC Wine Info Center from 12pm – 4pm to sample a complimentary flight of Noble Ridge wines. Browse the shelves for beautiful VQA certified wines and chat with our Wine Club Concierge, Katrice, about how to signup for our exclusive Noble Round Table Wait List.
Join our owners in Edmonton at The Butternut Tree – April 2nd
Check out the menu and reserve your seats here | Tickets $160.00+
Savour a seasonal 5-course meal prepared by Chef Downey at the Butternut Tree, a rustic-modern restuarant highlighting Candian grown ingredients, from 6pm- 9pm. Each course is perfectly paired with 6 signature Noble Ridge Wines that will be presented by our owners, Jim and Leslie D'Andrea. If you're in Edmonton the first week of April, this is a must-attend evening!
*Must be legal drinking age to participate.
WINE OF THE MONTH
Featuring| 2018 Pinot Grigio
From our Noble Series, this signature single-varietal is a standout. Our 2018 Pinot Grigio is made in a dry Italian style with fruit-forward notes of crisp lemon, grapefruit, and Asian pear.
Our winemaker produced 581 cases of this wine using cool fermentation. This process takes longer, but enhances the wine's fruity characteristics, preserving the complex expressions of the grape. The fruit is elevated by a refreshing and balanced acidity that lingers to the finish.
Our Pinot Gris grapes are grown using a Modified Scott Henry trellis system on Northern facing slopes at the very top of our estate where air flow between Skaha Lake and Vaseaux Lake is maximized. The minerality of Okanagan Falls' unique Glacial Fluvial soils (sand, gravel and rock deposits) translates beautifully through this wine, offering a true sense of place.
If you're looking for an affordable, easy-going, yet sophisticated white that can hold up to social gatherings and pair like a gem, then this is the wine for you. Add this treat to your weekly roster.
We are thrilled to bring you a selection of exciting new vintages and first-time releases – coming to you this May. Stay tuned to the Here's What's New Email for the official Spring Release announcement!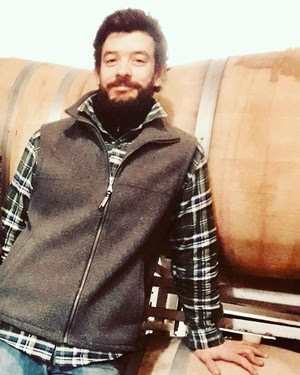 MEET WILLIIAM
Meet William, our Assistant Winemaker, and the newest member of the Noble Ridge team. William studied viticulture in the Jura region of France, specializes in natural fermentation, and his favourite varietal is a tie between Gewurztraminer and Pinot Noir.
Here's what he wants you to know: "I am eager to hear your feedback on the new wines being produced and I hope my personal touch will please all of you!"
We are thrilled to welcome him warmly to our team. Give Will a wave if you see him around the ridge.

Our goal is to provide premium quality wine, and memorable experiences. We value your opinions and feedback. Please let us know if you have comments, questions, or concerns: experience@nullnobleridge.com
-The Noble Ridge Team
Noble Ridge Vineyard & Winery
2320 Oliver Ranch Rd, Okanagan Falls, BC V0H 1R2 tel: 250.497.7945
http://www.nobleridge.com
Information and all images courtesy of Noble Ridge Winery and Vineyard.
[wdi_feed id="2″]