This is a timely suggestion as the next shipment happens this month – May is a good month to #JointheClub of your favourite winery. The first shipment of 2020 is in May! Special pricing for the May shipment with 20% off both packages.
Here are some blessedly good reasons to join the Blasted Church Flock Wine Club:
THE FLOCK
Welcome to our wine club, The Flock. Members enjoy having curated wine packages shipped triannually, free shipping on any order and more.
Packages are exclusive to members only.
3 shipments a year: Spring, Summer and Fall
Two Packages to choose from: Renaissance (most popular wines) or Revered (reserve wines, exclusive to winery, best of the best!).
Commitment is 6 or 12 bottles with each shipment.
Renaissance
From: $145.00
package size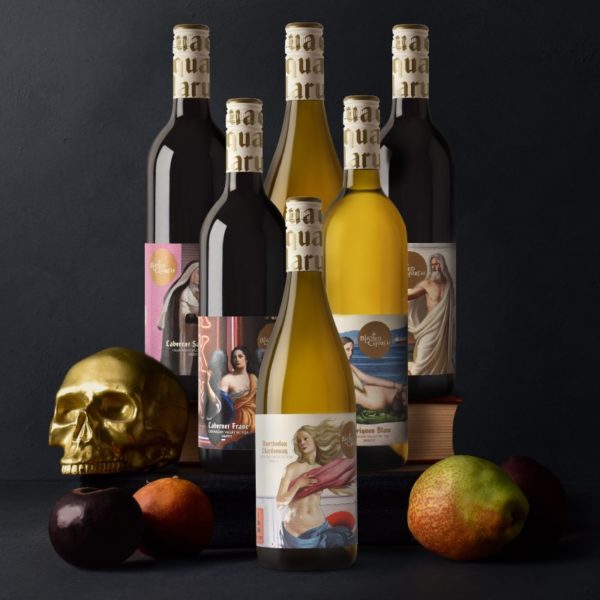 next shipping date: may 2020
The Renaissance Flock contains a divine assortment of classics: 2016 Cabernet Franc, 2018 Pinot Noir,
2018 Big Bang Theory, 2018 Viognier, 2018 Sauvignon Blanc Semillon and 2018 Hatfield's Fuse.
special pricing for the May shipment with 20% off both packages
Revered
From: $240.00
package size
6 bottles ($240.00) or 12 bottles ($480.00)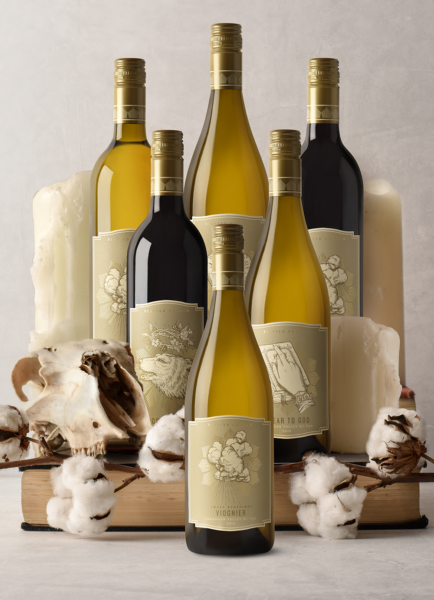 next shipping date: may 2020
Our Revered Flock is an Almighty collection of our most sacred wines: 2017 Sacrosanct,
2017 Small Blessings Malbec, 2016 Nectar of the Gods, 2016 Bible Thumper, 2016 Swear to God and 2015 OMG.
special pricing for the May shipment with 20% off both packages
Miracles Happen, on Schedule.
Join the Basted Church Flock and enjoy privileged access to our very best wines, thoughtfully selected and conveniently shipped on a recurring schedule. Choose from our Renaissance or Revered Series in 6 or 12 bottle selections, shipped three times a year: spring, summer and fall. The very best way to enjoy BC's most divine wines.
Benefits
Wondrous, free shipping on all orders (to your preferred address in BC or across Canada).
Get early dove access to exclusive, library and award-winning wines including limited-released featured packages.
Receive a $15 gift card plus a complimentary gift in your first regular shipment.
Front pew ticket access to special Blasted Church private tasting and social events.
Waive of the "Alms for the Pour" tasting fee and the top tier "Small Blessings" tasting fee at the winery store for you and a guest.
Be sure to tell us you are Flock upon your visit to the winery so we can give you the VIP treatment!
Our Marriage Contract with Flock
With your blessing, an email notification will be sent out approximately two weeks prior to your scheduled recurring shipment.
You can speak up to on week prior to a shipment, or else forever hold your Peace. Simply write your request to theflock@nullblastedchurch.com to change your account details or create alternate shipping arrangements.
Heaven forbid! No substitutions are possible.
Flock members must be of legal drinking age. Your wine package must also be received and signed for by someone of legal drinking age. To save others from temptation, your parcel cannot be left at a door unattended.
Have mercy! The Flock benefits cannot be combined with any other Blasted Church offer. You may now kiss your wines.
special pricing for the May shipment with 20% off both packages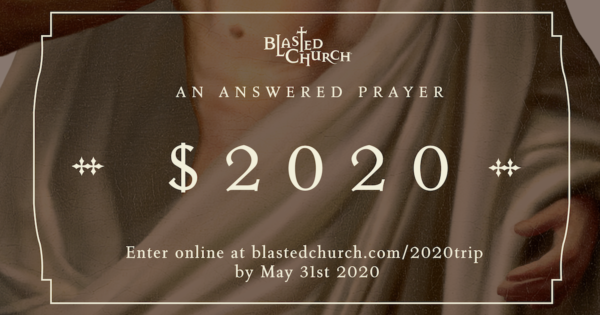 ENTER TO WIN A $2020 GETAWAY*
(*) Yes, a "getaway".
Imagine where you'd travel to if you won a dream $2020 getaway. The grocery store? The pharmacy? Amazon.ca? The bank? So many wonderful choices in this golden age of social distancing!
Read the contest entry regulations, and enter at www.BlastedChurch.com/2020trip before May 31st, 2020. Good luck!
Blasted Church
In 2002 God herself took over a well established,
yet unproven vineyard in Okanagan Falls, BC.
Our story focuses on local folklore, the blasting of a local church with dynamite in order to move it from A to B. Lately, there's been a bit of a renaissance where the gods have emerged from the church paintings and are touring the modern West Coast.
We have lost control, these old souls do as they will.
https://www.facebook.com/blastedchurch/
https://twitter.com/BlastedChurch
https://www.instagram.com/blastedchurch/
Information and images courtesy of the winery.