South Okanagan Wine Collaborative
"We Three Cellars"
For the very first time, Fairview Cellars, Lariana Cellars and vinAmité Cellars have joined forces to offer two very special curated wine offers. We are very pleased to collaborate, because "We Three Cellars" believe that our collective wines are all unique to one another's, therefore we are able to offer a diverse spectrum of styles, flavours and Terroir to YOU, The Okanagan Wine Lover.
For these offers, we each showcase four of our wines to make a memorable experience, unique to the wine industry. This is a one of a kind find, a three stop shop in one, that you will not find in stores. Direct from the Winemakers, we are offering selections from our Libraries as well as wines that are "Sold Out" to the public. Many of these wines have been sleeping in cellars aging for you, waiting for this moment. In every case, you will find Tasting Notes from each of us. You can learn more about our wineries below. (All prices are tax in.)
We are offering complimentary shipping to Alberta and British Columbia. The rest of our Provinces will receive $20.00 towards shipping costs.
We will personally drop off your wines to Osoyoos, Oliver and Ok Falls. We will process orders on Mondays and ship them on Wednesdays. This offer will be on until July 3rd or until we sell out…Limited quantities available. For every bottle we sell we will donate to Desert Sun Counselling & Resource Centre
Boutique Wine Case $359
Fairview Cellars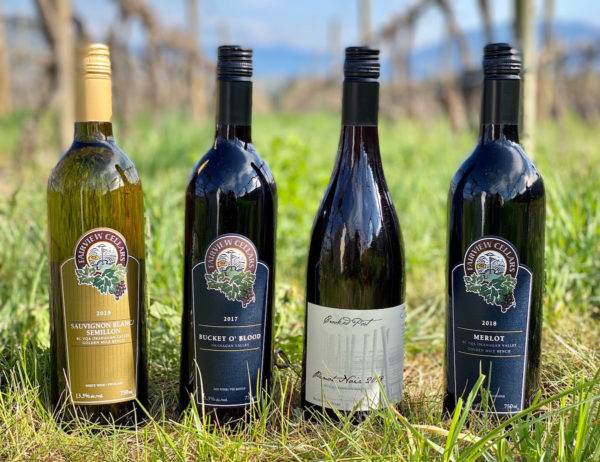 2019 Sauvignon Blanc Semillon         $23
2018 Crooked Post Pinot Noir            $27
2018 Merlot                                            $25
2017 Bucket O' Blood                           $27
Lariana Cellars

2018 Viognier                                     $26
2019 Viognier                                     $26
2015 Fifteen                                        $45
2016 Sixteen                                       $45
vinAmité Cellars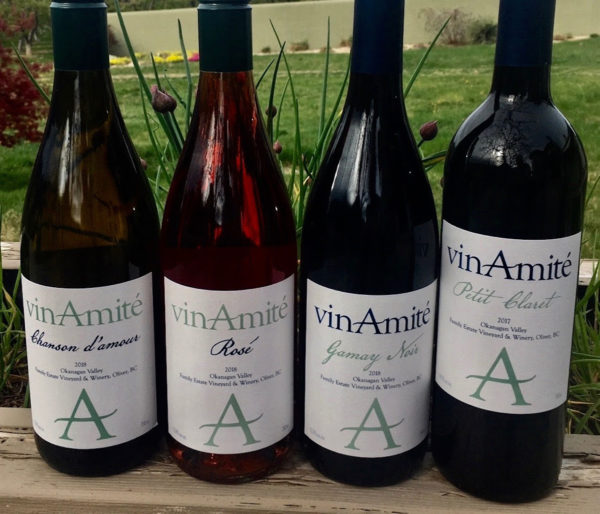 2018 Chanson d'Amour                    $23
2018 Rosé                                            $24
2018 Gamay Noir                               $30
2017 Petit Claret                                $32
Ordering is simple! Contact the winery to make arrangements.
Premium Boutique Wine Case $541
Fairview Cellars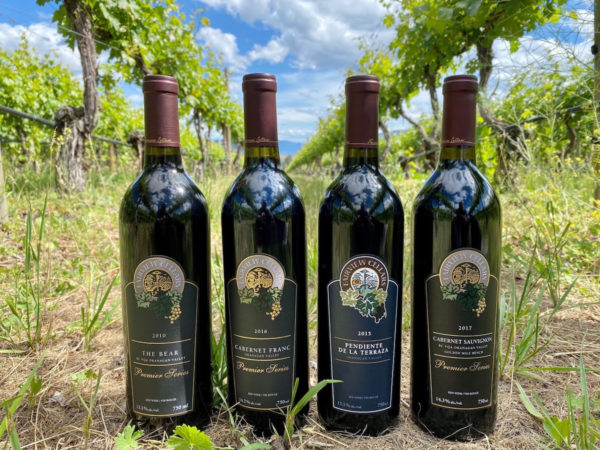 2016 Cabernet Franc                          $35
2017 Cabernet Sauvignon                  $50
2010 The Bear                                      $65
2015 Pendiente De La Terraza          $50
Lariana Cellars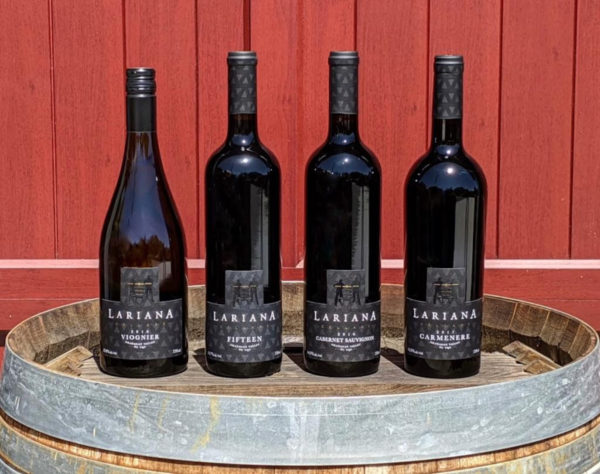 2018 Viognier                                    $26
2015 Fifteen                                       $45
2016 Cabernet Sauvignon               $50
2017 Carménère                                $50
vinAmité Cellars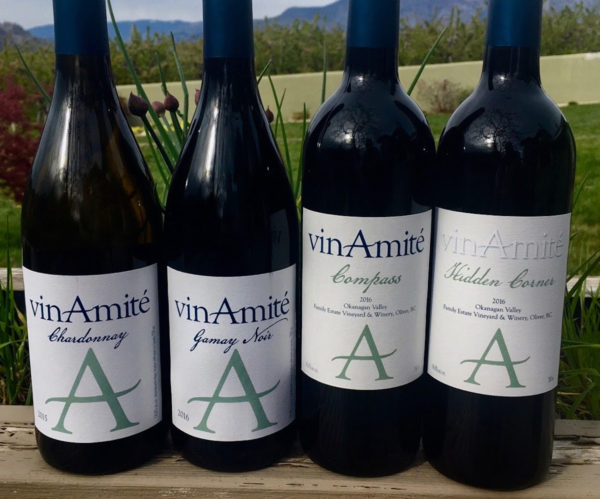 2015 Chardonnay                             $40
2016 Gamay Noir                             $35
2016 Compass                                  $45
2016 Hidden Corner                       $50
Ordering is simple! Contact the winery to make arrangements.
Fairview Cellars
(250) 498-2211 or EMAIL
Lariana Cellars
(250) 498-9259 or EMAIL
vinAmité Cellars
(250) 498-2234 or EMAIL
About The Producers
Fairview Cellars is a boutique winery located on the Reed Creek Alluvial Fan at the North end of the Benches of the Golden Mile. Fairview Cellars is the culmination of a life long quest of Bill Eggert's to own and operate his own winery. The 10 acre property located adjacent to the first green of the Fairview Mountain Golf Course was purchased by Bill in 1989.  After development of the water system the vineyard was started in 1993.  The first commercial vintage was produced from the 1997 crop.  Half the property was planted to Cabernet Sauvignon.  Cabernet Franc and Merlot were planted in equal parts to fill out the property.  One row of Syrah and one row of Petit Verdot were added later, and Sauvignon Blanc was planted on a lower terraced bench close to the first green in 2007. When Bill was shown this property he immediately began the process of purchasing the land knowing that it would be a perfect vineyard site.
Facebook: Fairview Cellars Twitter: @FairviewCellars Web: FairviewCellars.ca
Instagram: @fairviewcellars
Lariana Cellars is a boutique garage-style winery featuring small lot, handcrafted wines in Osoyoos, BC.  Our focus is to grow exceptional fruit thereby creating rich flavourful wines.  In 2007 we planted our 5 acre vineyard with Cabernet Sauvignon, Carménère and Viognier.  Countless hours are spent in the vineyard managing the crop load and canopy to ensure the grapes reach their full potential. We believe this of utmost importance in producing premium wine. In 2012 we opened Lariana Cellars winery and we are extremely grateful to have winemaking consultant Senka Tennant guide us with her knowledge and vast experience.
Facebook: Lariana Cellars Twitter: @LarianaCellars Website: LarianaCellars.com
Instagram: @larianacellars
The vinAmité Story. For two decades, our vineyard's grapes were sold to well-known wineries throughout the Valley. Since 2013, our grapes have stayed where they're grown on their own terroir and turned into fine estate wines in small quantities. Our grapes are no longer hiding in plain sight. From grape to bottle, our winery is devoted to traditional French varietals made by Catherine Marguerite Coulombe and the Coulombe family in a blend of old and new approaches.
Facebook: vinAmité Cellars Twitter: @vinAmiteCellars Website: vinAmitéCellars.com
Instagram: @vinamitecellars
Information and all images courtesy of the Three Cellars: Fairview Cellars, Lariana Cellars, and vinAmité Cellars