With #ShiptoSip winery Moon Curser we're shedding light on their new releases and old favourites you can choose to drink by cover of darkness, or anytime it strikes your fancy.
With this diverse portfolio of BC wines there are bound to be many favourites for your sipping pleasure. Free shipping on 6 + bottles and every order benefits the Osoyoos and BC Food Banks with a $10 donation for every case sold. Definitely a win, win.
Enjoy surreptitious wine drinking by moonlight.
2019 Arneis

Our "little rascal" for 2019 is a light to medium-bodied white wine with a pale straw color in the glass. The intense nose presents notes of gooseberry, sage and beeswax, followed by notes of lime rind, nectarine, quince and a bright minerality on the palate. The acidic backbone provides a very nice framework for the flavours to linger and form a long finish. Arneis is an elegant, crisp yet mouth-filling wine that is ready to drink now and will be best enjoyed over the next two to three years.
2018 Border Vines

The 2018 Border Vines is a dry, medium to full-bodied red wine with a deep ruby colour. Notes of black cherry, cinnamon, blackberry and sweet tobacco leap out of the glass on the nose. On the palate, this mouth-filling wine has fantastic weight and naturally balanced acidity. The nose is complimented nicely by notes of lavender and violet on the palate, with a subtle hint of blueberry pie. This is a well-balanced wine with structured but approachable tannins and toasty oak framework.
This vintage of Border Vines shows good concentration of flavour, while being quite drinkable immediately. This wine, while approachable in the glass straightaway, will benefit from aging in the bottle over the next five to eight years.
2017 Cabernet Sauvignon

This Cabernet Sauvignon is a full-bodied wine that is deep ruby in colour. It has an intense nose of blueberry, dark chocolate and eucalyptus. On the palate, the lush notes on the nose are complimented with notes of blackcurrant, vanilla bean, chocolate-covered raisins and black cherry. This is backed up with a velvety tannin texture and rich intensity. This wine drinks well now but will start coming into its own after at least two years of bottle age. It will continue to evolve and mature in the bottle over the next eight to ten years, rewarding those willing to cellar their bottles.
2018 Carménère

This is the eighth single varietal bottling of Carménère for Moon Curser Vineyards. When the season and winemaking techniques allow, an elegant showing from this rare and challenging grape variety is truly spectacular.
The 2018 Carménère is a medium-bodied red wine with a deep ruby red colour. It displays a ripe nose of raspberries, black pepper, clove and anise. The palate is incredibly smooth, with flavours of blackberries, rose petals, cigar box and thyme. This is an elegant wine with velvety tannin structure that strikes the perfect balance of fruit, spice and savoury characteristics. A long, warm finish and luxurious glassy mouthfeel round out the tasting experience. The wine drinks well now but will also develop in the bottle over the next seven years. Enjoy!
2018 Contraband Syrah 

Making a return, after a long period of absence, to the Moon Curser portfolio
A medium to full-bodied wine with a deep ruby colour in the glass. The nose is very rich and warm, with savoury notes of raspberry, eucalyptus, cedar and truffle. The palate continues with richness, adding deep earthy notes, along with those of stewed blueberries, plum, espresso and sweet tobacco. The luscious midpalate is nicely balanced by lengthy acidity and well-integrated tannins. The finish rounds this wine out beautifully with roasted coffee and chocolate notes, inviting you in for another sip. Our 2018 Contraband Syrah drinks beautifully now but will continue to evolve nicely in the bottle if cellared over the next seven to ten years.
2019 Dolcetto

Our 2019 Dolcetto is a medium-bodied wine with a deep purple colour in the glass. On the nose you will find notes of plum, pomegranate, potpourri and dark chocolate. Rhubarb, vanilla, fig and strawberry jam on the palate, all complement the nose. The wine is easy drinking but with a satisfying and complex flavour profile and a long finish, assisted by the lively acidity and feathery tannins. We find that our Dolcetto has that certain (impossible to identify, and also impossible to resist) magical ingredient of 'can I have another glass please' – we always happily surrender. Dolcetto is meant to be enjoyed at a young age and is best consumed over the next three years. It is also one of the few reds that can be chilled (not too much though!) which makes for a refreshing glass on a hot summer day. Try this with your favourite summer salad, pizza or pasta and meatballs with Bolognese.
2019 Roussanne Marsanne 

Making a return, after a long period of absence, to the Moon Curser portfolio
The return of our Roussanne Marsanne brings out the best of both varieties, showcasing what these varieties are capable of in a South Okanagan terroir. The Roussanne Marsanne is a dry wine, with medium body and pale-yellow hue. The nose, while extremely delicate, is quite complex. The aroma invites you in initially with notes of apple blossom, pear, light brioche and wet stone. The palate follows suit with apricot and white flowers, carried by a creamy texture, but bright acidity and minerality to balance. This elegant wine with a crisp, lengthy finish is ready to drink now or can be enjoyed over the next three years if retaining the crisp, bright characters is the objective. Aging further will for allow development of more secondary flavour characteristics from the Marsanne such as marzipan, honey and caramel, and the light oak to surface.
2018 Syrah

A medium-bodied red wine with medium ruby colour in the glass. This Syrah is a highly aromatic wine with notes of baking spices, fig, and soft vanilla on the nose. The rich palate follows up with notes of cigar box, lavender, anise and raspberries, all backed up by soft, approachable tannins with a round, rich midpalate. The balanced acidity causes the wine to linger with a chocolatey finish, inviting you in for another taste. Our 2018 Syrah drinks beautifully now but will continue to develop in bottle if cellared over the next seven years.
2018 Tempranillo

The 2018 Tempranillo is a dry, medium-bodied red wine. The intense nose of crab apples, baking spice and sundried tomato transitions seamlessly into notes of fig, sandalwood, leather and anise on the palate. This is a complex wine with an intriguing profile that leans toward to the savoury end of the flavour spectrum. This 2018 vintage of Tempranillo has soft but structured tannin structure with an elegant mouthfeel, balanced out by a nice tart acidity. This is an approachable wine that drinks well now but would evolve nicely in the bottle over the next eight years.
2018 Touriga Nacional

The 2018 Touriga Nacional is a dry, medium-bodied red wine with a medium ruby colour. The nose is alluring with notes of black pepper, violet, rosemary and paprika. The palate is similar to the nose and with rich flavours of fresh sage, cigar box and raisin. The definition of a perfectly balanced wine showcasing smooth mouthfeel and silky tannin and acid structure. Our Touriga Nacional captivates you with an intriguing profile of savoury characters, inviting you in for another taste. We anticipate that our Touriga Nacional will evolve nicely in bottle over the next five to seven years.
2018 Malbec

Another grape not often seen in these parts, Malbec originated in South West France but is now better known to many as the flagship grape of Argentina. Malbec is one of our small lots and single vineyard wines – keep this to yourself and enjoy in a locked room by the light of a single lantern….
This is a medium to full-bodied red wine with a vibrant dark purple colour. Intense notes of blueberries, violet, dark chocolate and caramel dominate the nose. The refined, fruit-forward palate has characters of black cherry, plum, eucalyptus and vanilla bean. The wine has a generous, plush texture backed up with plentiful rich tannins and well-balanced acid structure. With its balanced structure and warm but delicate finish, this wine drinks well now, but with proper cellaring can be enjoyed over the next seven to ten years.
2018 Petit Verdot

'Tis a rare thing to see this grape on its own, but when it happens, it can be a thing of beauty. Petit Verdot is a late ripening red Bordeaux grape variety that has traditionally contributed structure, body and gorgeous notes of violets to red blends. The abundant heat and sun of our Osoyoos East Bench vineyards create the perfect growing environment for this grape variety, and make this varietal bottling possible.
Our 2018 Petit Verdot is a medium to full-bodied red wine that is dark ruby in colour. Inviting notes of rose petal, fresh blueberries and blackberries dominate the nose. The palate is complex, but mimics the nose with delicate flavours of plum, violet and lavender, while a hint of toasted coconut rounds out the finish. This is an elegant and tannin driven wine, with well-balanced acidity. While fairly approachable now, this wine will definitely reward those who can set the bottles aside for at least eight to ten years of aging.
2019 Viognier 

The 2019 Viognier is a medium-bodied white wine with a hue of clear pale straw on the eyes. The nose jumps out of the glass with notes of apple and orange blossom, honey, ripe peaches with a bright minerality. The palate is rich, but bright, bursting with flavours of nectarine, honeycrisp apples and white flowers. The crisp acidity lengthens this wine on the palate, allowing the wines natural minerality to shine. A crisp, light wine with just a hint of residual sweetness, is ready to drink now or be enjoyed over the next three years in order to retain the fruit-forward characteristics. Try our Viognier with lightly seared scallops, Thai stir-fry, or grilled chicken for an unforgettable experience.
2016 Tannat
Wine club priority release till Aug 1
Tannat can be a highly variable wine from vin­tage to vintage, but the 2012 to 2017 vintages were remarkably consistent.
The 2016 vintage showcases the characteristics our Tannat is known for: age-worthiness, mouth filling and full-bodied character with a powerful yet approachable tannin structure and uncommon concentration of flavour. The 2016 Tannat is a full-bodied wine with a deep ruby colour, and notes of ripe blueberry, figs, and vanilla bean on the nose. The palate follows through and shows remarkably rich tannin structure, while showcasing flavours of blackberry, chocolate, and coffee. It has a rich mouthfeel, with a velvety tannin structure and a jaw-dropping finish that leaves you wanting more. Tannat is a wine that needs to be cellared in order for its most intriguing and captivating age characteristics to become apparent. This vintage was bottled in March of 2018 and is just now (mid – 2020) being released. Although this wine drinks well now, we expect it will continue to benefit from at least ten years of bottle aging.
$39.99 available online after August 1st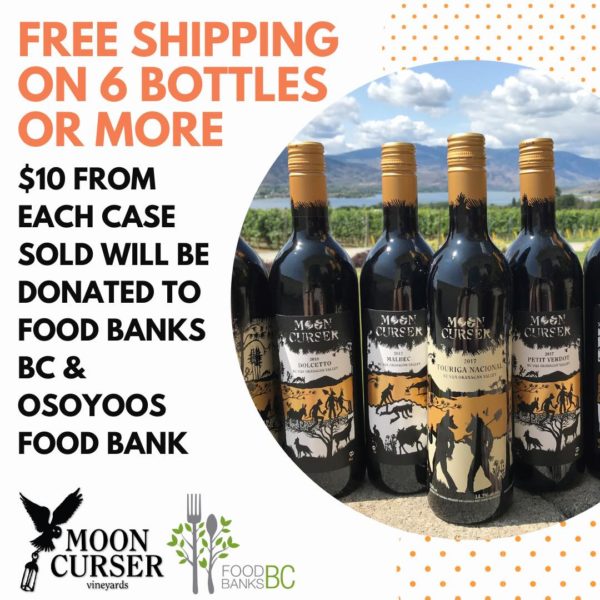 Shipping:
Free (6 or more bottles) & $10 from each case sold will be donated to Food Banks BC & Osoyoos Food Bank
Socially distant pick-up orders at the winery are currently available, please see here for full details on how to arrange one.
Osoyoos, the border town where we are located, has long been celebrated for the rich soil and brilliant sunshine. But during the gold rush, it was the dark of night that brought commotion to the area.
Then, an unscrupulous procession of gold-smuggling miners returned stateside by the hundreds, if not by the thousands. All under the cover of night – trying to avoid customs agents at all cost.
Often, the light of the moon would foil their plans, shedding light onto their surreptitious travels and activities.
Need we say more about our name?
Tasting notes, bottle shots and images courtesy of the winery. Please note some images will be the previous vintage to the one currently available, tasting notes are current.