"In this series we bring you our #FavouriteThings Holiday Gift Suggestions which we personally recommend"
Welcoming back Bench 1775 to our #FavouriteThings Holiday Gift Suggestions for 2020. New to us this year a Paradise icewine and a Paradise late harvest. Great options for your gift giving and sipping pleasure!
2019 Pinot Gris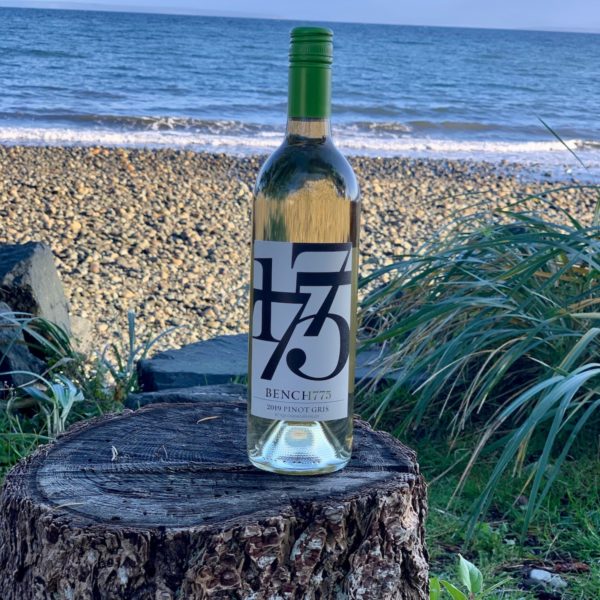 New Release!
Pinot Gris is our everyday, easy-drinking wine that is great to enjoy on its own, or paired with white meats and seafood. It goes particularly well with meals that include a fruit element such as lemons, oranges, peaches or apricots. Made by the best wine makers in BC, Pinot Gris has a delicate profile with the barest hint of fruit sweetness making this white wine a pleasure to drink.
Aromas of green apple and pear skin are complemented by a flinty finish coat your palate. Pair with fresh BC salads, coastal seafood or hard cheeses.
Time to pour yourself a glass of Pinot Gris!
2018 VIOGNIER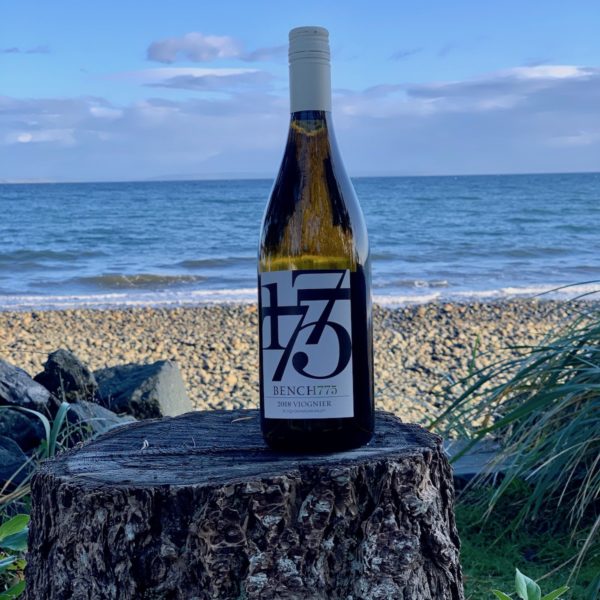 With Spring in the air, our newest vintage of Viognier will take you on a journey through our Osoyoos vineyard with its flavourful notes of tropical fruits reminiscent of the neighbouring apricot orchards. We gather fruit from both our Osoyoos & Naramata vineyards to create 2 separate blending components that make this wine.
Naramata is picked early to capture aromatics & green spicy flavours, where the Osoyoos grapes capture the bold tropical fruits & full-bodied feel. Both wines are fermented separately
and then blended in stainless tank to age 12 months & enhance its' complex features. Enjoy with scallops, delicate meats or spicy foods.
2016 CABERNET SAUVIGNON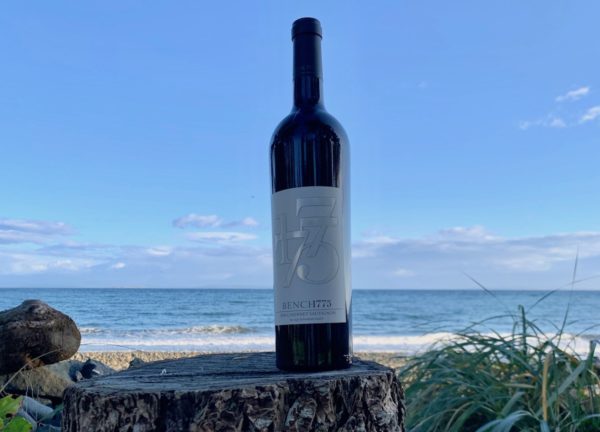 Silver Medal Winner!
SILVER ~ 2020 All Canadian Wine Championships
The Cabernet Sauvignon is the world's most popular red wine grape is a natural combination between Cabernet Franc and Sauvignon Blanc from Bordeaux, France.
Cabernet Sauvignon is loved for its high concentration and age worthiness. One of the most demanding varieties to grow in the Okanagan, Cabernet Sauvignon needs long warm falls to fully ripen. The conditions in 2016 were perfect at our east facing Osoyoos vineyard and resulted in this wine with rich dark fruit flavors and firm smooth tannins.
Our 2016 Cabernet Sauvignon wine is can be enjoyed with any BBQs or roast beast and winter root vegetables.
Drink your 2016 Cabernet Sauvignon wine now or cellar it for 10 years.
2016 CABERNET FRANC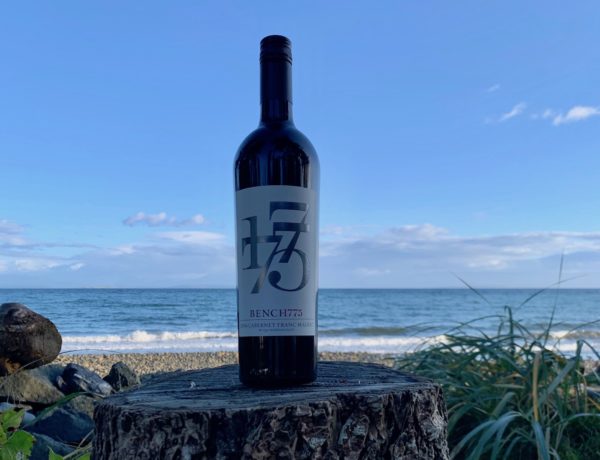 New Release!
Harvested from our premium vineyard plantings of clone 214 Cabernet Franc in Osoyoos, this wine was fermented in small lots and aged in 100% French oak for 2 years with further cellaring in bottle. Elegant with supple tannins and floral aromas this wine can be enjoyed now or cellared for a further 10 years.
PARADISE RANCH 2014 SAUVIGNON BLANC VQA ICEWINE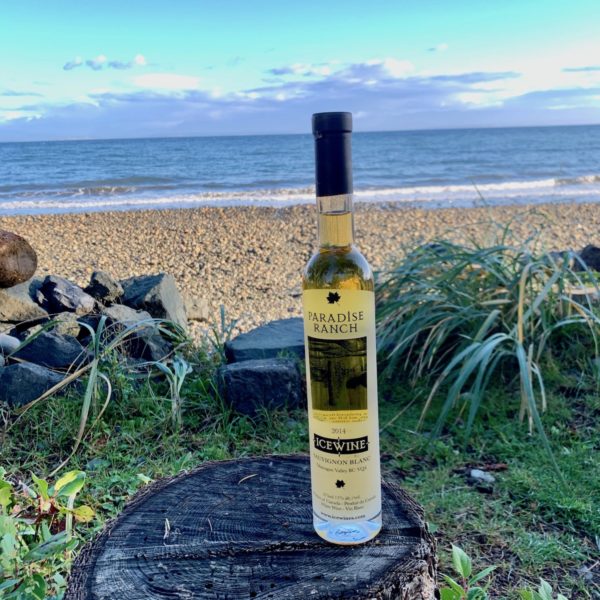 Best of Class
BEST OF CLASS ~ 2017 Savor NW Wine Awards
GOLD ~ 2017 NorthWest Wine Summit
Pale gold in colour, this Paradise Ranch 2014 Sauvignon Blanc VQA Icewine is an intense concentration of pure sauvignon blanc varietal character. Aromas of ripe goose berries, meyer lemon and ripe kiwi flood your senses, and the flavor is intense gooseberry, green apple skin and lemon pineapple.
This delightful wine can be enjoyed alone, with soft sharp cheeses, vanilla ice cream and almond biscotti.
Wine lovers will be pampered by sweet softness and juiciness.
Paradise Ranch 2014 Sauvignon Blanc VQA Icewine has so much quality, and still at the foot of its rise!
PARADISE RANCH 2015 LATE HARVEST MERLOT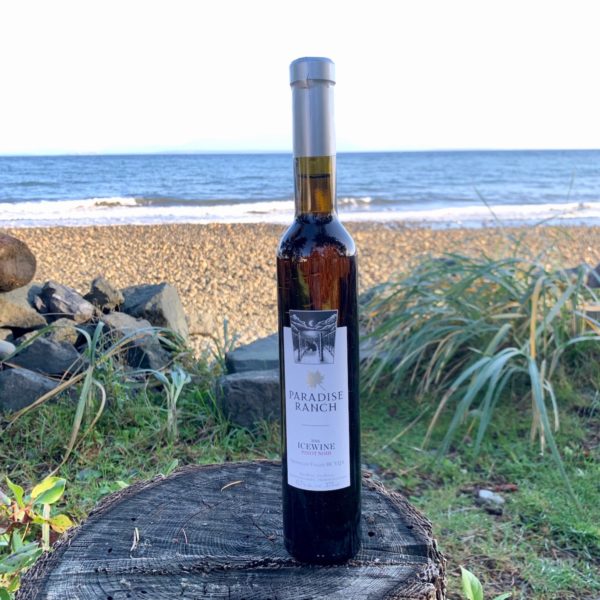 Our Paradise Ranch 2015 Merlot Late Harvest is silky smooth and finishes full and rich, a classic not to be overlooked.
Picked late in November, the harvested fruit yields a wine rich in dried fruit characteristics: raisin, caramel and dried plum balanced with bright acidity and a nuanced sweetness.
Satisfy your simple pleasures with a glass of top-rated Merlot Late Harvest wine while snacking on some foie gras, aged cheeses, Chinese pork dishes, and dark chocolate desserts.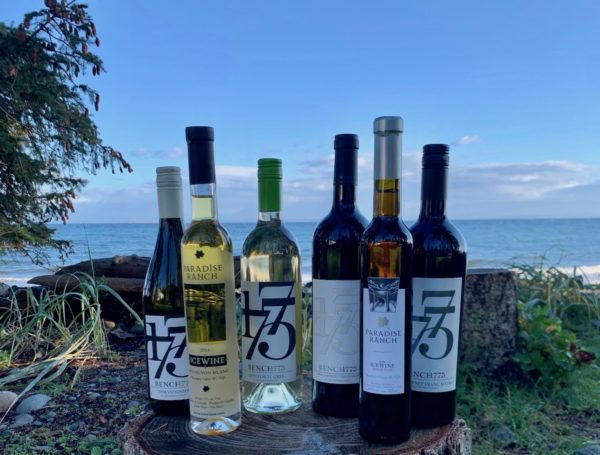 OUR LAND & WINES
Found in the heart of wine country in beautiful British Columbia, Bench 1775 is located on the southern shore of Lake Okanagan. Named after the address of our winery, 1775 Naramata Road, along the beautiful Naramata Bench, Bench 1775 Winery is a celebration of land and place.
Wines from Bench 1775 are produced with the unique expression of fruit grown in the Okanagan Valley. Our fruit is grown in multiple vineyards spanning up and down the Okanagan Valley as well as a small vineyard in the Similkameen Valley.
OUR PHILOSOPHY
The philosophy at Bench 1775 is to capture the full expression of the grapes grown in vibrantly healthy and balanced vineyards. We then manage the winemaking to allow for the natural expression of the grapes. We believe that great wines start in the vineyard, so all of our vineyard sites were analyzed in detail before being planted with clones and rootstocks best adapted to our soils and the climate of our sites.
Carefully managed vineyards and beautifully balanced wines could not be produced without an amazing team of dedicated and focused individuals all working together. The team is led by General Manager Henry Bian, & Winemaker Richard Kanazawa alongside our tireless vineyard workers, diligent cellar staff and enthusiastic sales and marketing group.
Feature image, and tasting notes courtesy of the winery. Bottle images MyVanCity.ca I received one complimentary bottle of each of the wines to facilitate this feature.
If you would like to be featured on MyVanCity.ca please connect with your pr agency or email myvancityval@nullgmail.com for full details. Wine samples accepted for review.