"In this series Anna Savino from Piemonte is sharing inspirational Italian recipes"
This recipe comes from Anna Savino of the Barolo Wine Club. Anna's comments: following our local cooking class instructor's guidelines about how to make classic capunet. Fernanda, originally from Barbaresco, has been passionate about cooking her whole life and has a special interest for finding the highest quality ingredients. She loves inviting people into her home to learn the traditional Piemontese recipes and teaching people about their origins.
"Capunet" Cabbage Rolls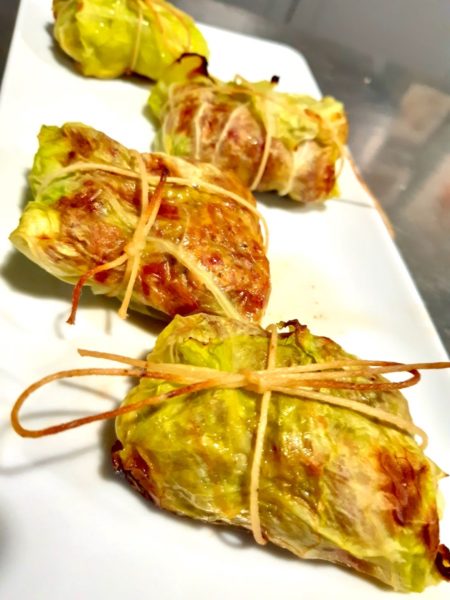 Ingredients for 2 people 
6 Large cabbage leaves

150 g ground veal or beef

1 garlic clove

Sprig of Rosemary

50g boiled white rice

50g boiled spinach

100g pork sausage

2 heaping spoons of Parmesan

1 free range egg

Extra virgin olive oil, red wine, sea-salt & black pepper
INSTRUCTIONS
Boil salted water for soft white rice (or use leftover risotto). Boil spinach and let cool. Boil 6 large cabbage leaves, drain and carefully place them on a kitchen towel.
Heat the oil, garlic and rosemary in a thick-bottomed pot. Add the meat and season with salt and pepper. Mix until entirely browned. Then add a bit of red wine and turn down to low flame. Let it cook gently until softened and turn off.
Pulse the cooked meat, sausage, spinach and rice together in a blender to get a rough mixture (or hand chop finely with sharp knife). Lightly beat the egg in a large bowl and stir in the Parmesan and seasonings. On a work surface, spread out the cabbage leaves flat and fill them with a good amount of the mixture. Roll them tightly to seal the mixture inside keeping them tightly closed either with string or a toothpick. Fry them in shallow level of olive oil in a pan or bake at 160 C° for about 15 minutes until the cabbage is nicely golden brown and soft. Serve hot topped with bechamel if you like.
The Italian wine pairing:
Fontanabianca – Barbaresco Bordini '16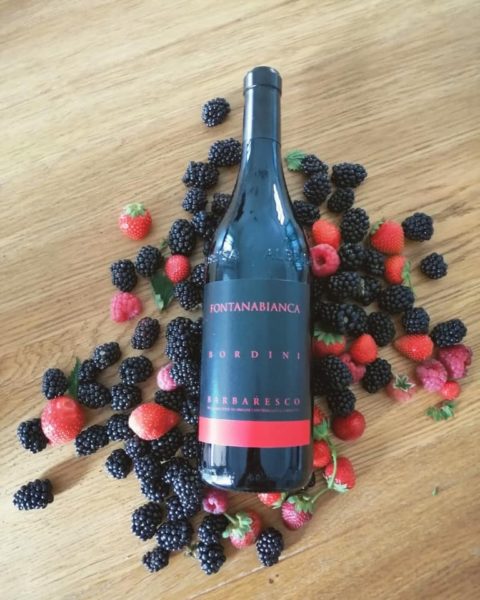 The decision to pair Nebbiolo with the cabbage roll is based on the meat and cheese filling. After cooking, the roll becomes soft and a bit oily with decisive spicy meat flavours coming from inside. In order to cut the oily texture, a young and fine Barbaresco based on Nebbiolo is perfect. It will freshen the palate yet combine well with the strength of the meat.
$45.98 at Everything Wine (available only in very limited quantities) [also available from LCBO.com]Suggested BC wine pairing:
Red Rooster RARE BIRD MALBEC 2017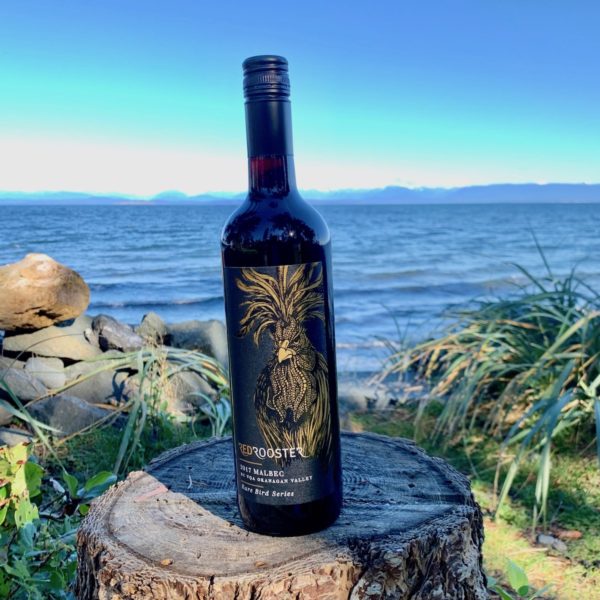 The wine was pruned, harvested and love by our Adopt a Row members. The grapes for our Malbec from our on-site estate vineyard.  Primary fermentation was done in open top fermenters and hand-plunged to break surface cap twice daily
Limited production of 19 Barrels.
TASTING NOTES
This rare Canadian rooster is attracting plenty of attention.  The alluring bouquet of blueberry, clove, allspice, blackberry and oak draws you in closer.  This medium-bodied wine is almost tannin free with plenty of juicy fruit flavours of red currant, blackberry and blueberry.  The lingering finish exhibits notes of black tea, currant and spice.
FOOD PAIRINGS
Excellent with beef empanadas; beef and Guinness stew; beef brisket with barbecue sauce; short ribs; marinated leg of lamb; braised meats; saucy barbecued ribs; two to three year old aged Gouda.
Thank you to guest blogger Anna Savino @italiannawinetours and @barolowineclub on Instagram, and online at ItaliAnna Food & Wine Tours.
Anna Savino contributor to our #TasteItalia Food &Wine Pairing Articles is now happy to announce a fantastic online project with some of the best guides around the world called Guide Collective www.guide-collective.com be sure to check it out!
Visit LanghEtnico's Website  or follow Fernanda IG @effefood LANGHetnico Caterer & Home Cooking School.
Capunet and Fontanabianca images courtesy of Barolo Wine Club. Red Rooster Malbec image MyVanCity. Feature image: Pixabay. I received a complimentary bottle of the Malbec wine to facilitate a 2020 #FavouriteThings feature.
If you would like to be featured on MyVanCity.ca please email myvancityval@nullgmail.com for details. Wine samples accepted for review.