"This series features both the BC Wine new vintages and a few favourites"
Spring has definitely sprung with Bench 1775 with their wine bundle spring offerings! "Stop and Smell the Rosés" "Put a Little Spring in You Step" and "Sip, Sip, Hooray! It's Spring!"
Doesn't that sounds like fun and who doesn't love spring time? This is what I call doing #Spring right #wineonline
"STOP AND SMELL THE ROSÉ!" WINE BUNDLE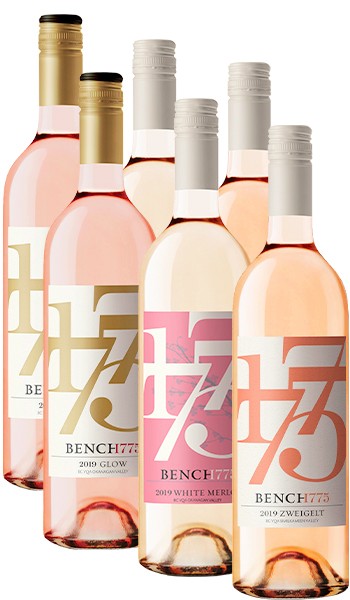 Spring Offerings
Nothing makes you feel like summer is around the corner like a glass of Rosé. Each of our roses have their own unique taste, our Zweigelt Rosé is crisp & tart with grapefruit on the palate. Our White Merlot, a little lighter and dry with Strawberries and cranberries on the palate. Having seen a bit more time on the skins our Glow Rosé, made from our Malbec grapes, has a more sophisticated taste of Lapin cherry with slightly resinous tannins on the finish. Each a perfect accompaniment to white meats, salads or simply to drink by itself.
This bundle includes:
2 * 2019 White Merlot
2 * 2019 Zweigelt Rosé
2 * 2019 Glow Rosé
"PUT A LITTLE SPRING IN YOUR STEP!" WINE BUNDLE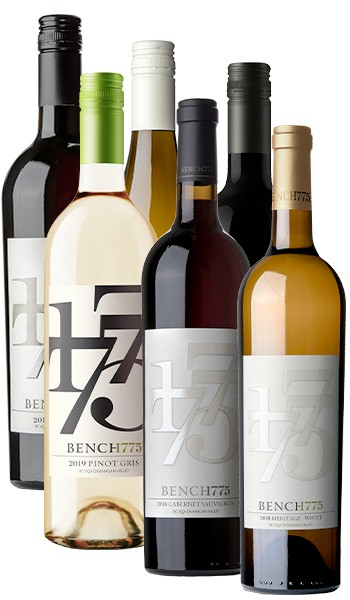 Spring Offerings
Waiting and hoping for things to return to normal? Perhaps a line up of our favorite wines will help put a smile on your face. We have a wine for all your spring occasions, succulent and juicy reds and whites for Easter dinner pairings, White Meritage, Chardonnay, Cabernet Sauvignon or  Malbec. A couple to enjoy on those warmer spring days, Pinot Gris or Zweigelt.
This bundle includes:
1 * 2018 White Meritage
1 * 2017 Chardonnay
1 * 2019 Pinot Gris
1 * 2016 Cabernet Sauvignon
1 * 2016 Malbec
1 * 2018 Zweigelt
"SIP SIP HOORAY! IT'S SPRING!" WINE BUNDLE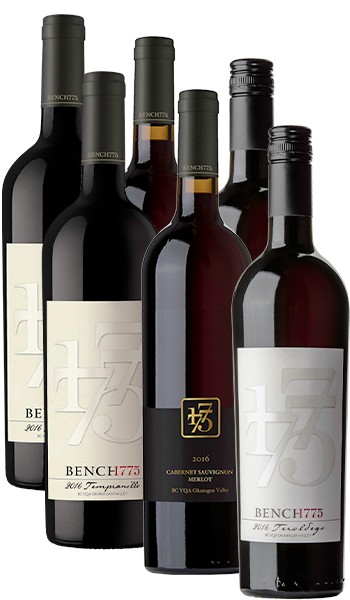 Spring Offerings
Let's celebrate with some of our unique reds. Tempranillo, made famous in Spain, is full-bodied with cherries, currants and clove on the palate. Teroldego is bright with spicy notes of plum and rich tannins. Our Cabernet Sauvignon Merlot has been described as luxurious with it's taste of plum, blackberry and velvety smooth tannins.
This bundle include:
2 * 2016 Tempranillo
2 * 2016 Teroldego
2 * 2016 Cabernet Sauvignon Merlot
WINERY
OUR LAND & WINES
Found in the heart of wine country in beautiful British Columbia, Bench 1775 is located on the southern shore of Lake Okanagan. Named after the address of our winery, 1775 Naramata Road, along the beautiful Naramata Bench, Bench 1775 Winery is a celebration of land and place.
Wines from Bench 1775 are produced with the unique expression of fruit grown in the Okanagan Valley. Our fruit is grown in multiple vineyards spanning up and down the Okanagan Valley as well as a small vineyard in the Similkameen Valley.
OUR PHILOSOPHY
The philosophy at Bench 1775 is to capture the full expression of the grapes grown in vibrantly healthy and balanced vineyards. We then manage the winemaking to allow for the natural expression of the grapes. We believe that great wines start in the vineyard, so all of our vineyard sites were analyzed in detail before being planted with clones and rootstocks best adapted to our soils and the climate of our sites.
Carefully managed vineyards and beautifully balanced wines could not be produced without an amazing team of dedicated and focused individuals all working together. The team is led by General Manager Henry Bian, & Winemaker Richard Kanazawa alongside our tireless vineyard workers, diligent cellar staff and enthusiastic sales and marketing group.
Please note all wine purchases are subject to tax & bottle deposit
CURBSIDE PICK UP: We're offering pick-up for all local orders Monday – Friday 9:30am – 4:30pm. Please phone the winery at 250-490-4965 ext 105 or 108 for service.
Information and images courtesy of the winery.