AMPERSAND DISTILLING CO. RELEASES NEW BATCH OF DRY VERMOUTH 
AND ANNOUNCES ONLINE SHOP
Family-owned distillery launches 2020 Imperative Dry Vermouth and online store
As summer nears, Ampersand Distilling Co. is amplifying cocktail creations with their award-winning spirits and a new batch of their Imperative Dry Vermouth, made in collaboration with Rathjen Cellars. In addition, the distillery is proud to announce the launch of their online shop featuring Ampersand's lineup of craft spirits, apparel and hand sanitizer.
The 2020 release of Imperative Dry Vermouth is crafted with a blend of Ortega and Petite Milo grapes with the addition of Schonberger. Infused with wild-harvested botanicals, including wormwood – sourced from the family's five-acre organic farm – orange peel, cardamom, roasted dandelion root and coriander, the result is a complex blend with pops of floral notes. The second edition of this limited-release collaboration was awarded a bronze medal with distinction at the 2020 Canadian Artisan Spirit Competition (CASC), the only national spirit competition reserved exclusively for artisan distillers. Shining on its own or an intriguing addition to one's cocktail, Imperative Dry Vermouth has become a favourite to spirits lovers across the province.
Try Imperative Dry Vermouth in two of Ampersand's signature cocktails, easy to make and even easier to enjoy.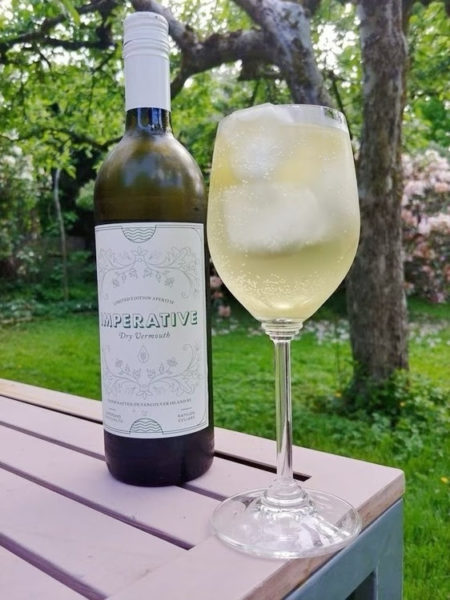 Addington
– 2 oz Imperative Dry Vermouth
– 1 oz Imperative Sweet Vermouth
Shake with ice, strain into a chilled cocktail glass and garnish with an orange twist.
Vermouth & Tonic
– 1.5 oz Imperative Dry Vermouth
– 3 oz Tonic Water
Combine ingredients in an ice-filled glass, garnish with a lemon wheel
Bamboo Cocktail
– 2 oz Fino Sherry
– 2 oz Imperative Dry Vermouth
– 3 dashes of Angostura bitters
– 3 dashes orange bitters
In addition to this new release, the family-owned distillery is thrilled to announce the launch of their online shop. The new platform enables fans to purchase the signature Ampersand Gin and coveted Per Se Vodka along with branded apparel and hand sanitizer.
Ampersand's hand sanitizer was produced in response to the COVID-19 pandemic. To date, the team has produced 3,151L of sanitizer — 1,425L of which has been donated to healthcare workers, shelters, fire departments, midwives, doctors offices, first responders, local First Nations and remote communities. Ampersand is currently filling local sanitizer orders through their online store (120mL for $5, 250mL for $6.50 or 500mL for $12), with a limit of five per customer.
Craft spirit connoisseurs can find Ampersand spirits at select liquor stores across the province as well as online. For more information, visit ampersanddistilling.com.
About Ampersand Distilling Co.
Ampersand Distilling Company is a family founded craft distillery located on a five-acre organic farm in the Cowichan Valley. Though trained as engineers, father-son duo Stephen and Jeremy Schacht have used their knowledge of science and traditional distilling techniques to create a handcrafted distillery where they can make handcrafted spirits. Like the Ampersand, the team are all about bringing things together: ingredients and techniques; science and art; tradition and innovation. Ampersand Distilling Co. makes delicious spirits designed to be a staple on your bar. Ampersanddistilling.com.
Media release and images provided by Avery Nicholson, Avenue PR