AMPERSAND DISTILLING CO.'S NOCINO! WINS
SPIRIT OF THE YEAR AT CANADIAN ARTISAN SPIRIT COMPETITION
Cowichan Valley small-batch distillery, Ampersand Distilling Co., was recognized among the best at the 2021 Canadian Artisan Spirit Competition (CASC) when their limited-edition Nocino! won the coveted title, Spirit of the Year.
CASC is the only national spirit competition reserved exclusively for artisan distillers. With an expanded set of categories this year, not only did Ampersand shine in the spirit of the year category, but the family-owned distillery also had a 'gold sweep' with all their spirits winning a gold medal in their respective categories.
Nocino! is a limited-edition spirit beloved by fans, especially during the holiday season. This bittersweet green walnut liqueur is made from green walnuts harvested in the height of summer in the Cowichan Valley and sweetened with local honey, fresh lemon peel, cinnamon and allspice. Judges at CASC noted a deeply roasted, nutty nose with elements of green-leaf and botanicals, resulting in a nuanced palate, reminiscent of the outdoors. The rich taste and complexity of flavours the judges experienced allowed Nocino! to receive the highest number of points in the competition, indicating its clear win of Spirit of the Year.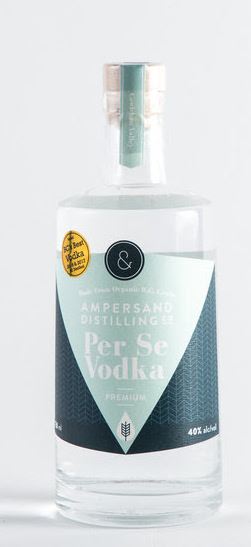 At the forefront of Nocino!'s greatness is Ampersand's staple, Per Se Vodka. Used as the base to Nocino!, Per Se Vodka is the expression of B.C.-grown wheat, natural spring water and immaculate precision of Ampersand's handmade stills. The result is a creamy mouthfeel and slight sweetness, perfect for sipping or as a base to your favourite cocktail. An impressive spirit on its own, Per Se won vodka of the year at the 2020 World Vodka Awards.
Ampersand was founded in 2014 by the Schacht family who combined their knowledge of engineering and love of cocktails to create spirits that act as staples on a bar cart. Loved by consumers and industry professionals alike, this small but expertly crafted distiller is constantly evolving and innovating new and noteworthy spirits. Currently in development is sweet vermouth made in collaboration with Rathjen Cellars, a different take on the popular, Imperative Dry Vermouth crafted with grapes grown organically on the Saanich Peninsula.
For those looking to taste the seasonal, limited-edition — and now best in class — Nocino!, Ampersand is running a lottery for newsletter subscribers for a chance to win this year's batch, and 50 lucky individuals will have a chance to purchase. Nocino! may also still be found at select liquor stores and restaurants across B.C. Fans, or those looking to explore the brand, are encouraged to try any of Ampersand's staple spirits including Per Se Vodka, Imperative Dry Vermouth and the spirit that started it all, Ampersand Gin.
For more information about Ampersand and its award-winning spirits, visit
Ampersanddistilling.com
and to get your hands on a batch of the spirit of the year, Nocino! sign up for the
Ampersand newsletter
.
About Ampersand Distilling Co.
Ampersand Distilling Company is a family founded craft distillery located on a five-acre organic farm in the Cowichan Valley. Though trained as engineers, father-son duo Stephen and Jeremy Schacht have used their knowledge of science and traditional distilling techniques to create a handcrafted distillery where they can make handcrafted spirits. Like the Ampersand, the team are all about bringing things together: ingredients and techniques; science and art; tradition and innovation. Ampersand Distilling Co. makes delicious spirits designed to be a staple on your bar. Ampersanddistilling.comMedia release and images provided by Avery Nicholson, Nine Point Agency.