TIME is Penticton's downtown urban winery.  Located in a former movie theatre on Martin Street, this winery is a very popular tourist attraction.  It houses the winery, a tasting room, kitchen, dining area, and a small theatre for lectures and concerts.  Be sure to drop by the next time you find yourself in Penticton.
2018 Brut
TIME
Penticton, BC
$34.99
A classic blend of Pinot Noir and Chardonnay from vineyards in Oliver (Phantom Creek) and Kelowna (Kuipers).  This wine has a beautiful delicate copper hue and medium-light intensity.  The nose greets you with delicate notes of stone fruit, citrus, brioche, and toast.  Good balance with a creamy texture and mouth-filling mousse.  The flavours follow the nose and end with a medium-long finish.  The wine was fermented in neutral oak barrels with lees stirring for added complexity.  Perfect with salt and pepper ripple chips or charcuterie plate.  TIME to celebrate!

2018 Riesling
TIME
Penticton, BC
$24.99
Pale straw colour with medium-light intensity.  The nose opens with aromas of lime, apple, pear, honey, and a minerality undertone.  Classic Riesling.  Good balance with just enough sugar to match the racy acidity.   Lemon, lime, pear, and honey on the palate followed by a medium-plus finish.   If you like Riesling, you'll love this one.

2018 Rosé
TIME
Penticton, BC
$24.99
An attractive cherry red colour with medium intensity.  Cherry, strawberry, raspberry, and cranberry on the nose.  Good balance and good body.  The flavours echo the nose followed by a medium-plus nose.  What's not to like?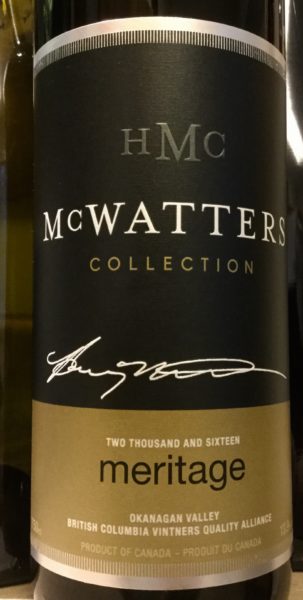 2016 Meritage (Bordeaux Styled blend)
McWatters Collection
Penticton, BC
$30.49
Garnet red with medium-deep intensity.  Raspberry, blackberry, sweet spice, cherry, and plum on the nose.  Good balance with ripe tannins. The flavours mirror the nose followed by a medium-plus finish.  Great match for barbecued Italian sausages.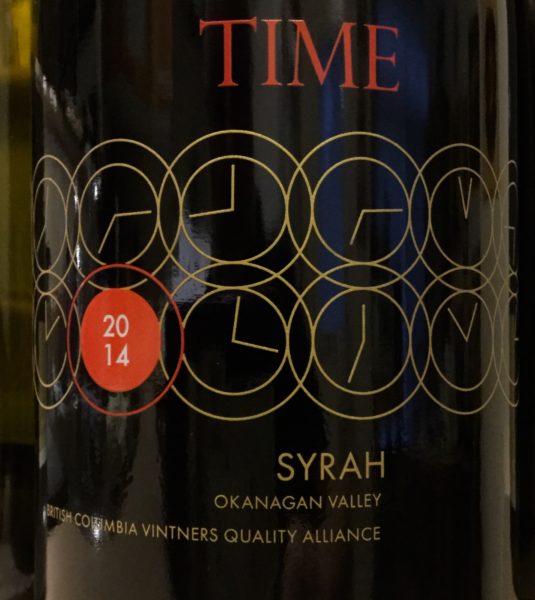 2014 Syrah
TIME
Penticton, BC
$34.99
Garnet/black with a hint of brick in colour and deep intensity.  The nose is deep and earthy with aromas of blackberry, black pepper, mocha, and baking spice.  Very good balance with smooth ripe tannins.  The flavours, juicy and fruity, mirror the nose.  Pleasing fruit and meaty notes linger on the finish.  How nice to be able to buy a wine that is already six years old.  Impressive.  Serve with lamb, pork, or Indian spiced dishes.
(All photos, except as noted – Sam Hauck)
Note:
Just as this article was being finished, this announcement appeared in my inbox concerning the July 1, sale of TIME Winery, Evolve Cellars, and McWatters Collection to Five Vines Cellars, the private family-owned business of Ron and Shelley Mayert.
https://timewinery.com/blog/2020/7/2/exciting-changes-for-time-winery-evolve-cellars-and-mcwatters-collection