"In this series Anna Savino from Piemonte is sharing inspirational Italian recipes"
Pesto Filled Ravioli With Potato Cream and Green Beans Recipe from Chef Margherita | Trés  – Trezzo Tinella
This tiny restaurant called Très, is an off the beaten path treasure. Located in the Alta Langa above Barbaresco, you will be welcomed with big smiles and exquisite food.
Margherita and husband Luca have chosen a vegetarian fresh pasta recipe. This dish is summery yet rich Pesto is a great sauce to go with mineral whites yet the fresh pasta calls for something a bit richer.
TRéS RECIPE FOR PESTO FILLED RAVIOLI WITH POTATO CREAM AND GREEN BEANS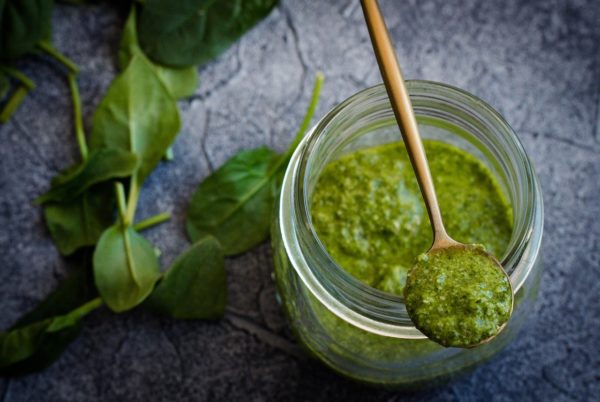 INGREDIENTS FOR 4 PEOPLE
PASTA
400 grams ( 2 cups) of all-purpose flour
300 grams ( 1 1/4 cups) of egg yolks (approx. 12 yolks) *
PESTO FILLING
Fresh basil
Pine nuts
Parmesan
Salt
Extra virgin olive oil
POTATO PUREE
250 grams (l large) Russet potato
100 ml (1/2 cup) heavy cream
GARNISH
Handful of green beans
*What do I do with all those egg whites? You can definitely use the egg whites for meringues for dessert or you can use a traditional fresh pasta recipe (1 egg for every 100 grams)
Our suggested wine pairing:
NOBLE RIDGE 2019 Reserve Pinot Grigio
Tasting Notes
Flavours reminiscent of orange slices, orchard fruit, and tropical melon. The fruit is elevated by a refreshing and balanced acidity with a lingering finish.
Thank you to guest blogger Anna Savino @italiannawinetours and @barolowineclub on Instagram, and online at ItaliAnna Food & Wine Tours.
Anna Savino contributor to our #TasteItalia Food &Wine Pairing Articles is now happy to announce a fantastic online project with some of the best guides around the world called Guide Collective www.guide-collective.com be sure to check it out!
Bottle shots and tasting notes courtesy of the winery. 
If you would like to be featured on MyVanCity.ca please email myvancityval@nullgmail.com for details. Wine samples accepted for review.