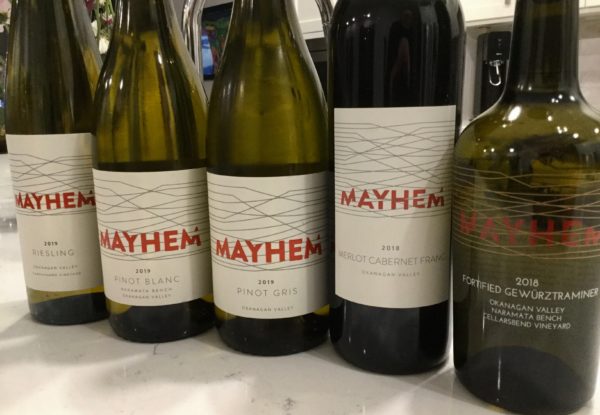 Isn't it great when you find a yummy wine that has a price lower than you might have expected?   That's what you get when you buy a bottle of Mayhem wine.
Mayhem?  Who is Mayhem?  Mayhem is a project of family members Terry Meyer (Andrew Stone – Anarchist Mountain) and sister-in-law Janice Stevens (JAK Meyer – Meyer Family Vineyards).  Their focus is on aromatic dry white wines with merlot and cabernet franc rounding out their portfolio.  With a pedigree like that you just know these wines will be good.
When wineries chose to focus their attention on a narrow range of wines, you can be sure that will be reflected in the wines.  Just as Meyer Family Vineyards chose to focus on chardonnay and pinot noir and they are highly regarded for the quality of their wines, Mayhem has chosen to focus their attention on dry white aromatics and two red varieties, merlot, and cabernet franc.
They source fruit from Okanagan vineyards stretching from Kelowna in the north to Osoyoos in the south.
Here are some tasting notes on their latest releases.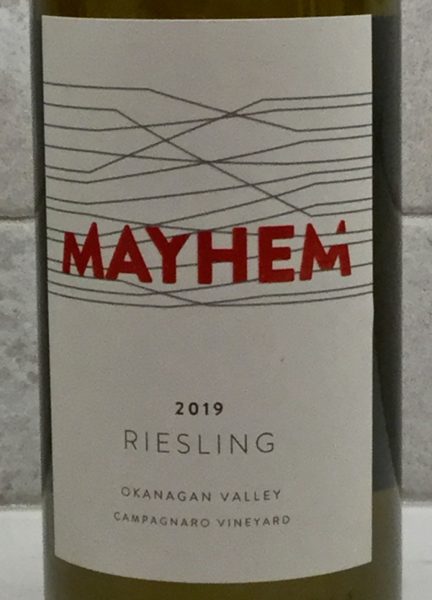 2019 Riesling
$18.26
These handpicked grapes come from the Campagnaro Vineyard in Summerland.  It is straw coloured with medium-light intensity.  A classic riesling nose showing aromas of lime, stone fruit, minerality, and wet stones with a hint of grapefruit pith and floral notes.  Very good balance with just enough racy acidity to make it refreshing.  It is clean, crisp and palate-cleansing followed by a mouth-watering medium-long finish.  This is a wine for riesling freaks.  Serve cool, not cold.  It rounds out considerably as it warms.  Pair with creamy pastas and curries.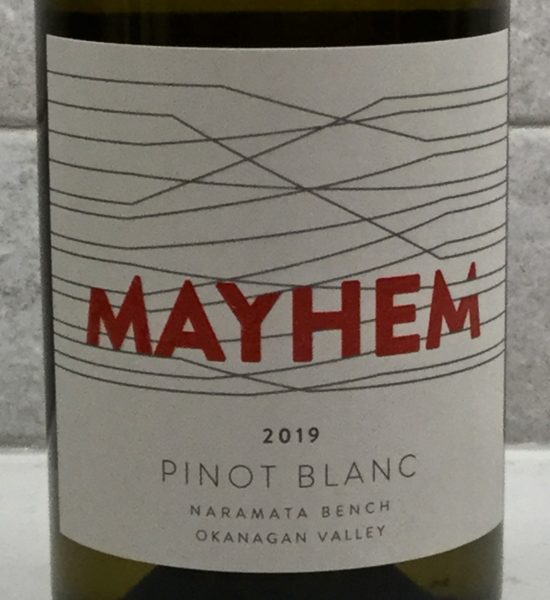 2019 Pinot Blanc
$15.65
The fruit was sourced from a vineyard on the Naramata Bench. "It was whole-cluster-pressed, cold-settled, and racked into two separate tanks for fermentation. Each tank was inoculated with a different yeast. After fermentation was complete the wine in each tank spent time on its fine lees. One tank was left to settle for three weeks, while the other tank went through lees stirring once a week for those three weeks. Both tanks were then racked off that fine lees, married into one tank, settled and filtered before spring bottling."  Green straw colour with light intensity.  The nose is delicate and inviting with aromas of pear, apricot, and lemon peel with honey undertones.  Good balance and a creamy mouthfeel.  Refreshing on the palate with a medley of citrus flavours.  Fruit forward and drier than one might expect.  A medium-plus finish with some hints of lanolin.  Serve with fish – cod, halibut, or planked salmon.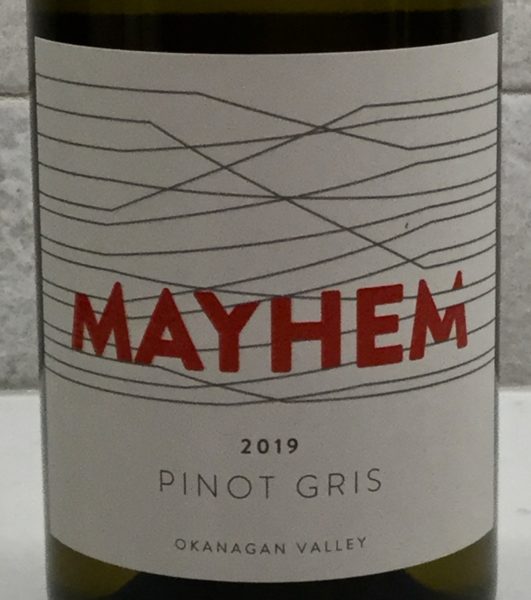 2019 Pinot Gris
$15.65
This is a blend of grapes from three vineyards – East Kelowna, Kelowna, and Naramata.  All grapes were whole bunched pressed and fermented separately.  After a three-week-long ferment, they were held on their lees for an additional eight months.  Green straw with light intensity.  The nose shows aromas of peach, pear, citrus, honeysuckle, and delicate floral notes.  Good balance with a slightly creamy texture.  Stone fruit, lemon, lime, and green apple on the palate, followed by a medium-plus finish.  Don't serve this wine too cold, it is much better when it is served just chilled.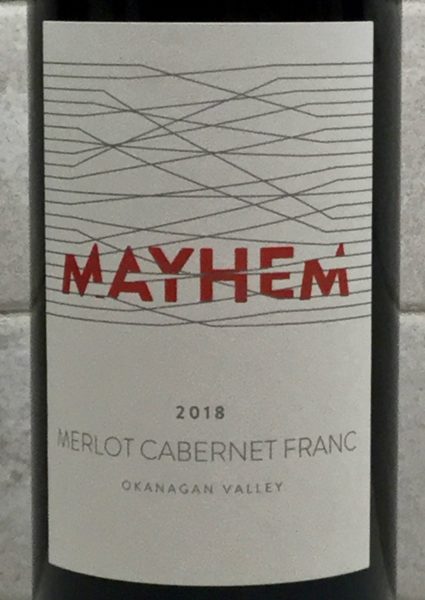 2018 Merlot / Cabernet Franc
$21.74
"A blend of 84% merlot and 16% cabernet franc.  The merlot came from vineyards in Osoyoos (Anarchist Mountain) and from Oliver.  The cabernet franc came from the Naramata Bench.  The two wines were made separately and aged in a combination of new and used French oak before being blended in just the right proportions to achieve the desired characteristics."  Garnet red with medium-deep intensity.  Second fiddle cabernet franc really makes itself heard in this blend.  Leafy, mint, black currant, earth, tobacco, raspberry, plum, and a hint of smoky notes.  Good balance with medium body.  A medium-plus finish with a slight hint of bitterness.  Serve this wine with a bold beef dish such as braised short ribs.

2018 Fortified Gewürztraminer
$30.43
Fortified gewürztraminer?  What a cool idea!  You've got to try this one.  These grapes came from Naramata's Cellarsbend Vineyard.  The grapes were fermented and then fortified and put into barrels to spend twenty months aging, including one summer outside in the heat to help oxidize and concentrate the wine to create complexity.  Lemon yellow with medium-minus intensity.  Peach, apple, pear, honey, and floral notes on the nose.  Well balanced with good mouthfeel.  A delight on the palate followed by a medium-long finish.  Only 100 cases were produced.
I'd also like to give a shout-out to some of the other wines in the Mayhem portfolio that I have enjoyed including their Gewürztraminer, Cabernet Franc, Rosé, and Sauvignon Blanc.
Mayhem – very good wines for a great price.
(Photos – Sam Hauck) Feature image and bottle shot (2018 Fortified Gewürztraminer)courtesy of the winery.