Tasting Italian wines is always a special occasion and the recent Italian Masterclass held at La Terrazza was a showcase of Italian wine and food pairing.
I would be remiss if I didn't pay tribute to the incredible dishes that were served alongside the twelve classic Italian wines.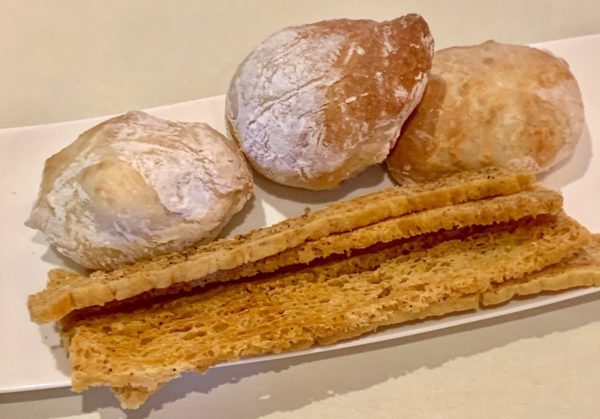 We started the tasting with two Prosecco wines. First a Masi Modello Prosecco DOC and an organic, vegan Prosecco Brut from La Jara. Already snacking on soft bread rolls and some spicy focaccia bread sticks.
PRIMO
CARPACCIO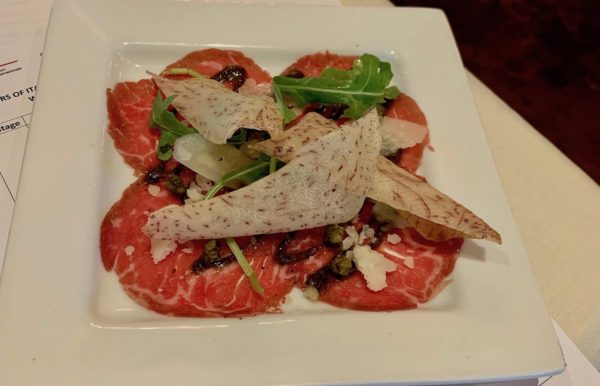 Thinly sliced raw Angus beef tenderloin, crispy capers, black truffle vinaigrette, shaved Asiago, taro root chips.
Paired nicely with the Mezzacorona Pinot Grigio 2019 and Tedeschi Capitel Tenda Soave Classico 2018.
SECONDO
MELENZANA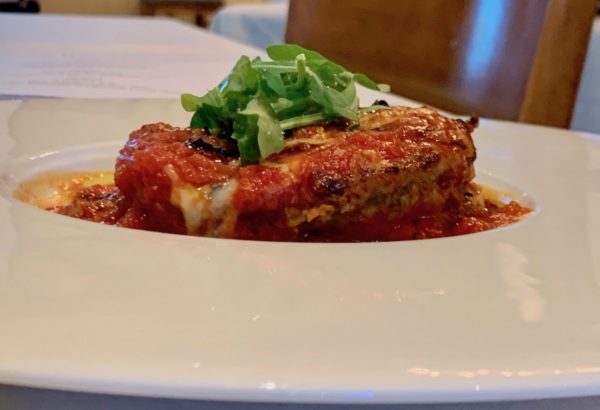 Baked Italian eggplant, bocconcini, tomato rage, parmigiano reggiano crust, basil infused extra virgin olive oil.
Paired with Monte Antico 2015, Il Fauno di Arcanum 2015, and Crognolo IGT Toscana 2017. It doesn't get any more Italian than eggplant, tomato and basil. This dish was so good. I am envious wishing my efforts with eggplant turned out even half as good as this one.
TERZO
STOZZAPRETI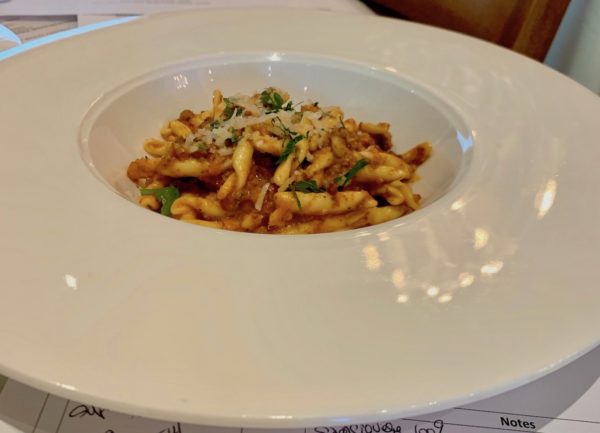 Strozzapreti noodle, Chef Gennaro's famous Bolognese recipe.
What would an Italian lunch be without pasta? A wonderful traditional Bolognese with pasta was rich and satisfying paired with Chianti Rufina Riserva 2016, Chianti Classico DOCG Famiglia Zingarelli 2018, and Chianti Classico 2018.
QUINTO
AGNELLO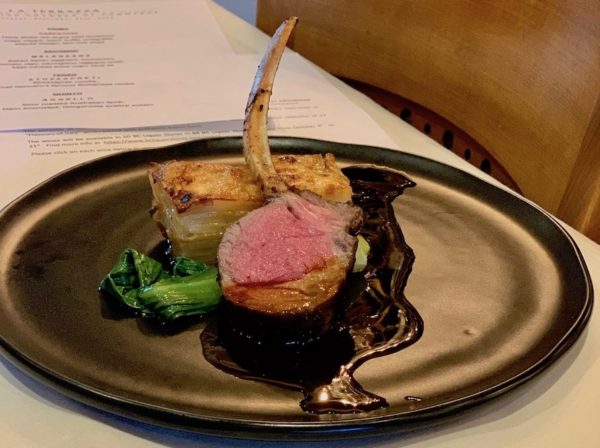 Slow roasted Australian lamb, herb Dijon encrusted, Gorgonzola scallop potato.
This was definitely the finish to end the meal. Perfectly cooked lamb chop with the tangy Dijon crust and a tangy bite of Gorgonzola in the creamy scalloped potato. So good.
Paired with Fontodi Chianti Classico 2016 and Botter Verso Rosso 2019 both excellent choices.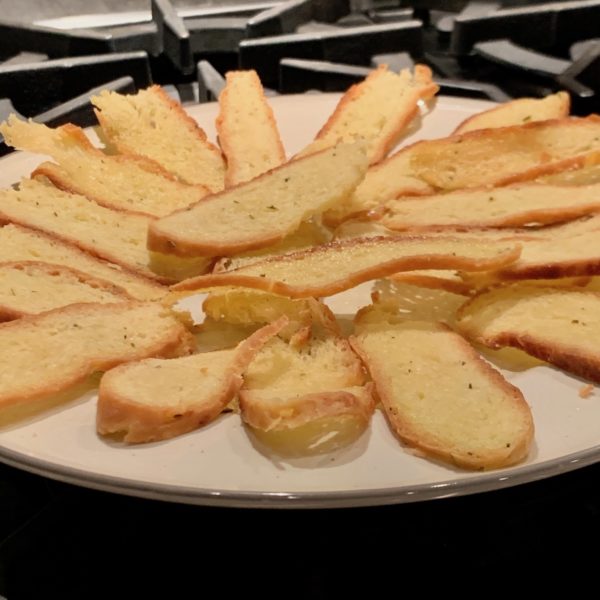 I was so inspired by the dishes that I couldn't wait to attempt making them at home, paired with Italian wine. I did try making bread sticks using some leftover focaccia I had made myself. They turned out quite good.
That's why I love Italian food, it is simple, easy to prepare and delicious. Many dishes only require a few ingredients and are far less complicated than you might expect. However, for most of these delicious offerings from La Terrazza I leave the preparation to Chef Gennaro and your next vist to La Terrazza.
For my full review of the wines, click here.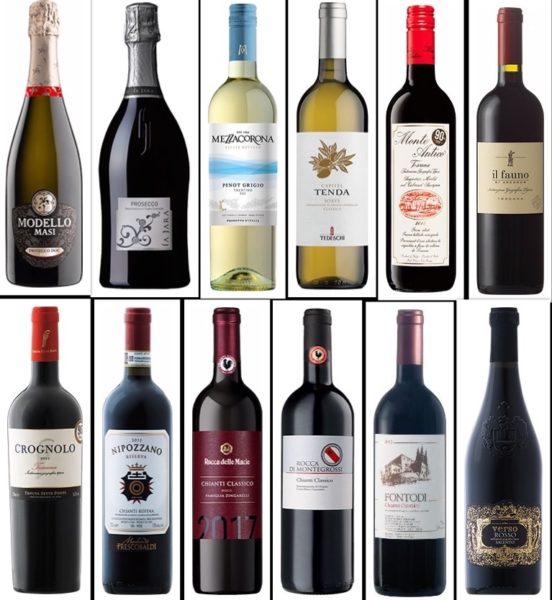 The purpose of the masterclass is to acquaint the selected public with the exclusive selection of 12 "Flavours of Italy" wines paired with authentic Italian food. The wines will be available in 60 BC Liquor Stores ilocations from October 4th to 31st.
With a limit of twenty guests and the members of the Italian Chamber we were about 25 people in a room normally reserved for over 130. All precautions were taken, including wearing of masks, and social distanced seating.
La Terrazza
Since 1998, the dynamic trio of Gennaro Iorio, Giulio Miceli and Iqbal Grewal have been entertaining guests and providing Vancouver's quintessential Italian fine-dining experience.
We pride ourselves in classic Italian cuisine, highlighting local ingredients and celebrating the finest Italy has to offer.
Our food is prepared with the desire to achieve a balance between simplicity and elegance. The extensive wine list offers us the freedom to flawlessly pair any flavour to its appropriate wine whether based upon traditional pairings, sommelier suggestions, or simply your own palate's preference.
Italian Chamber of Commerce in Canada – West
The Italian Chamber of Commerce in Canada–West (ICCC) has operated since 1992 as a private, non-profit, membership organization with the mandate of promoting and enhancing business, trade and investment exchanges between Italy and Western Canada.
ICCC is an integral part of a prestigious worldwide network of Italian Chambers of Commerce, and is one of the most active and respected bilateral trade organizations in Western Canada. Formally recognized by the Italian Government, ICCC forms part of a network of over 150 offices in Italy and 80 foreign Italian Chambers of Commerce throughout the world.
With offices in Vancouver, Calgary and Italy, ICCC acts as a catalyst between businesses and institutions in Italy and Western Canada by coordinating and hosting trade and economic missions, organizing the participation of delegations at international trade shows, and providing customized business solutions for Italian and Canadian companies wishing to enter international markets.
ICCC promotes its members' interests, from young professionals to multinational companies, offering a wide range of business – building activities like customized contacts supply, planning of dedicated events, implementation of business and corporate strategies.
ICCC's members can also take advantage of several discounts and other benefits for their business activities thanks to special conventions that allow them to access to a network made up by over 25.000 companies member of the 80 Italian Chambers of Commerce in 50 countries all over the world.
To read more about the benefits we offer to our members, please click here.
I was a wine media guest and the seminar and lunch were complimentary. All comments and opinions are my own. If you would like to be featured on MyVanCity.ca please connect with your pr agency or email myvancityval@nullgmail.com for full details. Wine samples accepted for review.