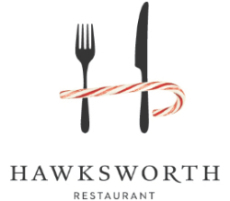 A Special Holiday Roast Dinner with Hawksworth 
Our Turkey To-Go orders are quickly filling up. Order yours by December 11th at 5PM to ensure you and your family enjoy an exceptional turkey dinner this holiday season!
Our delicious turkey roulade is expertly prepared from succulent breast meat rolled with dark meat, and served with a sumptuous array of seasonal sides, including traditional pork stuffing, roasted vegetables, buttered pomme purée, house-made buttermilk biscuits as well as pan gravy and spiced cranberry sauce. Begin with bright, festive flavours of kale, pomegranate, orange, and pecan salad and finish with a decadent dark chocolate fondant cake with burned orange compote and hazelnut.
Holiday Turkey Dinner packages are designed for four ($290) or six ($440) people and offered in easy and convenient recyclable packaging. Limited quantities are available per day. Pick-up dates are December 21-26 at Hawksworth Restaurant.
To enjoy alongside your dinner, we're also offering a holiday Hot Toddy Cocktail Kit ($69), which creates six classic cocktails. Included in each kit is a 375ml bottle of Jameson Irish Whiskey; a jar of local honey; muslin steeping bags; cinnamon sticks and dehydrated orange slices; and three Mason jars filled with aromatic holiday blends to infuse your own drink: pine & douglas fir; lemongrass, peppercorn & star anise; and cinnamon, clove & all-spice.
From now until the end of December, we're also offering three-course Fall Roast Dinners. Choose from the savoury Porchetta Package ($400, 6 portions) featuring porchetta with chestnut, roasted apple, celery, pork jus or the juicy Ribeye Package ($568, 6 portions) featuring prime rib with Brussels sprouts, sauteéd mushrooms, pickled cranberries, red wine jus.
Call Natalie at 604.605.3325 ext. 107 or order online.
We require 72 hours' notice for order cancellations.
Happy Holidays!
Information and image provided by Hawksworth Group.