"In this series I present the Sustainable recipes from the chefs of the Fairmont Hotels in Canada and Internationally"
Fairmont Royal York Poached Farm Egg Hash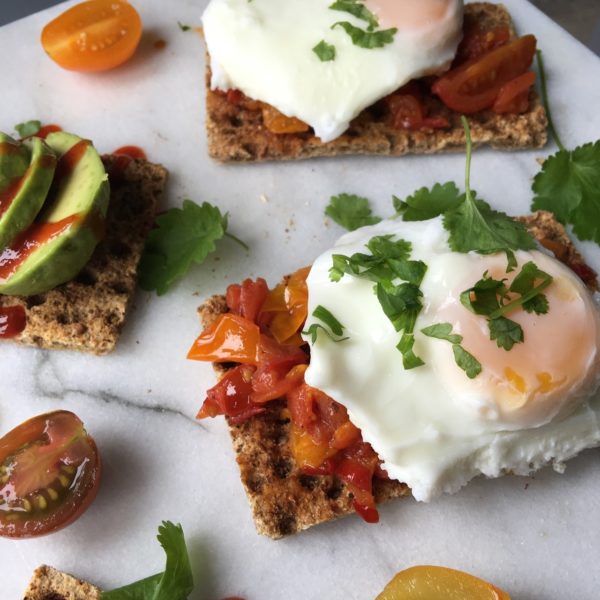 1 Pre-heat a medium heavy bottom pot over med-high heat, add diced leftover turkey leg, cover with turkey bone stock. Bring to a slow simmer and cook until turkey is warmed through and is tender. Remove turkey with a slotted spoon and place in a bowl, keep warm, turn heat up to a soft boil – reduce turkey stock until it coats the back of a metal spoon. Remove from heat and keep warm. 
2 In a large pre-heated fry pan over medium heat, drizzle olive oil. Add the onion and sauté until onions start to lightly brown. Reduce heat and add garlic and chilies. Cook for another 4 minutes. 
3 Add diced squash and sweet potato, slightly increase heat. Brown the tomatoes and squash. 
4 Reduce heat, add reduced stock, season with salt, pepper, sage and parsley – place aside and keep warm. 
5 Take the trimmed and washed leaves, place in a medium bowl, add lemon zest and a small amount of lemon juice. Season with salt and pepper (adjust sharpness with more lemon juice) 
6 Bring a medium size pot with 1 litre of water to a soft boil, add white vinegar. Crack eggs gently into a bowl, take a spoon and swirl through the water in a clockwise motion. Slowly add the eggs and stop stirring. Move water around them so they don't stick to the bottom of the pot. With a slotted spoon remove when egg whites are lightly firm. Remove from water and place on a towel to drain water. 
7 Place hash in the centre of a warm plate, top with two poached eggs, add brussels sprouts salad. Drizzle with olive oil and sea salt. 
½lt Turkey/Chicken Stock (left over bones) 
1lb Left over roasted turkey/chicken meat (white meat or pulled from thighs – large dice) 
½lb Roasted sweet potatoes
½lb Medium diced roasted butternut squash
4oz Diced white onion 
4oz Diced celery
2 Medium garlic cloves, minced 
1 tsp Dried chilies 
¼ Bunch chopped sage 
¼ Bunch chopped parsley 
8 Large farm eggs 
2oz White vinegar 
1lbs Brussel sprouts (outer leaves) 
1 Lemon (juiced and zested) 
To taste sea salt and cracked black pepper 
To taste olive oil 
jW Foster
Executive Chef – Fairmont Royal York, Canada
"Don't let leftovers go to waste – put it to great use with a fabulous brunch! "
"Fairmont understands that sustainable travel is not about giving something up; it is about gaining something more – a great vacation that also helps to make the world a better place." 
Costas Christ, Global Sustainability Strategist, Virtuoso Travel Network and Senior Advisor for Sustainable Tourism, National Geographic Travel 
Luxury hotels are not simply a place to stay. These iconic establishments play an important role for locals and visitors to cities around the globe. In 2020 this vision has been more true and poignant than ever before. 
We believe it is our privilege to enhance genuine experiences and promote a rich cultural exchange within our communities by ensuring long-term sustainability and stewardship of our planet. 
Fairmont is proud to support and participate in Planet 21, Accor's environmental and social sustainability program. Planet 21 challenges everyone – guests, hotel colleagues, partners, and property developers – to take measurable actions to minimize our hotel's impact on our planet. Programs addressing reforestation, water conservation, energy savings and food waste reduction are an integral part of our hospitality DNA. As we look to the future, our hotels pledge to continue promoting long-term sustainability and stewardship in each of our communities. 
78% of luxury travellers consider it important that their hotel has environmentally sustainable practices. Having a positive connection to local people and the planet continues to be a priority amongst luxury travellers. Being green has evolved from a nicety to a necessity. 
80% of luxury travellers are looking for sustainable tourism experiences and are increasingly motivated to visit hotels that implement good environmental practices in their operations. 
84% of luxury travellers consider it important that the hotel gives recommendations of experiences that contribute in positive ways to the local economy. 
Recipe and information  provided by Sydney Torgov, Chimera Collective. Stock photo does not represent actual dish.