Third in a series of five reviews of Local Flights BC Wine Tasting Event
Although 2020 required a much different method of handling the event, nevertheless the tasting, which was conducted under strict Covid protocol with each participant at their own table, social distanced from one another, was a critical success.
Overall, and covering just something better than four hours, I tasted 50 wines. Wines were divided into groups of nine per flight (except the final flight which was one wine only) meaning a total of 6 flights. I am breaking my reviews down into five flights plus one and this is a review of the first flight of the afternoon, in the order they were tasted.
Indigenous World Single Vineyard 2018 Gamay Noir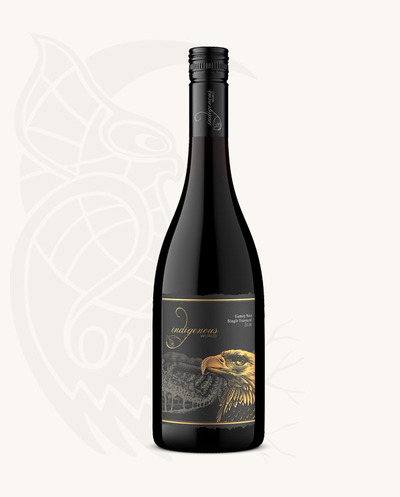 Our inaugural vintage of our Gamay Noir is sourced from the Pavan Vineyard in Keremeos. The wine was fermented in stainless steel after an extended cold soak on skins with partial carbonic maceration. It was aged for 18 months in 80% new French Oak Barrels with the remaining 20% making its home in neutral Pinot Noir barrels.
Heavenly, Christmas, spice, aromas of mulled wine, plum, jam, berries, medium slightly brownish in colour. A combination of ripeness and tart, smooth and somewhat light.
Baillie-Grohman Pinot Noir Terraces 2018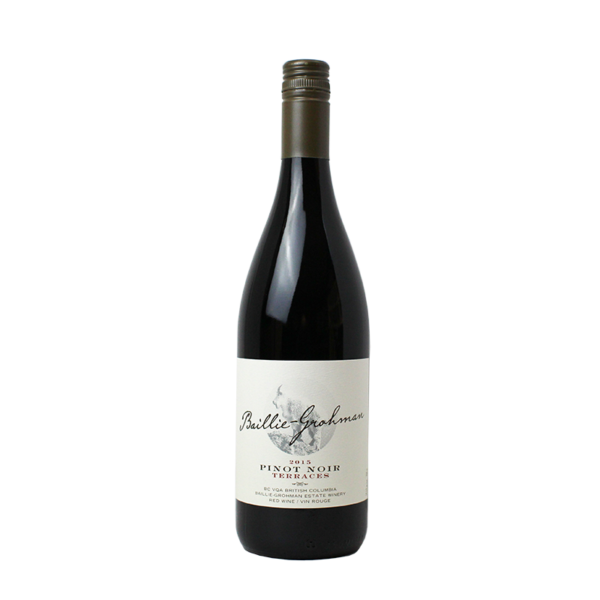 The 2018 Pinot Noir Terraces is a deep ruby red. Cherry, plum, dried herbs and oak spice show through on the nose. The palate is medium bodied with great acidity and supple tannins. This wine carries through to a long rich, velvety finish.Single vineyard Estate Grown at an elevation of 650 m. The 2018 vintage struck an optimal balance between flavour, ripeness and acidity producing a Pinot Noir showing finesse and varietal characters.Hand harvested fruit was destemmed then cold soaked for 3 days before being inoculated. The wine was hand plunged and left on skins for 30 days for tannin development. A full malolactic fermentation was completed with maturation in French oak barriques (20% new) for 11 months prior to bottling. The 2018 Pinot Noir is lifted and aromatic. Cherry, plum, dried herbs and oak spice show through on the nose. The palate is medium bodied with great acidity and supple tannins. This wine carries through to a long rich, velvety finish.
On the nose dirt and wet clay, coronation grapes.Robust, musty, mushroom, forest floor and mandarins. Good, pleasant with medium body and medium tannins.
Ex Nihilo Pinot Noir 2019
Aromas of blooming violets, sponge toffee, and earth. Ripe cherries, smoked caramel and cherries on the palate. Elegant tannins and a soft finish. Hand harvested, destemmed, and cold soaked whole berry under carbonic maceration for 6 days. Gently fermented over 13 days, and pressed to French and American oak barrels to undergo malolactic fermentation. Aged on lees for 10 months. 15% American, 85% French.
Dusty, rich, ripe scents, forest floor, pleasant, light, fresh, with a tart finish.
Meyer McLean Creek 2018 Pinot Noir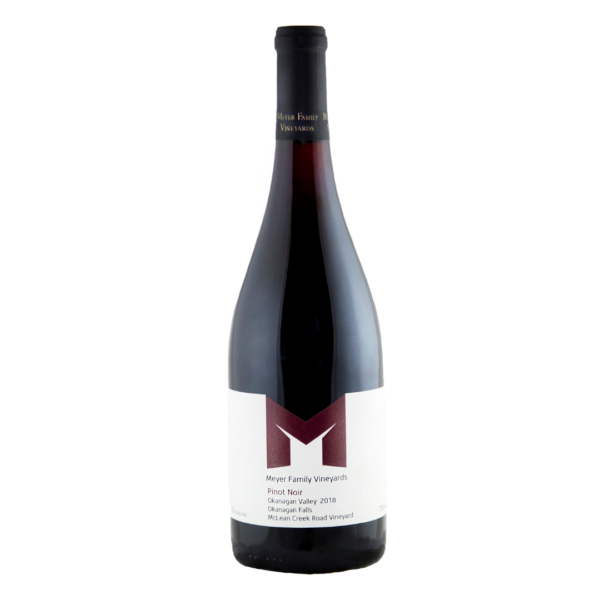 We produced 1,000 cases of this single vineyard Pinot Noir from our estate vineyard on McLean Creek Road in Okanagan Falls. At the winery the fruit was gently de-stemmed via gravity into small open top fermenters and allowed to cold soak. After cold soaking, an indigenous yeast fermentation began lasting two weeks and peaking at 32 degrees Celsius, with gentle hand plunging of the must done throughout. After a post-maceration period the wine was transferred to 100% French oak barrels (25% new) where it remained for 11 months. A natural malolactic fermentation occurred in late spring. In keeping with our philosophy to maintain, as much as possible, a hands-off approach in the cellar to allow the true expression of terroir, this wine is unfined and unfiltered.
Wonderful scents of ripe fruit, rich colour, moss, earthy, mushroom, truffles, cabbage. Light and tasty with medium body.
Foxtrot The Waltz 2018
Bottle shot not available
The 2018 Waltz Pinot Noir displays a classic earth-driven nose with subtle notes of cherry, raspberry jam and orange peel. Liquorice and spice complement the earth and iron notes on the palate, presenting a fresh acidity and soft tannins. Lively red tart cherries carry through to the finish. Enjoy now by decanting or cellar up to 3 years.
Floral scent, unusual, soap, fruity, essence of after shave, laundry detergent. Very light, tart, almost bitter with heavy tannins.
Foxtrot Foxly Reserve Pinot Noir 2016

The 2016 foxly pinot noir reserve has a distinguished red earth hue. Fresh floral notes with a hint of rose petal, cedar and red cherry on the nose. Grippy acidity gives way to a structured palate displaying softer red fruits of strawberry, cranberry, warm spices, and white pepper leading to a decadent finish. Enjoy now or age medium term.
Mildly spicy scents, plum torte, smoky, blueberries, medium colour, mossy, forest floor. Typical, alchohol forward, a bit harsh.
Tantalus Pinot Noir 2018

Deep crimson in colour, this wine juxtaposes sweet berry and lifted floral aromas against notes of fresh earth and mushroom. Hints of anise and fennel round out the complex aromatic profile. The earthy character follows through on the palate along with dusty cocoa, black plum, chokecherry and baking spice. The finish is long and structured with a vein of minerality and promises a long, age-worthy life for this wine.
Cherries, rich, jammy scents, jelly, fruity, ever so yeast scent, good body, neither sweet nor bland. Tangy, with good acidity and medium tannins. A good expression that becomes more mellow, tastier with each sip.
Tinhorn Creek Oldfield Reserve Merlot 2016
Deep dark purple/reddish colour, reminiscent of freshly sliced beets. The aroma is still showing early stages of oak integration. Graphite and freshly baked rye bread lead into black cherry on the nose. the palate is tightly wound still, giving notes of espresso, black licorice and baking spices. After about an hour of air, it starts easing up showing of dried fig, dried cherries and fresh plum. Bright acidity gives this full-bodied wine some great freshness and carries the finish nicely, with dense but focused tannins. Will benefit from an hour decant and another year or two in the bottle.
Expressive, dark colour, blackberry, cooked fruit, dark fruits, ripe and delicious. Excellent body, fruit forward, rich, good depth. Light to medium tannins, nice colour, spicy.
Da Silva Cabernet Franc 2016

Fire roasted red pepper notes wrapped in baking spices & dark fruits, silky tannins & medium acidity on the palate.
Tobacco, men's club, pipe, leather, impressive, deep, rich, ripe fruit with a smooth smoky finish. Medium tannins and well balanced, not too heavy. My #1
Tasting notes are courtesy of the Wines of BC Explorer app and Darcen Esau. Bottle shots courtesy of the wineries. Tasting notes (in italics) are my own reflections and impressions of the wines I tasted.
This was a media event and was complimentary for all attendees. All opinions are my own. With thanks to Kim Barnes, Marketing Director, and her team for their incredible organization and oversight of this event. It was an afternoon well spent.