Romance is in the air at Hawksworth Restaurant 
Celebrate the most romantic day of the year with Hawksworth at Home Valentine's Day edition. At $250 for two, share an evening of passion at home with your love, over six mouthwatering courses featuring: a foie gras tartelette with pineapple chutney; yellowtail amberjack crudo with radish avocado purée, and coconut snow; carmelized john dory with chanterelle, leeks, black rice, white wine sauce; beef duo with braised short ribs, beef tenderloin, potato fondant, truffle madeira jus; dark chocolate with rose namelaka, black cherry cream; and finally surrender to our petit four with dark chocolate and red wine bonbon, raspberry macaron, and passion pâté de fruit. To complement our Valentine's Day To-Go package, add on a bottle of H's Brut, our new sparkling wine created in partnership with Fitzpatrick Family Vineyards; a gorgeous Lark & Ives Floral Monogram Box; as well as our Valentine's Day cocktail kit, A Moment I Treasure, featuring all the ingredients to yield six delicious cocktails that you two can enjoy into the night. Pre-order your Valentine's Day To-Go package before February 5 at 5:00pm, with pick-up windows on February 12, 13, or 14. Limited quantities are available, so place your order today before we sell out!
Home is Where the Heart Is
with Bel Café
Let Bel Café express your love with our Valentine's Day offerings. For a sweet treat, indulge in a box of our Valentine's Day heart-shaped sablé sandwich cookies. These buttery biscuits are filled with a sweet raspberry jam or a decadent vanilla buttercream ($2.50 per cookie or $12 for a package of six). Our cookie selection is offered at both cafés from February 8 to 14. While you're there, order yourself the returning rose tea latte ($5.00 for 8oz), made with rose milk, house-made vanilla syrup, white tea, and garnished with edible dried rose petals––a guest favourite and available only on Valentine's Day. Plus, February 14 will also be the final day of Hot Chocolate Vancouver, so if you haven't tried Blushing Berries ($8.00), our white chocolate and raspberry hot chocolate that's served with a pillowy house-made raspberry marshmallow, be sure to give it a try before it's too late. And what's more romantic than breakfast in bed? Treat your special someone to hot coffee and pastries the next morning by pre-ordering your meal on DoorDash and have it delivered fresh and straight to your door.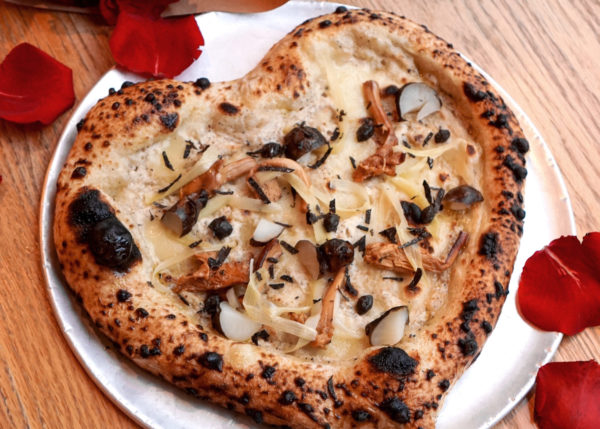 Nightingale Offers Take-Home Menu for Two and Limited Edition Pizza
If you weren't one of the lucky ones to grab a table at Nightingale on Valentine's Day weekend, don't fear because we have a delicious set menu for two ($75) that you can enjoy in the comfort of your home. Order now so you and your amour can enjoy our: beet salad, buttermilk fried chicken, a choice of vegetables, a half-order of Manila clam spaghetti or ricotta gnudi, and end with a raspberry tart.
Order a bottle of H's Brut to set the mood. This set menu is for pre-order and requires 48 hours' notice with pick-up on February 14. Don't delay – place your Valentine's Day To-Go order today. We've also created a decadent frozen heart-shaped pizza available only from February 8-14. Our roasted sunchoke and truffle pizza with leeks and chanterelle mushrooms ($24) is elegant and aromatic and will set the stage for a cozy night in.
Pizzas are available for pre-order for pick up from either Bel Café Kitsilano or Nightingale as early as February 8th, with limited supplies also available from our reach-in freezer at Bel Café Kitsilano.
Information and images provided by Hawksworth Restaurant Group.