LOVE.
IT IS THE BEGINNING AND THE END.
Naramata Ranch Pinot Noir x Risotto ai Funghi
2015 NARAMATA RANCH PINOT NOIR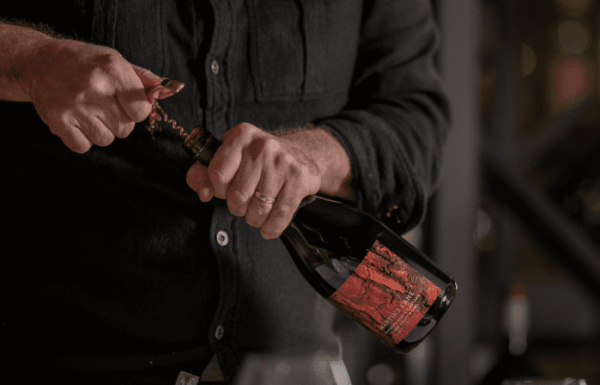 Plan the perfect Valentine's day dinner at home. The key ingredients? Nothing says romance like a bottle of Martin's Lane Pinot Noir paired with a mushroom risotto.
$300. case of three available online
"The Naramata Ranch Pinot Noir sings with bold red fruit. The complex, earthy notes and luxurious texture wonderfully complement the hearty richness and comfort of the creamy risotto. Its one of my favourite comfort foods to enjoy with Pinot Noir"
– Shane Munn, Winemaker
THIS IS WINEMAKING ON THE EDGE.
WINERY.
The structure follows the natural slope and allows gravity to lead, eliminating mechanization entirely. Gravity-flow offers the gentlest handle of fruit allowing full site expression of our four distinct vineyards. With the tiers of the winery, all stages of winemaking can occur in five succinct movements. All this to create world-class Riesling and Pinot Noir.
SINGLE VINEYARD.
Naramata Ranch Vineyard
No place better exemplifies the quote "Pinot likes to grow in beautiful places". Breathtaking beauty, dramatic landscape and substantial elevation change. This is our most climatically and geologically diverse site. Red granite rock is literally on the surface above granite bedrock, with no grass or cover crop. The boniness and grit challenge our vines to reach extraordinary levels.
NORTH OKANAGAN.
With it's sun-scorched earth and jagged rocky hillsides, the North Okanagan is a place where the elements reign. The area is blessed with warm days, cool nights and the lowest rainfall and humidity of any wine-producing region. Our unique latitude and altitude conspire to yield a dramatic viticultural landscape which produce intense and balanced fruit.
"Our wines capture each vineyard's unique and distinct geology, aspect, elevation and micro-climate amplifying the subtle differences of each site in a way that is unmatched in the valley."
– Shane Munn, Winemaker
5445 Lakeshore Road
Kelowna, BC, Canada
V1W 4S5
+1 250 707 2263
info@nullmartinslanewinery.com
Information and images courtesy of Martin's Lane Winery.