Just in Time for Spring Break,
Boulevard Presents Elevated Kids' Menu
The award-winning Boulevard team launches a fun-filled menu aimed at connecting families over amazing food and memories.
With Spring Break just around the corner, Boulevard Kitchen & Oyster Bar launches its first-ever Kids' Menu. This collection of elevated yet familiar bites is designed to thrill and excite while exhibiting the uncompromising Boulevard standard to which its patrons have come to expect. Executive Chef Roger Ma's newest offering is sure to impress Vancouver's younger diners and its future foodies. "We set out to create a menu so families have plenty of approachable yet delicious options; it has been a lot of fun to create," shares Ma.
The new menu inspired by General Manager JP Potter's daughter Jamie, highlights family favourites prepared to perfection. The three-course menu features classic kid-approved options made with premium ingredients such as the BLVD JR Burger, Linguini and Meatballs, Chicken Fingers and Fries, Steak Frites and other classics.  For dessert, Canada's Best Pastry Chef 2020, Chef Kenta Takahashi, presents a show-stopping interactive ice cream bowl that ignites excitement to both the children and adults at the table. Skip the soda, a collection of mocktails, allow junior diners to explore new flavours and join in on the fine dining experience with their families.
While the award-winning team developed the menu, they reminisced on preferred plates from their childhood, how to perfect them and what elements to preserve. For Ma, the soft bun burger was always his go-to; Potters had an appetite for pasta and meatballs. These plates are a celebration of the simple childhood joys made with care and great ingredients – along with a few more indulgent dishes for those little gourmands.
The menu can be enjoyed as a 3 course, $39 experience or a la carte. Reservations can be made by calling 604-642-2900 or via OpenTable.
Boulevard Kids' Menu   
Cornbread for the table with kids
FIRST COURSE
BLVD Caesar Salad
romaine hearts, creamy dressing, parmesan, herb croutons  
Veggie Sticks and Dip
fancy carrots, celery, cucumber, cherry tomatoes, tortilla chips, house made buttermilk ranch   
BLVD Clam Chowder
Prawn Cocktail
pacific prawns, louis sauce, shredded lettuce 
SECOND COURSE
Chicken Fingers and Fries
hand-breaded chicken, world-famous honey mustard  
BLVD JR Burger
cheddar cheese, lettuce, tomato, onion, mayo and pickle, soft milk bun, served with fries   
Linguini and Meatballs
house made, marinara sauce, parmesan  
Buttered Noods and Prawns
parmesan, two garlicky butter prawns   
Steak Frites
grilled hanger steak, handcut french fries, smokey mustard dip   
DESSERT
Kenta's Samurai Ice Cream Bowl
five different treasure toppings, chocolate sauce, whip cream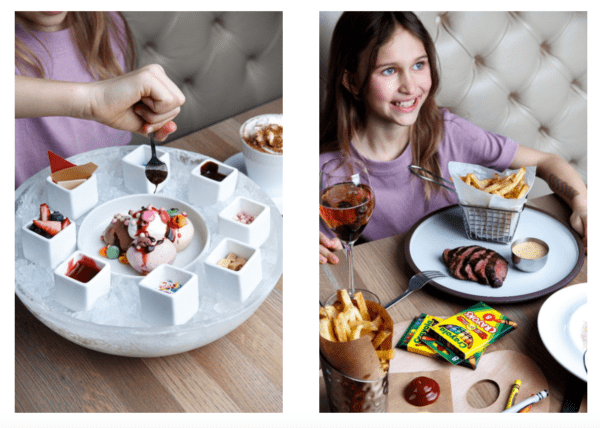 About Boulevard Kitchen & Oyster Bar
Located in Vancouver's downtown shopping district, Boulevard Kitchen & Oyster Bar is an award-winning showcase for sensational seafood paired with the culinary visions of Chefs Alex Chen and Roger Ma. Both Ma and Chen have won the Canadian Culinary Championship crown, in 2020 and 2018 respectively. Chen was also the first competitor to beat an Iron Chef – Hugh Acheson – in the 2018 reboot of Iron Chef Canada. In fact, Boulevard is one of the 
most awarded restaurants
 in the city's recent history. Boulevard's seafood-focused menu is grounded in classical technique and training, and artfully infused with West Coast flair and international influences. Boulevard boasts a gorgeous room, signature booths, a buzzy bar and elegant private dining spaces, each enhanced with exceptional service, and a wide-ranging selection of wines and cocktail.
www.boulevardvancouver.ca 
Information and images provided by Boulevard Kitchen.