"In this series I'll share which B.C. wine pairs best with select recipes from the best chefs in B.C." 
This week featuring one of Executive Chef Jeff VanGeest's favourite recipes from Miradoro at Tinhorn Creek. The cuisine is a delight, the wines are excellent and the views are quite spectacular! Plan your visit to Miradoro this weekend!  A wonderful way to enjoy your afternoon or evening with lunch or dinner at Miradoro. For what's currently on the menu use the links below. Note: items change frequently depending on the season. This Arctic Char dish is from a previous menu.
Pan roasted rd. 17 arctic char, wild mushroom & rye berry ragu, roasted winter squash, salsa verde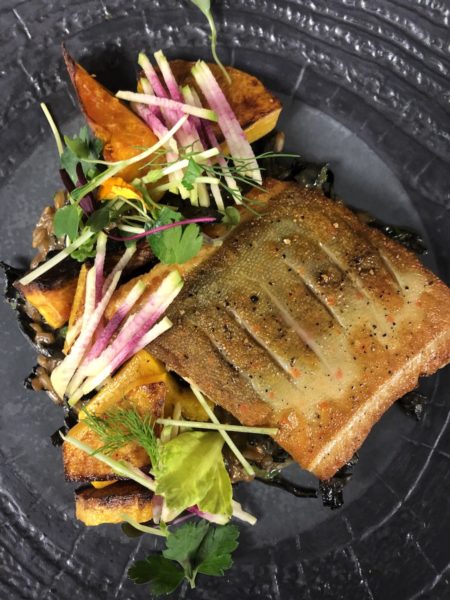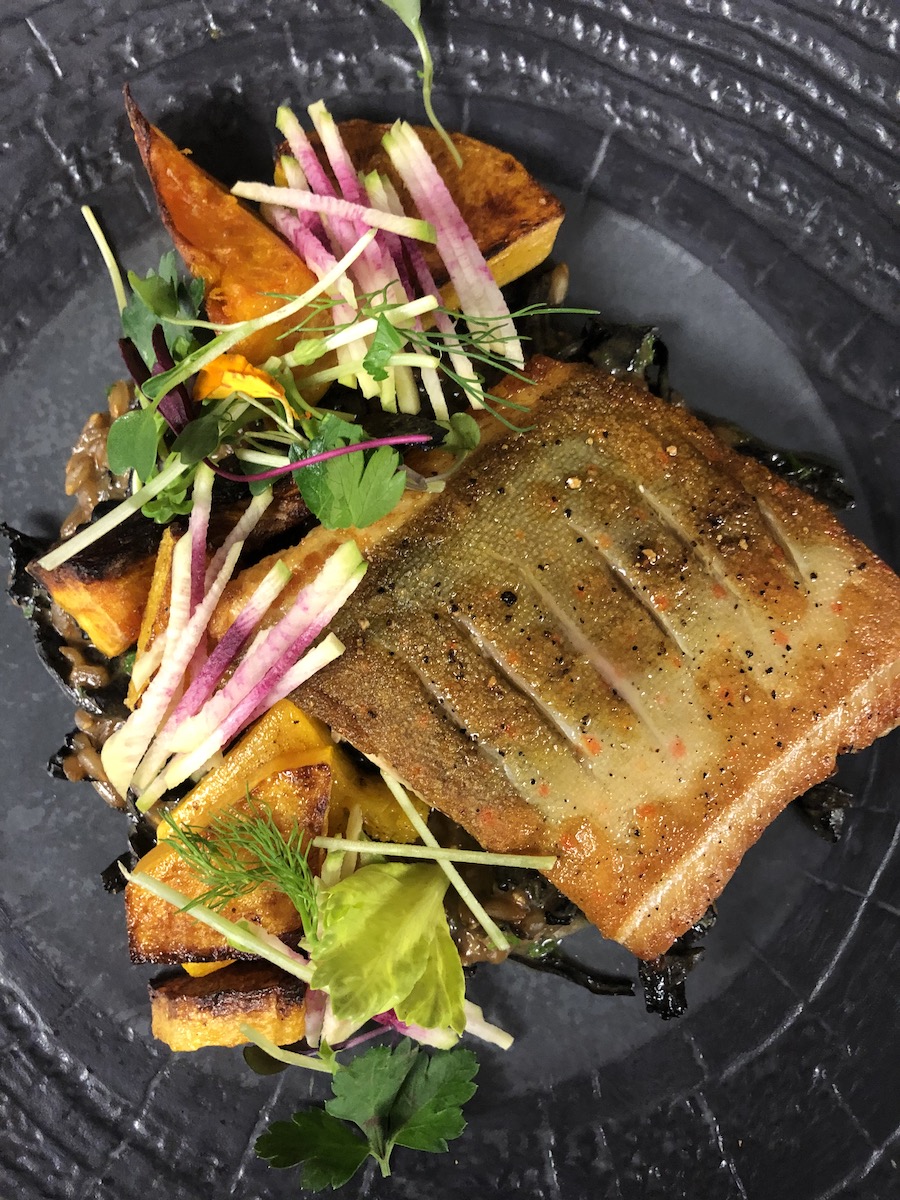 Executive Chef Jeff Van Geest
squash
1 smaller heirloom variety squash
Olive oil
Kosher salt
Lemon juice
-Peel squash and slice into wedges after removing the seeds
-Toss in olive oil, salt and pepper, and place on a parchment lined baking tray
-Roast in a 425 degree oven, flipping them once part way through to get nice colour on both sides
-When they have nice colour and are tender, they are done
-drizzle with fresh lemon juice
-reserve
Rye berries
cup dry rye berries
1 shallot – peel removed and cut in half top to bottom
1 rib celery
1 carrot – peeled and cut into 5 or 6 pieces
1 bay leaf
2 sprigs thyme
2 litres water
Kosher salt and fresh cracked black pepper – to taste
-Simmer rye berries in water with other ingredients until tender
-add more water if needed
-season
-strain off water when done and spread out onto a baking tray to cool
-remove herbs and vegetable
Mushroom ragu
2 cups dried wild mushroom mix
1 shallot – sliced
2 sprigs thyme
1 tbsp olive oil
150 ml white wine
250 ml vegetable or chicken stock
4 tbsp unsalted butter
Kosher salt and fresh cracked black pepper
-saute shallots in olive oil until translucent
-add remaining ingredients and simmer until the mushrooms are soft
-remove approximately a third of the mushrooms using a spoon and let them cool enough so you can handle them
-place remaining mushrooms and liquid into a blender. Puree, season
-chop the reserved mushrooms into reasonable sized strip
-mix lentils, sliced mushrooms and mushroom puree in a small sauce pan
-heat over medium heat, season
-stir in butter, reserve somewhere warm
Salsa verde
1 bunch parsley
A few sprigs mint
6 anchovy filets
1 shallot
1 tbsp capers
150 ml olive oil
75 ml sherry vinegar
Pinch of chillies
-put all ingredients in food processor until it is fairly smooth but still has a bit of texture
Char
4 – 4oz pieces of arctic char filet
Kosher salt and fresh cracked black pepper
Canola oil
-Place the char on a plate skin side up and season with kosher salt and fresh cracked black pepper
-Let sit for 5 minutes or so and pat dry with a paper towel
-Heat enough canola oil to cover the bottom in a non stick pan over medium high heat
-watch for the oil to have a wavy surface
-carefully place two portions of the fish in the pan, pushing down the middle of the fish so the skin all contacts the pan
-cook for about a minute or so until the skin is crisp and golden brown and place on the tray with the squash
-repeat for the remaining two portions
-place the tray with the fish and squash back in the oven for about two minutes, or until the char is cooked to medium.
-rewarm the mushroom and rye berry ragu and place about a cup on each plate
-arrange the squash on top of the ragu and the char on that
-place salsa verde around the squash and ragu
-garnish with paper thin slices of fresh radish
Suggested BC wine pairing:
Tinhorn Creek Oldfield Reserve Sauvignon Blanc

Lovely tropical fruit aromas with just a hint of spice. Well balanced acid and sugar. Tropical and citrus flavours with a bit of minerality and a lovely long finish.
drink now and over the next 5 years
I had the pleasure of tasting this wine at the Local Flights BC Wine Tasting event in November, 2020. This is my personal pick for this dish.
Be still my heart! Soothing scents of pepper and spice, nutmeg, mandarin oranges, Meyer lemon and cherry blossoms. A bit buttery with a slight bite. Herbatious as it mellows out. Nice acidity and easy drinking.
Menu
We're now pleased to offer options for both dine-in and takeout.
We will continue to monitor the situation and will keep you informed of changes at the restaurant as they occur.
Our team thanks you for your support during these challenging times and we look forward to welcoming you back to the restaurant.
Dinner – Features our March Prix Fixe, 3 courses for $45.
Easter Brunch Sunday April 4th 11-3pm
Spring Short Table Dinners Tuesday April 6th, 13th, 20th, 27th
Mother's Day Brunch Sunday May 9th 11-3pm
Miradoro 10th Anniversary Dinner Friday May 28th 630pm
The Miradoro Philosophy. This is modern wine country cuisine. Our food pays homage to the bounty of the Okanagan, using the culinary traditions of the Mediterranean as our inspiration. We believe that there's nothing better than simply, but well-prepared ingredients from our local fields, forests and ocean.
*Menus may change without notice.
Reservations are required, please call 250-498-3742
Recipe courtesy of Miradoro Restaurant at Tinhorn Creek and Chef Jeff Van Geest. Artic char image courtesy of Chef. Tasting notes and bottle shot courtesy of the winery.
Check out more recipes from Chef Jeff Van Geest here.
Comments (in italics) are my own. Read more about the Local Flights BC Wine Tasting event and the wine reviews here.