Welcome to the 7th Vancouver Foodster Pizza Challenge. Restaurants from all over the city were invited to enter their pizza into this challenge, some of the restaurants have created a special pizza just for this challenge and others have entered their top choice off their existing menu. Each restaurant and food truck will be featuring their pizza on their menu from April 1-25, 2021.
How Does this all Work? For the public challenge, you are invited to order any or all of the pizza creations in this challenge, then you decide who you think has the best pizza creation for the People's Choice award winners.
Share your experiences: Social share your photos and details by twitter and instagram throughout the challenge; our twitter and instagram address is @vanfoodster and the hashtag is #PizzaChallengeYVR please include this hashtag in all your tweets, instagram stories and instagram posts during the challenge.
Voting criteria – some things to help you judge your favourite pizza creations – keep these things in mind: originality, creativity, uniqueness, traditional, non-traditional, price, value and most importantly taste. Just remember to VOTE for your favourites between April 1-25, 2021.
NOTE: Due to the current Covid-19 inside dining restaurant restrictions, the pizza creations in this challenge will be offered by Patio dining (where applicable), Takeout and Delivery as noted. (Once the governments dining restrictions change the pizza challenge dining will be adjusted).
Here are the Pizza creations in this challenge, listed in no particular order other than when they were received by us.
Hearthstone Tap & Forno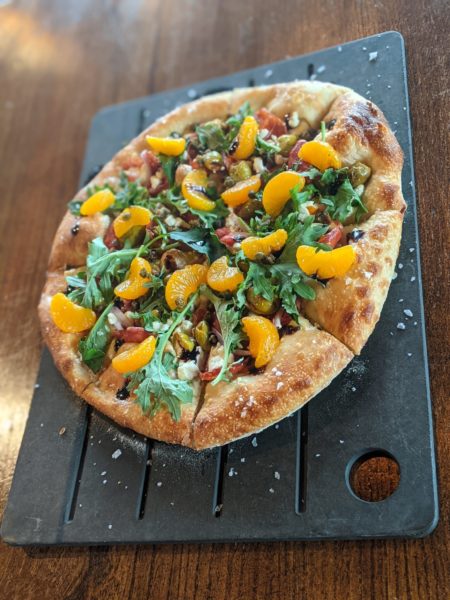 The Calabrian
Price: $19
Created by: The Hearhstone Team
Description: This pizza takes your taste buds on a tantalizing journey to the southern tip of Italy. We took inspiration from the Calabrian province located right at the southern "toe" of the Italian boot. The rolling Mediterranean hills and coastal climate are perfect for growing olives, a variety of oranges, and figs. Our submission features the region's passion for a bit of heat mixed with a playful saltiness.
This pizza blends a medley of extra virgin olive oil and regional spiced, cracked green olives. Calabrese salami melds with the spiced green olives to create a spirited heat on the palate, which is mellowed by the creaminess of the goat cheese and the citric acid presented by the mandarins. Crispy capers finish off the presentation with a mild salinity complemented by the rich density of our fig jam.
Ingredients: green olives, calabrese salami, extra virgin olive oil, goat cheese, oranges and figs.
Offered: for both dine-in and takeout Sunday – Wednesday: 12-9PM and Thursday – Saturday: 12-10PM (NOTE: this location is closed thru April 18; their pizza creation will be available to order between April 19-25).
Hearthstone Tap & Forno
1015 Marine Drive, North Vancouver
Tel: (604) 984-1842
Web: http://www.hearthstonebrewery.ca/
Twitter: @hearthstonebeer
Instagram: @hearthstonebeer
Pizzeria Grano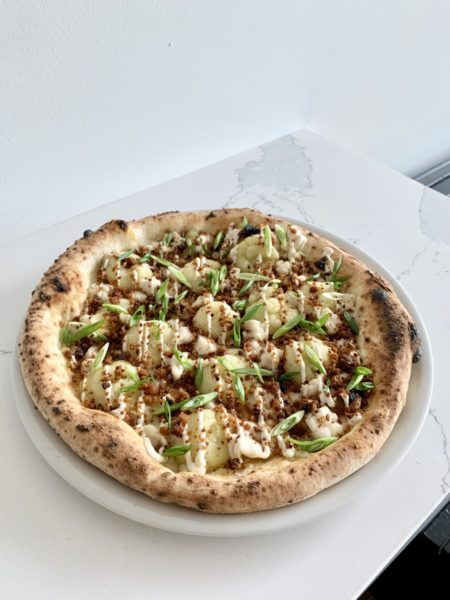 Patate al Forno
Price: $21.00
Created by Katie Mantei & Jonathan Cozier
Description: Cashew bechamel base with whipped potato, cashew mozzarella and finished with crispy bacun bits, chives and house-made sour cream.
Ingredients: Cashews, Earth Balance, olive oil, nutritional yeast, cashew mozzarella, potato, bacun, and chives. Allergies: Wheat, gluten, soya, cashews.
Offered: all day and evening service.
Available: on Doordash, for take-out and online.
Pizzeria Grano
3240 Main Street, Vancouver
Tel:(604) 876-5408
Web:https://www.pizzeriagrano.com/
Instagram @pizzeriagranoyvr
Sciue Italian Bakery Caffe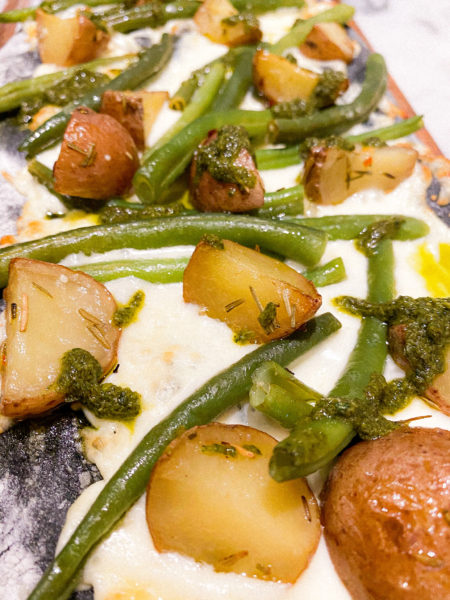 La Ligure Nera – (Black Ligure)
Price: full $32 (designed for 2 people) or by slice at the store ($33/1kg )
Created by: Filippo Musso
Description: This creation is our Chef Filippo's tribute to his homeland Liguria as Ligure means person from Liguria, Italian region well known for the stunning Cinque Terre Nation Park. He combined traditional ingredients such as pesto, roasted potatoes, green beans and added a twist in the base that looks like it's burnt but isn't not, do not worry!
It's just made with activated charcoal very good for the body.
Ingredients: Activated Charcoal pizza base, creamy pesto sauce, Shredded mozzarella cheese, roasted potatoes, green beans garnish with pesto and fresh basil.
Offered: Pender: From 11am to closing Mon-Friday (NOTE: this location will begin the pizza challenge on April 6).
Offered: Yaletown: From 11am to closing every day
Available: Takeout/Pickup: as per stores hours; delivery available by Doordash
Sciue Italian Bakery Caffe
800 West Pender Street, Vancouver
Tel: (604) 602-7263
Instagram @sciuevancouver
and
Sciue Italian Bakery Caffe
126 Davie Street, Vancouver
Tel: (604) 689-7263
Instagram @sciuevancouver
Backcountry Brewing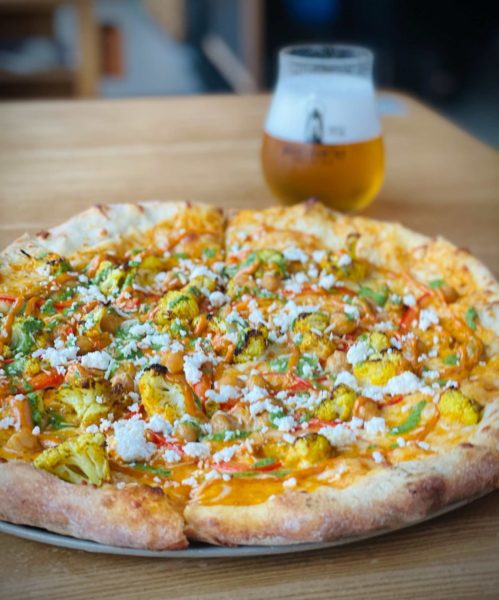 Curried Cauliflower Pizza
Price: $18
Created by: Chef Artie McGee
Description:  Red curry cauliflower pizza with roasted curry cauliflower, roasted peppers and mozzarella. Garnished with cilantro chutney, mango creme, toasted coconut and house made paneer.
Ingredients: Red coconut curry base, curried cauliflower, red peppers, chickpeas. cilantro chutney, mango crema, toasted coconut, and paneer.
Takeout/Pickup: Lunch and dinner daily for Dine-in or Takeout.
Delivery: not available.
Backcountry Brewing
405-1201 Commercial Way, Squamish
Web: https://www.backcountrybrewing.com/
Tel:(604) 567-2739
Twitter @Backcountry604
Instagram @backcountrybrewing
Wildeye Brewing Bistro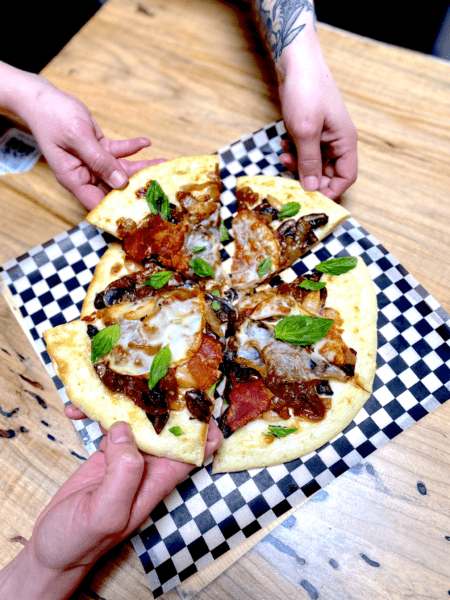 Drunken Onion Prosciutto Pizza
Price: $15
Created by: Erica Pandin
Description: Mornay based pizza with crispy prosciutto garlic confit, roasted white mushrooms, white onions caramelized with Wildeye Czech Dark Lager, topped with smoked caciocavallo cheese. Finished with sliced pepperoncini peppers and fresh basil.
Ingredients: prosciutto, garlic, mushrooms, onions, beer, smoked caciocavallo cheese, pepperoncini peppers and fresh basil.
Offered:Dine-in and Takeout (call for pickup)
Wildeye Brewing Bistro
1385 Main Street, North Vancouver
Tel: (604) 988-1900
Web: https://www.wildeyebrewing.ca/bistro
Instagram @wildeyebrewing
Little Devils Wood Fire Food Truck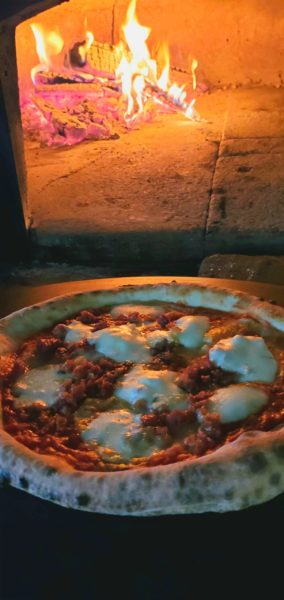 Vancouver Special
Price: $15
Created by: the Little Devils Wood Fire Pizza Team
Description: We start with Chiliwack's Anita's Organic '00' pizza flour, fresh yeast, sea salt, and water for our dough. We do a double ferment – about 12 hours bulk and another 36 hours as hand-rolled dough balls.
Our sauce is San Marzano tomatoes that have been crushed by hand with a pinch of salt added. We paper-thinly slice fresh pineapples and house-preserve. We take Italian prosciutto, portion and slowly sear, cool, and crumble. We use generous slabs of Fior di Latte – young, creamy, mozzarella. We top with minced garlic, grated Grana Padano, and house-infused chili oil.
The pizza is then cooked at about 850° in the wood fire oven, giving the pizza an iota more crispness than a traditional Neapolitan. We use year-dried BC Alder, or Birch wood.
The pizza cooks for about two minutes, coming out with a puffy, 'leoparded' crust and slightly roasted garlic, melted fior, spicy chili oil, sweet pineapple, salty prosciutto, bright tomato, on an airy, luscious, but very slightly crisp base. We finish with grated Grana Padano and Extra Virgin Olive Oil
Enjoy hot!
Ingredients: Hand-crushed San Marzano Tomato Sauce, Seared and Crumbled Prosciutto, Fior di Latte, Preserved Pineapple, Garlic, Chili Oil, Parmesan
Offered: Available for pickup anywhere the truck is (check the website). Delivery available through Uber Eats, Doordash and Fantuan when we are in the River District!
Little Devils Wood Fire Food Truck
(rotates locations)
Instagram @littledevilspizza
Make sure you check out the Pizza Challenge postcards which will be either at the restaurants for pickup of the Takeout orders at each of the participating restaurants or with your delivered order. Remember to Vote for your favourites daily, all the voting details are at https://vancouverfoodster.com/pizza-challenge/
David Grange
Blogger for BCFoodieBlogger
Twitter: @BCfoodieblogger
Instagram: @BCfoodieblogger
David Peng
Blogger at Picky Diners and Vancouver Foodie Pulse
Twitter: @pickydiner
Instagram: @pickydiner
Maggi Mei
Blogger and Instagrammer
Twitter: @mag_mei
Instagram: @magmei
Media release and images provided by Richard Wolak, Vancouver Foodster.