Vancouver Island is known for its beauty.  This is why so many people live there, move there, retire there, and travel there.  And many of those residents and travellers are wine lovers.  The Vancouver Island wine scene has been quietly and steadily growing and now numbers thirty-two wineries in the Cowichan Valley alone.  Varieties that do very well on the island include Ortega, Bacchus, Gewürztraminer, Pinot Gris, Marechal Foch, and Pinot Noir.
The Cowichan Valley is situated between Nanaimo in the north and Victoria in the south with Duncan at its centre.  Its proximity to the ocean helps to moderate winter temperatures resulting in a long growing season.  Its unique conditions have helped it become BC's newest designated wine region.
For those who have discovered the region, Blue Grouse Winery is at the top of many people's lists of where to visit.  It has a stunning building that encloses both the winery and the tasting room and was designed to reflect the shape of the bird it is named after.  Here there is beauty in the land, in the winery and, most importantly, in the wines.
As all winemakers in BC have come to discover, what applies to real estate also applies to winemaking – it's all about location.  You can make quality wines when you plant just the right grape on just the right site and that means having a good understanding of what lies beneath the ground.  Blue Grouse has spent a lot of time and money to uncover the soil profile of each block in their vineyard, going as far as bringing in the internationally renowned, Chilean soil specialist Pedro Parra.  The result is they are now poised to make better wines than ever before.  That investment in time and effort is a large part of their success.
It often comes as a surprise to many that Vancouver Island geology has nothing to do with the Okanagan and that it did not break off from the mainland.  If you are lucky enough to meet owner, Paul Brunner, he can give you a fascinating account of the region's geologic history.
The Cowichan Valley has a warm, summer Mediterranean climate, similar to Oregon's Willamette Valley.  And its latitude of 48.5° N is virtually the same as such famous French wine regions as Romanee Conti (47°N) (Burgundy) and Dom Perignon (Champagne) at 49° N.  The Okanagan, conversely, has a Continental climate which is warmer than the Cowichan Valley.
Paul Brunner has owned Blue Grouse since 2012 when he bought it from Hans Kiltz who had first planted vines in 1986.  The Pinot Noir vines he inherited are now more than 30 years old.
By 2015, he had built the impressive new winery, which resembles its namesake bird, and hired winemaker Bailey Williamson who shares Paul's vision and values.  As he says, "It is important that we take what our terroir gives us rather than trying to force the terroir to give us what we want.
The site has a south by southwest aspect and is only three kilometres from the ocean with an elevation of between 45 and 78 meters above sea level.  Long-term average temperatures show no below zero temperatures, unlike the Okanagan, so Blue Grouse will never be making ice wine.
There are some interesting similarities between the Cowichan Valley and the Burgundy region of France, which is famous for wines made from Chardonnay and Pinot Noir and the sparkling wines of Champagne as well as the aromatic wines of the Alsace.  (For oenophiles, geology majors, inquiring minds and nerds in general, see addendum.)
Wine writer, Anthony Gismondi once told Paul Brunner that BC wineries need to talk about terroir and why that makes our wines unique and helps to explain our high quality.  No one could do it better than Paul who has an extensive background in mining.  He understands soils.
When Paul acquired the winery, it was between eight and nine acres in size.  Now, with the addition of a new vineyard, the entire estate will be thirty-five acres, which represents a four-fold increase in size.  The bulk of the new plantings will be devoted to Pinot Noir along with Pinot Gris and Chardonnay.  They will use a variety of clones and rootstocks for the Pinot Noir.
The latest focus for Blue Grouse is a major expansion of their sparkling wine program as well as moving their vineyard to organic certification which has been well underway for some time now.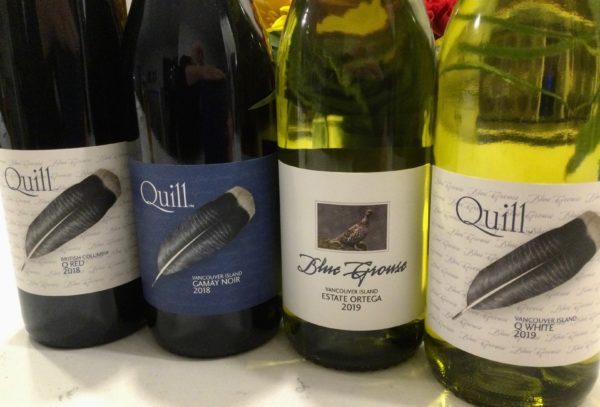 The Estate wines are made from grapes harvested on their Cowichan Valley vineyard, while the Quill label designates wines that were made from grapes sourced from other vineyards, both on Vancouver Island and the Okanagan.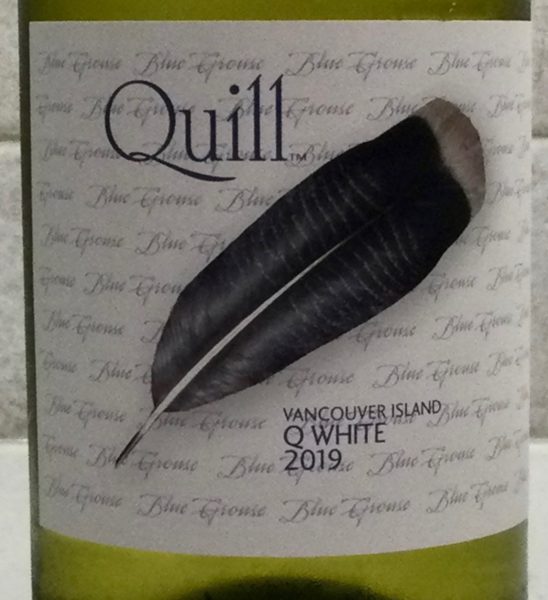 2019 Quill White
$19.99
A tasty blend of Pinot Gris 35%, Schönburger 26%, Gewürztraminer 22%, and Siegerrebe 17%.  With every vintage, I find myself saying this is their best yet.  I'd love to try a vertical tasting of this wine.  It's the Schönburger that gives this wine its 'Wow' factor.  It is sourced from a coastal vineyard in Comox.  The rest of the grapes come from a vineyard in the Cowichan Valley, not far from Blue Grouse. Straw coloured with medium-light intensity.  An enticing nose with perfume, floral, apricot, honeysuckle, peach and tangerine zest.  Good balance.  The flavours reflect the nose followed by a medium-long finish with flavours that linger.  The aromas make you suspect some sweetness, but this wine is completely dry which makes it such a good wine to serve with food, especially prawns and scallops or anything fresh from the sea.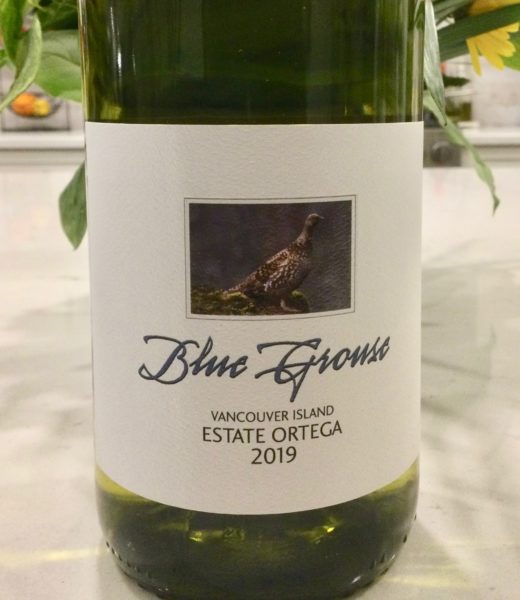 2019 Estate Ortega
$23.99
Ortega shines on Vancouver Island where the climate is just right.  A cross between Siegerrebe and Müller-Thurgau (itself a cross between Riesling and Madeleine Royale).  At Blue Grouse, the vines are old, at least twenty-five years old and at their peak of maturity.  Two months of lees contact give this wine a richness and roundness that shows in the balance.  A 'long and slow' ferment helped to retain fresh fruity aromas.  Straw coloured with medium-light intensity.  Honey, cream, tangerine, peach apricot and lime are all intertwined on the nose.  Well balanced.  The palate echoes the nose followed by a medium-long finish.  You really need to try this wine to see what Ortega is all about.  Fresh oysters or any other seafood would be the perfect pairing for this wine.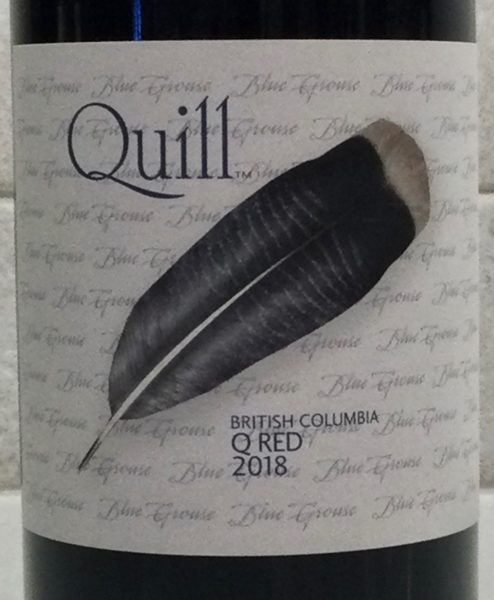 2018 Quill Red
$23.99
A blend of 75% Merlot (Oliver), 13.5%Marechal Foch (Cowichan Valley), and 11.5% Cabernet Franc (Oliver).  The grapes were all fermented separately, aged for twelve months in both French and American oak barrels and assembled just before bottling.  The wine is garnet red with a touch of brick and medium-deep intensity.  The nose shows aromas of red cherry, raspberry, earth, dust, leaf, and a hint of mint.  Good balance with ripe tannins.  The aromas carry on over to the palate followed by a medium-plus finish.  Perfect with something off the grill.  (I BBQ all year long, don't you?)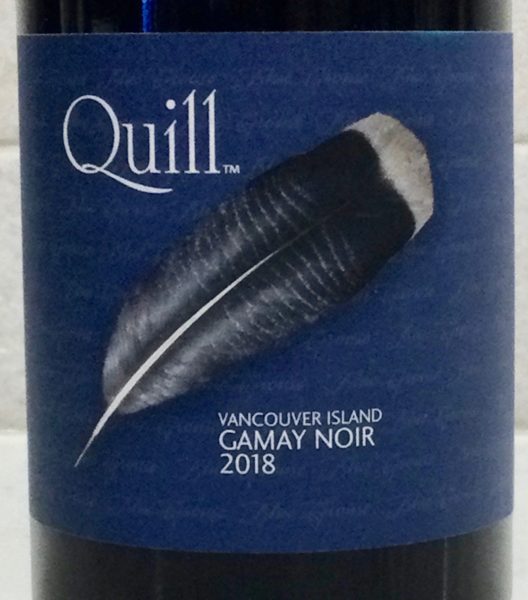 2018 Quill Gamay
$26.99
The grapes came from an off-site Cowichan vineyard.  Two days of cold soaking helped to extract fruit aromas and ten months in neutral oak barrels helped provide secondary notes.  Cherry red with medium-deep intensity.  The nose is layered with aromas of dried cherries, dried rose petals, violets and hints of coconut.  Good balance with medium body.  Bright fruit on the palate with cherries, raspberries, leading the way followed by undertones of black pepper.  A medium-long finish.  Gamay is a lighter wine that is food-friendly and packed with flavours and aromas.  This makes it a perfect accompaniment to poultry and fish dishes.  We enjoyed it with a tomato-based pizza.
Come discover for yourself why Blue Grouse is one of the top wine-touring destinations on Vancouver Island. You can find Blue Grouse at 2182 Lakeside Road, in Duncan, BC.  And if you have the good fortune to meet owner Paul Brunner, aka the Blue Grouch, on your next visit, ask him about, '300 million-year-old island formed Wrangellia exotic Terrane – separate from any continent.'
The good news is that you don't need to travel to Vancouver Island to get your hands on these wines.  They are carried at the following retail outlets.
Vancouver Island 
Beverly Corners Liquor Store
2763 Beverly St #102, Duncan
Phone: (250) 715-2025
Cobble Hill Liquor Plus
1400 Cowichan Bay Rd, Cobble Hill, BC V0R 1L3
Phone: (250) 929-1999
Liquor and More Cowichan Valley
3000 Drinkwater Rd #111, Duncan, BC V9L 6C6
Lower Mainland:
Kitsilano Wine Cellar
2239 W 4th Ave, Vancouver, BC V6K 1N9
Liberty Wine Merchants Point Grey
4583 W 10th Ave, Vancouver, BC V6R 2J2
Robson Wine Beer and Spirit
425 Robson St, Vancouver, BC V6B 6L9
Tugboat Annie's Pub Richmond
6911 Graybar Rd, Richmond, BC V6W 1H3
Phone: (604) 270-0364
Clover Crossing Liquor Store
6466 176 St Unit 413, Surrey, BC V3S 4G3
Fraser Valley
Promontory Liquor Store
5615 Teskey Way Suite 201, Chilliwack, BC V2R 0K5
Phone: (604) 846-7744
Shark Club Langley
20169 88 Ave, Langley City, BC V1M 2N9
Ridgeway Beer Wine Spirits
21280 Lougheed Hwy, Maple Ridge, BC V2X 2R7
Okanagan Valley
Public Liquor Store
1750 Pier Mac Way #301, Kelowna, BC V1V 2K4
Phone: (778) 753-6253
Mission Liquor Store
3195 Lakeshore Rd, Kelowna, BC V1W 3S9
(Thanks to Town Hall Brands for providing me with this list of outlets.)
ADDENDUM:
In the summer, Burgundy averages about 0.5 to 1.0 degrees warmer, however, the diurnal temperature range in the Cowichan Valley is greater than Burgundy which helps create better acid/sugar balances.  Recently Blue Grouse had a daytime high of 29°C and 8°C at night.  Rainfall is less in the summer than in Burgundy but much greater in the spring and fall.
Growing degree days have increased since 2012.  Otago, New Zealand sits around 1000 GDD, Cowichan Valley 1100 (10-year average), Marlborough, New Zealand 1200, Willamette Valley, Oregon 1200+, Cowichan Valley 1200 (5-year average), Burgundy, France 1300, Yarra Valley, Australia 1300, Carneros, California 1400, and Russian River, California at 1500.
In recent years, summer days above 25°C have doubled from 16 to 39.  The hottest day is expected to go from 33° to 37° representing a 28% increase in the growing season by 2050.
Currently, the average annual temperature in the Cowichan Valley is 14°C and Burgundy is 15°C.  By 2050 predictions are for 17°C and by 2080 18-19°C.  At that time big reds could be grown on Vancouver Island.
Paul Brunner, aka the Blue Grouch, is one of my favourite Vancouver Island winery owners.  Check out the Grouch for yourself.
(All photos, except as noted – Sam Hauck) Winery photo courtesy of Blue Grouse and Derek Ford