DRINK SAFETY
Is your glass being harassed?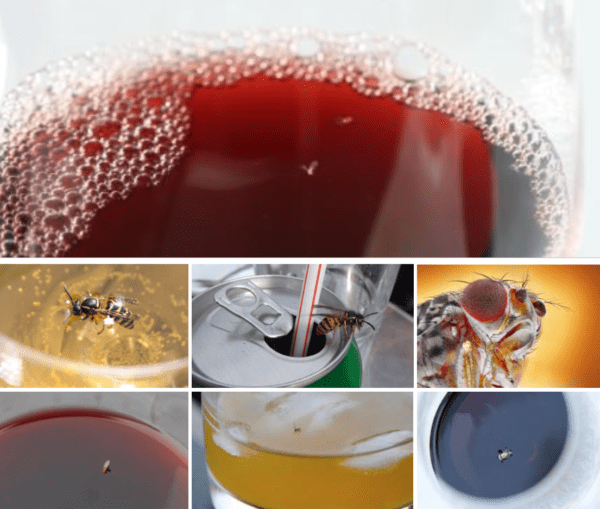 We're all familiar with the pesky fruit flies that attack our wine and the wasps that lurk in nearby drinks. Below are some reasons why we should keep them at bay.
YUCK!
If a fruit fly lands in your wine, it immediately changes the flavour profile of the wine, rendering it undrinkable. The fruit fly (Drosophila Melanogaster) is always in search of yeasts to lay their eggs on. Yeasts are found in rotting or fermenting fruit, vegetables or other organic waste materials as well as our glass of wine!
SCARY!
A wasp in your beverage resulting in a sting in your mouth could be fatal, not to mention painful. A sting is dangerous near the throat because of the risk of anaphylaxis, a life-threatening allergic reaction to the sting.
At least 90-100 deaths occur each year in the United States due to insect sting anaphylaxis.(1)
The WineGuard® Wine Glass Cover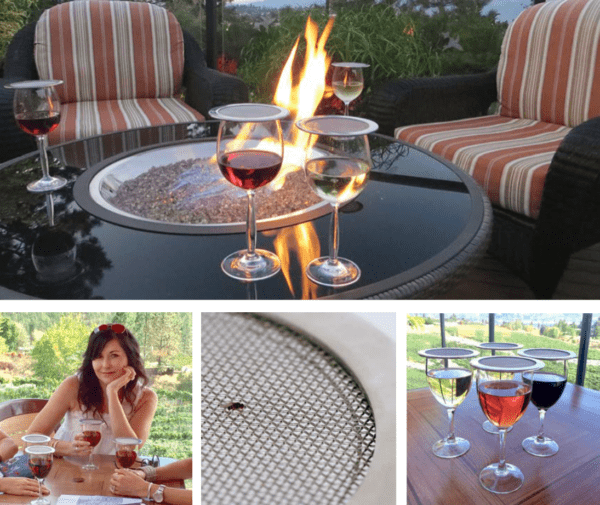 – A high-quality wine glass cover that protects your wine from fruit flies, wasps, airborne particles as well as the elements.
– The superior stainless-steel mesh is small enough to stop fruit flies in their tracks but is large enough to deliver maximum breathability to your glass of wine. The mesh offers full glass top coverage with no air restriction.
– The heavy-duty food-grade stainless steel ring ensures the strongest breeze won't blow it off your glass.
– The WineGuard is elegant and attractive on any wine glass. It fits up to 4-inch glass rims. No need to use napkins or dirty coasters.
– Sets come with a handy stainless-steel stand so everyone at the table has quick and easy access to a clean WineGuard®.
– Saves money by keeping fruit flies out of your glass so you don't waste your wine.
– The WineGuard® is 100% dishwasher safe, so you always have a clean way to protect your drink.
– You can BRAND them too – each WineGuard® can be professionally laser marked with your brand.
@guardyourwine
https://bit.ly/BlossomBench
@wine_guard
@thewineguard
@WineGuard
THE COMPANY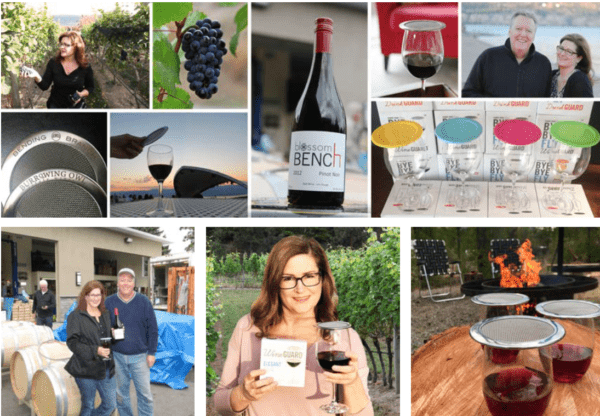 The Blossom Bench Group
The Wine Glass Cover Company
OWNER/GM Marcia Rothfield, BA
EMAIL orders@nullwineguard.com
PHONE 587-586-8466
ADDRESS PO Box 157, Stn T, Calgary, AB T2H 2G8 CANADA
www.wineguard.com
The Blossom Bench Group is a woman-owned Canadian boutique wine accessory business specializing in wine glass covers and drink lids. Their products are necessary, original, high quality, captivating, memorable, well packaged, and even customizable! They wholesale to retailers and wineries and sell direct via their websitehttps://wineguard.com.
(1) American College of Allergy, Asthma, and Immunology. (2018). Insect Sting Allergies | Symptoms & Treatment. ACAAI Public Website.
Media kit, including images provided by The Blossom Bench Group. I received complimentary samples to facilitate this feature.