Molson Ultra Partners with Chef Kimberly Lallouz to Help Canadians #ReturnToRoutine this Fall
Pick up specially marked cases of Molson Ultra to win an exclusive cooking class and toast to balance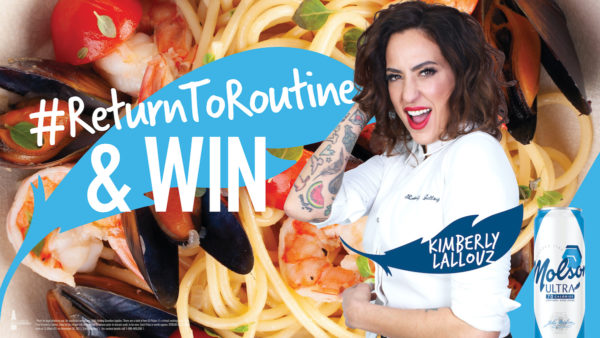 After a summer of making up for time, interactions, and experiences lost to the pandemic, getting back to a normal routine can seem like a challenge. Whether it's back to school or back from vacation, Canadians are eager for a fresh start this fall and Molson Ultra wants to help you #ReturnToRoutine with a focus on balanced living.
Molson Ultra, a light beer with 70 calories and 2g of carbs per 355ml can, has partnered with Celebrity Chef & One Big Recipe Star Kimberly Lallouz to give Canadians the opportunity to win an exclusive virtual cooking class with Chef Kimberly to learn new recipes and tips to embrace a balanced life.
"As a self-taught chef, Kimberly shows Canadians how they can achieve a balanced lifestyle and return to positive routines with advice for inside and outside the kitchen," says Colin Hafer, Assistant Marketing Activation Manager, Molson Ultra. "As a deliciously light beer, Molson Ultra knows all about striking the right balance to deliver on your lifestyle goals and taste. Paired with Chef Kimberly's creations, the right beer has a place in returning to routines you can enjoy."
Starting August 19th, Canadians can pick up a specially marked case of Molson Ultra at participating locations across Canada and enter a PIN to win at www.winwithmolsonultra.ca. Two lucky winners, and up to four of their friends, will have the chance to win an exclusive virtual cooking class with Chef Kimberly to learn new recipes and tips for their #ReturnToRoutine.
Chef Kimberly's #ReturnToRoutine Tips & Tricks
Meditate in the morning, start with 2 minutes and work your way up to 10 minutes
Whenever possible, take the stairs
GET. GOOD. REST.
Get a change of scenery, even if it's just outside the city to help reset and get back to things with a fresh perspective
Go for a hike or nature walk. Connecting with nature is the best way to stay grounded and establish a good foundation for a mind or body reset
Swap out heavier or sugary drinks for a low carb option like Molson Ultra
Practice stretching and yoga as a 5-minute practice, 4-5 times a week. Good habits are easy to create and keep around rather than fizzle away. You don't need to do too much too quickly!
Instead of starchy carbs like pasta or potatoes, opt for options with more fiber. Think brown rice or mixed grains!
Kimberly Lallouz – #ReturnToRoutine Habit Tracker
Chef: Kimberly Lallouz
Recipe: Taco salad bowl with lightly spiced ground chicken, cumin-lime vinaigrette and homemade baked tortilla chips, paired with Molson Ultra.
____________________________________________________________________________________
Taco Salad Bowl
Serves 4-6
Salad Ingredients:
2 hearts of romaine lettuce, chopped
1 can of organic black beans, rinsed & drained
2 carrots, peeled and shredded
1 English cucumber, washed, skin on, chopped
2 cups of corn kernels (frozen or fresh)
2 cups of shredded red cabbage
6-8 radishes cut in halves or quarters
2 avocados
1 lemon
16-24 cherry tomatoes (various colours is awesome if available)
2 cups of cauliflower florets (fresh)
½ head of coriander, leaves plucked
Lightly Spiced Ground Chicken:
1 kilogram of ground organic chicken (or turkey)
1 whole white onion, chopped
4 garlic cloves, crushed
2 tablespoons of fresh coriander (chopped)
1 tablespoon of each: sweet paprika, turmeric and cumin
Salt & pepper to taste
Grape seed or olive oil
1 can of Molson Ultra
Optional: 1 teaspoon of chilli powder
Method:
In a non-stick pan on the stove; on medium high heat, add 2 tablespoons of grape seed or olive oil, add the ground chicken, spices and salt and pepper. Continuously separate the meat with the help of a wooden spoon or spatula, so that it crumbles and cooks evenly. When the meat starts to look like its remaining ground (+/- 5 minutes) add the onion, garlic and continue to cook for 7-9 minutes on medium-low, until the onion looks cooked through and everything is golden. As a final step, crank the heat to medium high and add 2 ounces of Molson Ultra to deglaze!
____________________________________________________________________________________
Cumin-Lime Vinaigrette
Serves 4-6
Ingredients:
2 cloves of garlic, well crushed
2 tablespoon of Dijon or old fashioned grainy mustard
½ cup of organic apple cider vinegar
2 limes, juiced
½ cup of tahini
½ cup of olive oil
1 tablespoon of cumin
Salt & pepper to taste
Optional: 2 tablespoons of chopped up fresh parsley
Method:
Blend all the ingredients in a blender or by hand with a whisk, this is not an emulsion, but rather a loose
dressing. Taste and season accordingly.
____________________________________________________________________________________
Oven Baked Tortilla Chips
Serves 4-6
Ingredients:
1 pack of (12) green tortillas (spinach) or any tortilla of your choice (corn, cassava, wheat or almond flour, any of them will work)
1 tablespoon of grape seed oil
1 egg yolk (mixed with the oil)
Everything but the bagel seasoning
Sweet paprika
Optional: Cayenne (for the heat)
Method:
Cut the tortillas in triangles or desired shape for dipping, and place on a baking sheet lined with parchment paper. Brush with egg yolk mixture, sprinkle with spices & bake in the oven at 400°F for about 10 minutes until golden.
____________________________________________________________________________________
Building the salad
Serves 4-6
Method:
Choose the bowls the salad will be presented in. You can also do a large platter or two platters for 2 people each, all of these ideas work beautifully.
Start with the romaine, and then garnish with the red cabbage, carrots, corn, black beans, cucumbers, and top with your protein of choice. Finish with the remaining garnishes (tomato, avocado, radish and if applicable egg and pecan) and drizzle the vinaigrette on everything.
Top with plucked coriander, and serve with the baked chips and Molson Ultra.
About Molson Coors
For more than two centuries, Molson Coors has been brewing beverages that unite people to celebrate all life's moments. From Coors Light, Miller Lite, Molson Canadian, Carling, and Staropramen to Coors Banquet, Blue Moon Belgian White, Blue Moon LightSky, Vizzy Hard Seltzer, Leinenkugel's Summer Shandy, Creemore Springs, Hop Valley and more, Molson Coors produces many beloved and iconic beer brands. While the company's history is rooted in beer, Molson Coors offers a modern portfolio that expands beyond the beer aisle as well. Our Environmental, Social and Governance strategy is focused on People and Planet with a strong commitment to raising industry standards and leaving a positive imprint on our employees, consumers, communities, and the environment. Learn more about Molson Coors Beverage Company, visit molsoncoors.com, MolsonCoorsOurImprint.com or on Twitter through @MolsonCoors.
Media release, link, recipes and images provided by Jacky Le, Citizen Relations.