"In this series we bring you our #FavouriteThings Holiday Gift Suggestions which we personally recommend"
Welcome the inaugual vintages of Upper Case wines to #FavouriteThings Holiday Gift Suggestions.The Upper Case tasting room and winery are currently located at the District Wine Village, located just North of Oliver B.C. Join Upper Case for a relaxed wine tasting as their knowledgeable team guides you through their inaugural releases.
2020 ASCENDER Merlot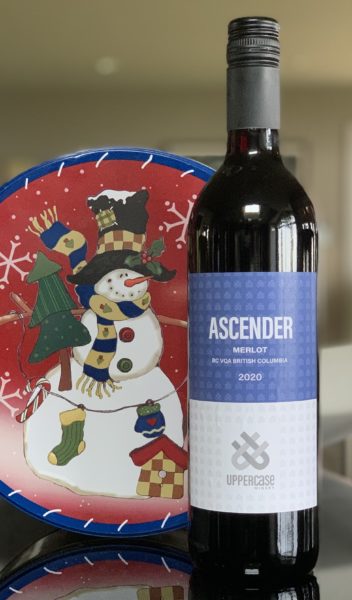 ASCENDER is 100% Merlot harvested from our Italica Vineyard in Oliver.
Winemaker Notes
Harvested from our Italica Vineyard on Miller Rd. in Oliver, October 15th, 2020. Fermented and aged in Stainless steel to retain an approchable, fruit forward character. 409 Cases produced,
Tasting Notes
Fleshy, dark cherry and plum flavors fill the palate, supported by silky tannin and deep ruby color.
2020 AXIS Chardonnay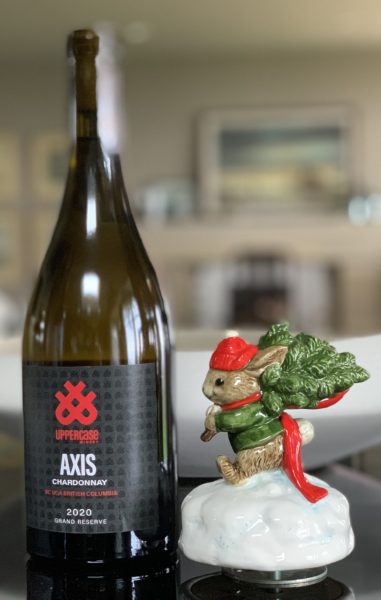 AXIS is our ultra-premium, small lot Chardonnay, barrel fermented and aged 7 months in select French Oak.
Winemaker Notes
Grapes were harvested Oct. 16 and whole cluster pressed to stainless steel. Settled juice was racked to barrel for fermentation with select yeast strains, where the wine fermented and aged for 7 months in French Oak Barrels, with 20% new oak. Full malolactic conversion and stirring of the lees lends a creamy texture and soft mouthfeel to this wine. 243 cases produced.
Tasting Notes:
Aromas abound of dark honey, caramel, piecrust and vanilla bean. Complemented by flavors of baking spices, peaches and honey. An excellent balance of luxurious mouth-feel and food pairing acidity.
2020 FOUNDRY Grand Reserve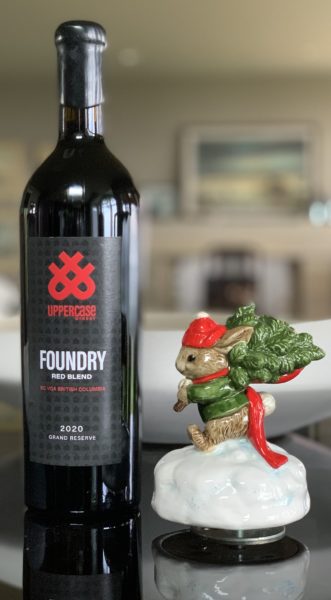 FOUNDRY is our Grand Reserve, an ultra-premium red blend of Merlot, Malbec and Cabernet Sauvignon.
Winemaker Notes
Fruit was sourced from vineyards in both the South Okanagan and the Similkameen Valley. Fermentation occured in 30hL French Oak Tanks, lending beautiful structure and tannin to the wine following an extended Maceration. Following pressing and settling, the wine aged in French Oak Barriques for 8 months before racking and bottling. Five barrels were selected for our first bottling of FOUNDRY, 60% Merlot, 20% Cabernet Sauvignon, and 20% Malbec to produce 120 cases.
Tasting Notes
This is a full bodied wine, layered with velvet tannin and a long finish. It has complex aromas of layered wood, espresso, black forest cake and dried plums.
Food Pairing
Enjoy with duck breast, rib eye steak, comte cheese or chocolate cake.
TIME-HONOURED TRADITION
Uppercase Winery was realized to focus on our passion for the South Okanagan terroir and its ability to produce exceptional, world-class wines. We achieve our goals through meticulous vineyard practices and precise management, combined with a winemaking style that embraces the newly emerging Okanagan wine region, while paying respect to old world tradition.
Our tasting room is located at the District Wine Village, 10 minutes north of Oliver in British Columbia's Okanagan Valley.
Walk-ins are welcome; reservations are not required.
Wine notes courtesy of the winery. Images MyVanCity. I received complimentary wine to facilitate this feature.