"In this series, I will be sharing my take on which BC Wine pairs well with some inspirational recipes"
This recipe turns our thoughts to the holidays but this yummy cake is a good anytime recipe that is perfect on a Fall evening. Wouldn't this make a terrific ending to your next dinner party?
Fortified wines are best enjoyed with a rich dessert and Rum Cake definitely fits the bill. This Rum Cake was served at the  "Caribbean Night" hosted by Mayhem Wine and we thank Chef Patrick Dore for sharing his recipe with us.
Suggested BC Wine pairing:
2018 Fortified Gewürztraminer

On the nose there are nutty caramel notes with an underlying candied fruit. On the palate again you'll find candied fruit, ginger and cinnamon along with tropical undertones.
Rum Cakes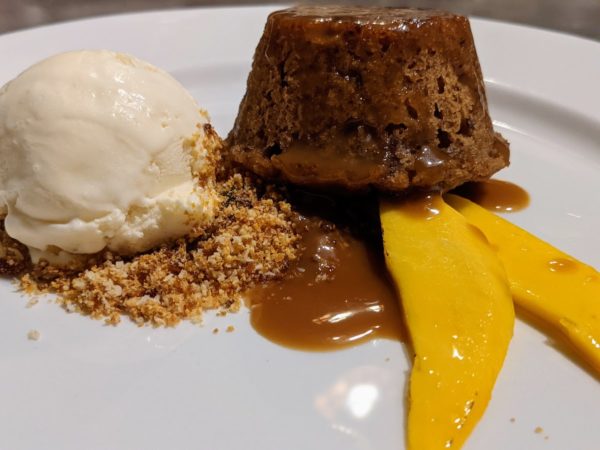 Ingredients
150 g pitted chopped dates
150 ml water
75 g butter
150 g brown sugar
2 eggs
180 g flour
1 ¼ tsp baking powder
Sauce
100 g fine granulated sugar
100 g butter
Pinch of salt
Juice of ½ lemon
100 g cream
¼ cup simple syrup
1/3 cup dark rum
Method
Bring water to a boil, add dates and simmer for 5 minutes. Allow to cool and then purée in a food processor
In a mixer, beat the butter and sugar together until creamed, add eggs and date purée and mix
Sift together the flour and baking powder and stir into the cake mixture. Do not overmix! Don't undermix either.
Spoon into buttered and floured 4 oz foil baking cups and bake at 325 degrees for approx. 20 minutes until a toothpick inserted comes out clean. Cakes can be made a day ahead and kept in a sealed container once cooled.
Make the sauce by placing the butter and sugar into a pan, bring to the boiling point and cook on medium heat until brown. Remove from heat, add lemon juice, stir in the cream and add salt.
To serve:
Warm the cakes in a 275 degree oven for 12 minutes, remove from baking cups and brush heavily with the syrup / rum mixture. Place on plates and spoon the warm caramel sauce over each cake. Serve with vanilla bean ice cream.
Enjoy with a glass of chilled Mayhem Fortified Gewurztraminer.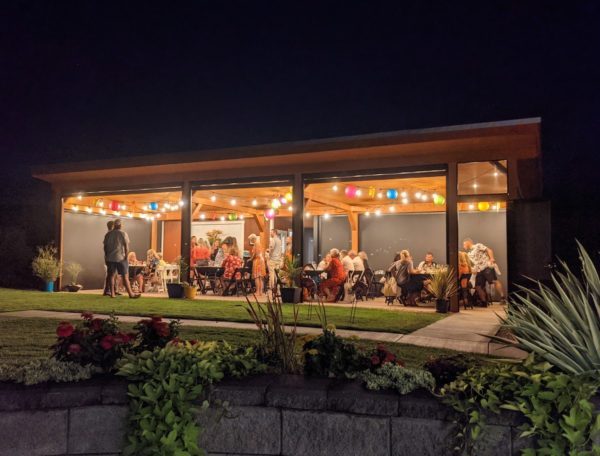 For all that's happening at Mayhem visit their News & Events page here.
Tasting notes, rum cake and Caribbean night images courtesy of the winery. Bottle shot and feature image MyVanCity.ca.