Dear Wine Friends,
Having challenges this holiday season? Let vinAmité make the season easier and help you with your gift giving needs. We may not be able to celebrate together in person, but we can sure spread the love virtually! We've come up with some great offers for both your household and the ones you love. Why not give the gift of wine and have a virtual cocktail party! Keeping your loved ones safe may be the best gift you can give this Christmas…but it's always better with wine!
We've curated some really fun offers as you'll see below. Our gift boxes are ready to ship to the location of your choice, along with a personal message from you. You're always welcome to mix and match your case depending on taste. We hope that you enjoy what we've prepared. Free Shipping for orders in quantities of 12 or more + Special Offers!
The Wines:
2020 Chanson d'amour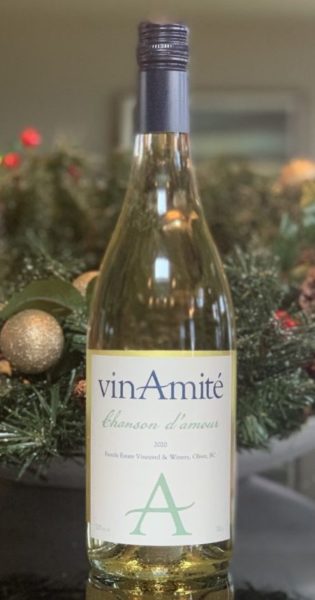 "Intoxicating aromas of wildflowers bring you home to a new favourite blend."
A joyful, lively wine with a floral and fruit-forward aroma, a balanced taste, and a soft minerality, with notes of honeysuckle, apricots, pear and orange. Sit back and breathe easy with this refreshing and sophisticated companion.
36% Pinot Gris, 35% Pinot Blanc and 29% Orange Muscat.
Club $20.31
2020 Gamay Noir
The expression of cherry and raspberry jam is crafted into this unique and delicate, slightly chilled, red wine. Its complex flavours of fresh-baked pies combined with savoury and spicy notes are graced with gentle tannins and French oak making this a unique and perfect fit for a lazy afternoon of happy thoughts.
$30.00
Club $25.40
2019 Petit Claret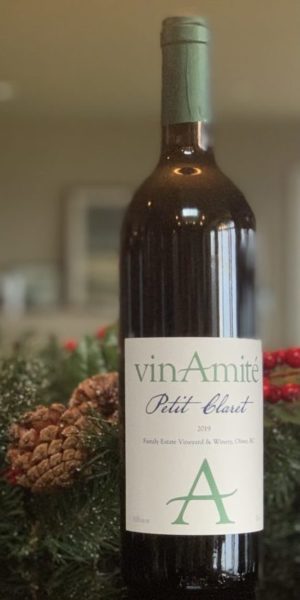 "This first red in our popular Trinity Collection of red blends delivers tasty satisfaction blended to perfection. "
Essence of cooked black cherries, plums and strawberry jam combined with hints of spice, liquorice, cocoa and anise, surrounded by supple tannins and subtle minerality. This is the anticipated meeting of Old World tradition with the excitement of New World discoveries. Let the magic begin with the first of the Trinity Collection! 78% Merlot, 22% Cabernet Franc.
Club $28.82
2019 Compass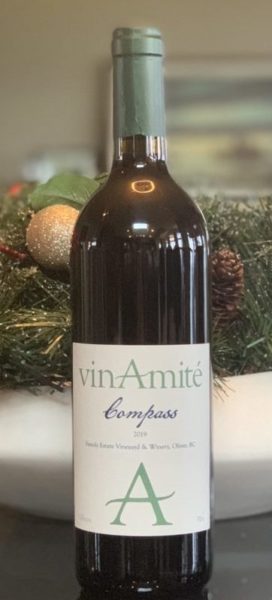 "Compass has become a benchmark and the most popular red blend in our portfolio, often selling out first. "
Aromas of raspberry and ripe cherry bring you front and centre to the taste of black currant, blueberry, nutmeg, clove and leather, all rolled into a nice bundle of soft, smooth tannins with a hint of vanilla on the finish. This lovely wine, the second in the Trinity, is reminiscent of a relaxing afternoon in a Bordeaux sidewalk bistro. 39% Merlot, 29% Malbec, 20% Cabernet Sauvignon, 7% Petit Verdot and 5% Cabernet Franc.
$37.00
Club $31.37
2019 Hidden Corner
"This red blend remains faithful to wine lovers as a complex blend that keeps on giving with every satisfying sip. Enjoy now, or hide it in a corner of your cellar!"
Fresh fruit-forward aromas with the sweet smell of pipe tobacco followed by blackberries, anise and blueberry jam, with a gentle blend of vanilla and chocolate that leaves you wanting more. Earthy yet soft, complex yet elegant, this wine is crafted for those occasions when you can devote your full attention to the beauty of a traditional Bordeaux-style wine. 55% Cabernet Sauvignon, 13% Petit Verdot, 12% Merlot, 10% Cabernet Franc and 10% Malbec.
Club $33.91
2019 Petit Verdot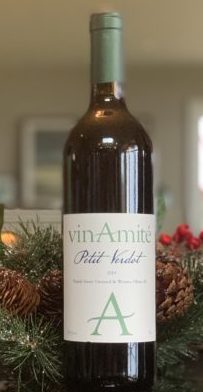 "This rare 100% Petit Verdot offering is a Special Release with only a limited number of cases. "
This wine holds no compromise in displaying the true nature of this rare grape, a spectacular dance of blueberry cobbler, caramel, and anise. Petit Verdot needs extra tender love and care, along with Mother Nature's nurturing. Delicate, smooth and silky undertones with warm winter spice and green olive tapenade. Enjoy a bottle now, but cellar more for later.
Club $38.16
Ouest~Aged 5 Years In Barrel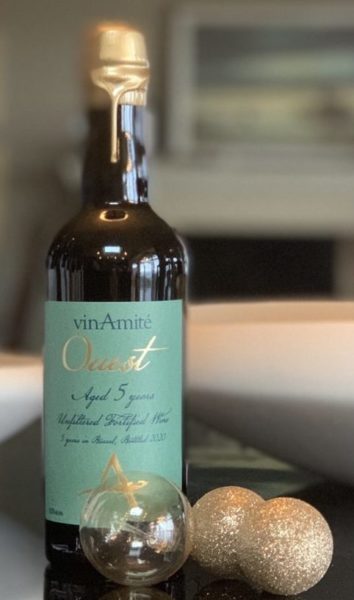 "The second release of our Port-style: Ouest. Enjoy after dinner with an array of aged cheeses, (check out our deli case). Who needs dessert?"
This gentle giant has been aging for five years, hiding in the back of the barrel room. Stewed plum, dark berries and a hint of cassis on the nose; balanced notes of herbs with a hint of vanilla on the palette. Yours to savour or share with that special someone.
Cabernet Sauvignon, Cabernet Franc, Syrah.
Club $46.66
Not  yet a wine club member click here to find out more.
6 Bottle Holiday Variety Wine Pack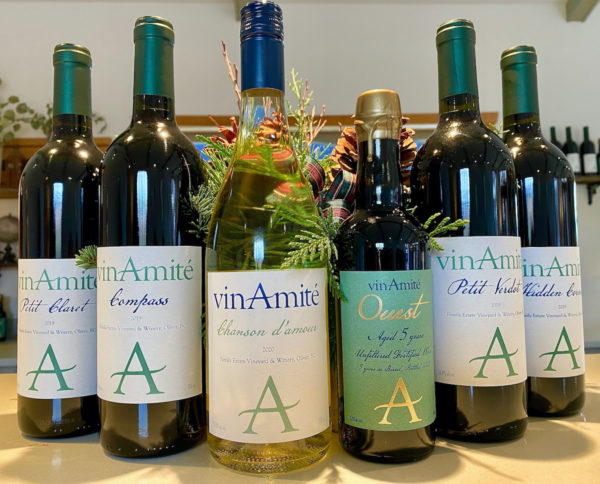 $234.99 tax in
1 Chanson d'amour
1 Petit Claret
1 Compass
1 Hidden Corner
1 Petit Verdot
1 Ouest~ Aged 5 Years In Barrel
Double up your 6 pack to receive Free Shipping.
12 Bottle Holiday Variety Pack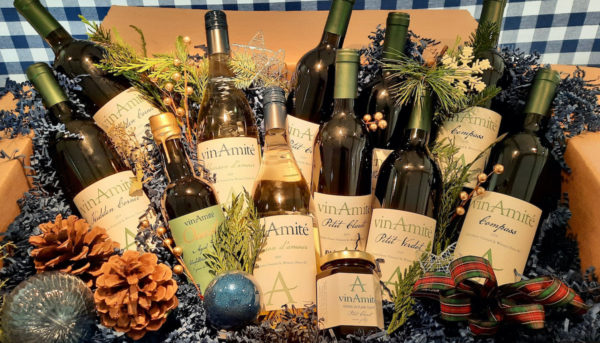 $448.99 tax in
2 Chanson d'amour
3 Petit Claret
2 Compass
2 Hidden Corner
2 Petit Verdot
1 Ouest Aged 5 Year in Barrel
Free Shipping- our gift to you.
Send an extra special surprise by upgrading to an Advent Wine box for only $10 extra. As always, we can customize any Holiday Variety Pack. Send us an email or give us a call.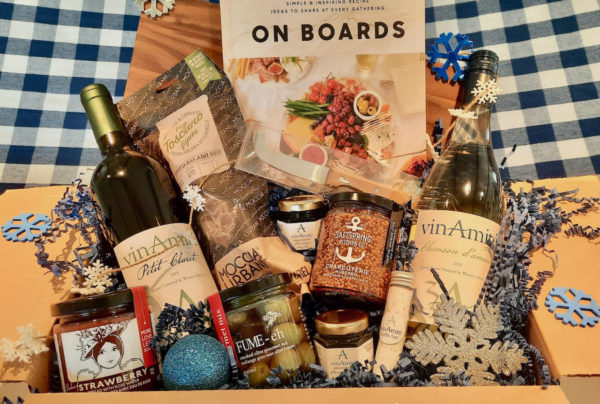 Create Your Own Gift Box
Call us and let us help you create a one of a kind gift box for that special someone. We have a fabulous selection of wine and cheese books, charcuterie needs, custom made vinAmité wine jelly and many other items to ensure the perfect gift on any budget. Call us at 250-498-2234. Let our knowledgeable and friendly staff guide you to that perfect gift box.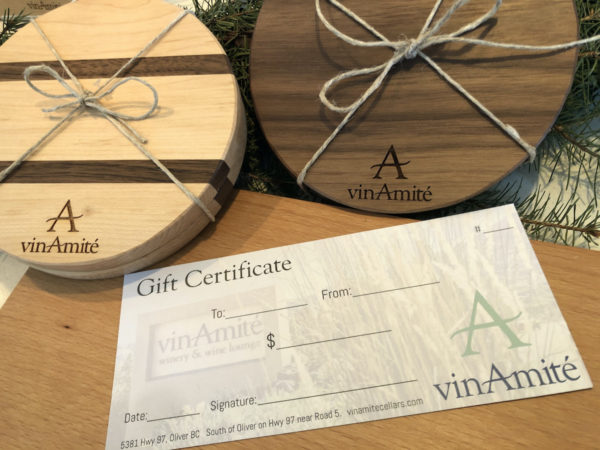 Gift Certificates are always a safe bet!
Let your loved one decide!
Unsure of what to send? Then why not a vinAmité gift certificate! Drop in or call us and we will create one in any amount needed.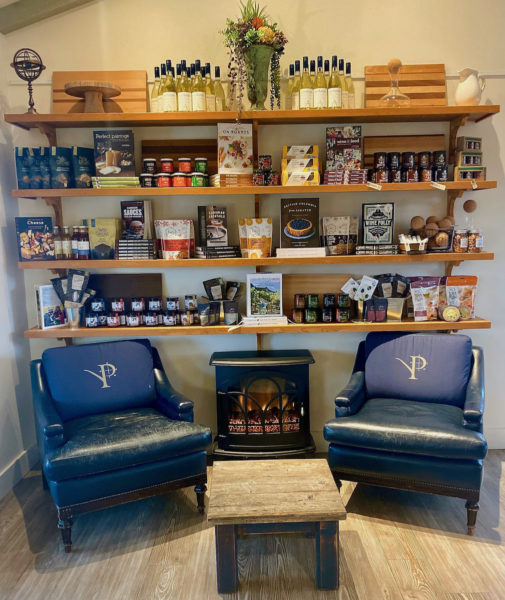 The Pantry, our favourite stocking stuffers!
Treat your loved ones to these satisfying culinary delights. These gifts won't break the bank and it's a one stop shop for the food and wine lover in your life! Pair these items with your choice of wine and you're all set. Let us ship to the address of your choice. We'll include a Christmas card and a personal message from you. Gift giving made easy!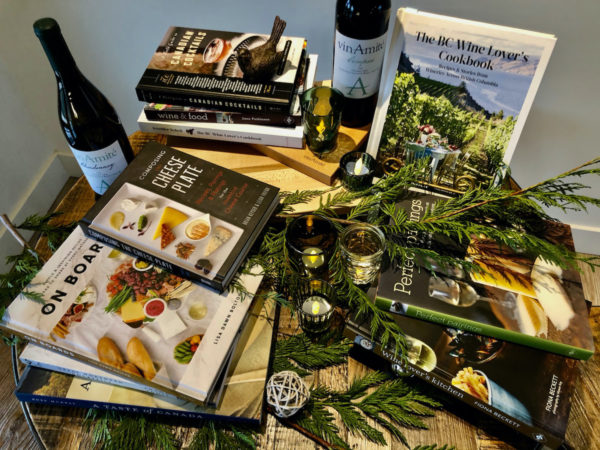 Sit down by the fire with one of these books. Comfy jammies, warm socks, a cozy blanket and a glass of wine. Perfection!
The BC Wine Lover's Cookbook………………………..$35.00
Composing the Cheese Plate ……………………………$29.00
On Boards: Simple & Inspiring Recipe Ideas……..$25.00
Perfect Pairings………………………………………………$29.95
Wine & Food…………………………………………………..$29.95
Field Guide to Canadian Cocktails…………………….$24.95
Great Northern Cocktails…………………………………$25.95
For the Love of Cheese…………………………………… $29.95
British Columbia From Scratch………………………..$40.00
Barbeque Sauces- Rubs and Marinades……………. $23.95
Small Bites The Gluten Free Way…………………….. $19.95
Entertaining the Gluten Free way………………………$19.95
Wine Folly Master Guide …………………………………$34.00
The Olive Oil and Vinegar Lovers' Cookbook………$45.00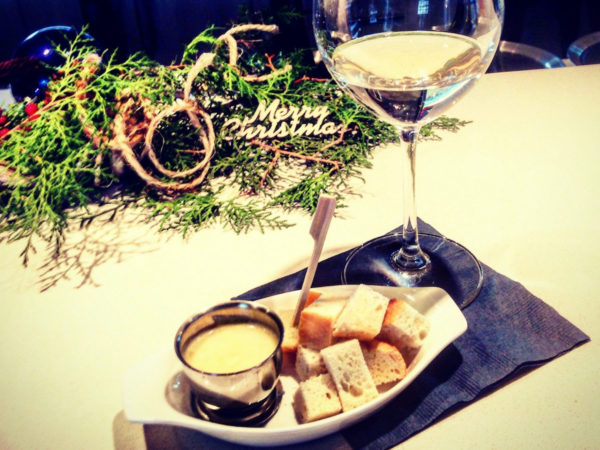 HOLIDAY SEASON EVENTS
Complimentary tasting and individual cheese sampler
For the remainder of 2021, all tastings will be complimentary and accompanied by an individual cheese sampler. We are open 7 days a week from 11- 4 with our last seating around 3:30. Reservations are not necessary but it's always best to call ahead. Stop by and say Hi!
Cheese Fondue is BACK!
Back by popular demand… After a one year hiatus, our 7th Annual Cheese Fondue Party for Winter in Wine Country at vinAmité is back! Due to health and safety guidelines, seating is limited.
Therefore RESERVATIONS ARE REQUIRED. Call in advance to reserve your table. 250-498-2234.
Get in the Christmas spirit with a complimentary 45 minute cheese fondue pairing and wine tasting. Enjoy our comfy cozy holiday atmosphere and grab some wine and Christmas prezzies while catching up with your vinAmité family and friends!
We're also offering 10% off of mixed cases on site, fun Holiday promotions and gift baskets! We're so looking forward to greeting you!
Please reserve your experience:
Dec 10, 11, 12
Coulombe Family Tourtière Meal Kit
Watch our instagram and facebook pages for our first ever offering of the Coulombe Family Tourtière Meal Kit. We will be partnering with local businesses to bring this traditional French Canadian delicacy to your home. Details to come but it will be available the week prior to Christmas. Let us make your family gathering less stressful. Sit back, relax and take all the credit for the meal (SHH no one needs to know you didn't make it!)
Centerpiece Workshop Night
Our first centerpiece workshop night led by Tara from Flower Fantasy sold out so quickly that we will be hosting a second night on Dec 16th. Don't miss out on this one!
Shuck It! Oyster Truck Dec 31st
Start your New Year's Eve festivities off with some fresh shucked oysters! Shuck It Oyster Truck from Kelowna will be at vinAmité from 11-4 on Dec 31. Stop by, have some oysters and a glass of Chanson D'Amour. What a fabulous way to end 2021 and bring in 2022. Check out their MENU.
Future 2022 Events
All of us at vinAmité want to bring some fun and excitement into the New Year. Let's keep engaged and active in our fabulous community. We haven't finalized all our events for 2022 yet but you will probably see more meal kits, some exciting craft nights and potentially a paint night. All partnered with local businesses and artisans, of course!
Have a fun idea? Let us know! We like fun and think that wine and cheese make a perfect pairing for any occasion!
Santa will do everything within his power to ensure the orders are delivered on time but with all the distribution and supply issue we can not guarantee delivery times.
Thank you for your continued support and have an amazing Holiday Season!
Yours Truly,
Our vinAmité Family
Information and images (except as noted) courtesy of the winery.