BC is fast gaining a reputation for top-quality restaurants located at wineries.
One great example of this is Cedar Creek's Home Block Restaurant in Kelowna.  A leisurely drive down Lakeshore Drive brings you to the impressive, recently renovated winery and restaurant.  When we arrived recently for our first visit, we poked our heads into the tasting room to check if we were headed in the right direction for the restaurant.  One of the employees came out and walked with us to the entrance, even though it was just a few steps away.  He warned us, "I hope you have brought a good appetite.  I can guarantee you won't leave hungry."  We stepped into Home Block and were warmly greeted and after showing our vaccine passports, were given a choice of tables that were appropriately spaced.  We chose a booth on the corner, right next to a rosemary plant.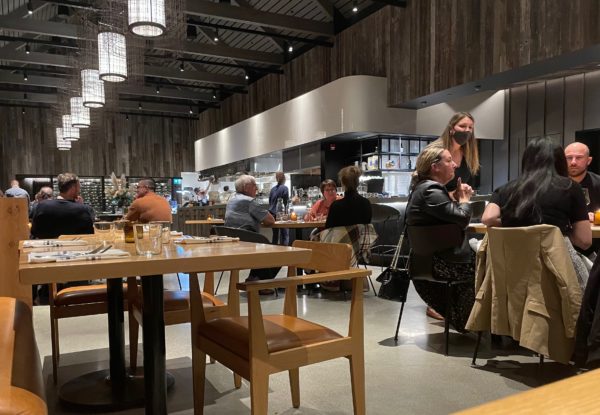 The restaurant is big, open, and modern.  Even before ordering, I could understand why so many others have recommended it.
After being offered and still or sparkling water, our server, Stefanie came to our table with menus and explained their three-course, wine-paired offerings as well as the options available.  The menu, created by Chef Neil Taylor offers locally sourced, seasonal options designed to bring out the best of Cedar Creek wines.
Before making the reservation online, I went to their website to check out the menu and was very pleased with what I saw.  In my glance, I oversaw the caveat, "Menu changes daily, see below for a sample menu or contact Home Block Restaurant directly." When we perused the menu at the restaurant we were a little puzzled by the differences.  I mentioned this to Stefanie, who reminded me that their menu often changes, sometimes daily.  The good news was that day's offerings were even more to our liking.  Lucky us!
Home Block has very limited drink offerings at this time, other than wine.  I had hoped to start with a beer, but they only had two offerings on tap, a lager and a chestnut ale.  I was hoping for an IPA (yes, I am a very picky person at times), and as I mulled whether to try the ale, Stefanie rushed away and came back with two tasters.  Both were good, just not quite what I was looking for at that moment, so I opted for a glass of chardonnay which was delightful.
Anita and I placed our orders: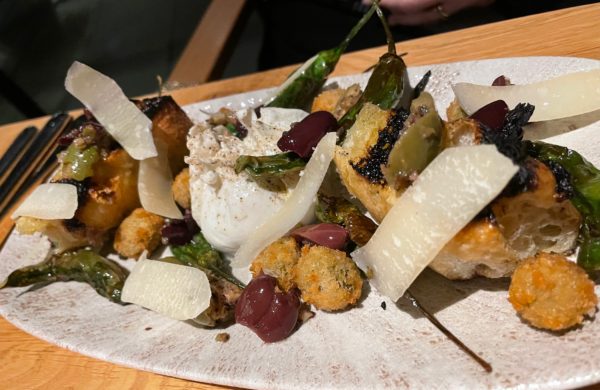 Italian Burrata
"Fried anchovy stuffed olives, shishito peppers, marinated olives, parmesan, focaccia".  This was paired with their 2019 Syrah.  This starter could have fed two or more easily.  It was delicious and filling.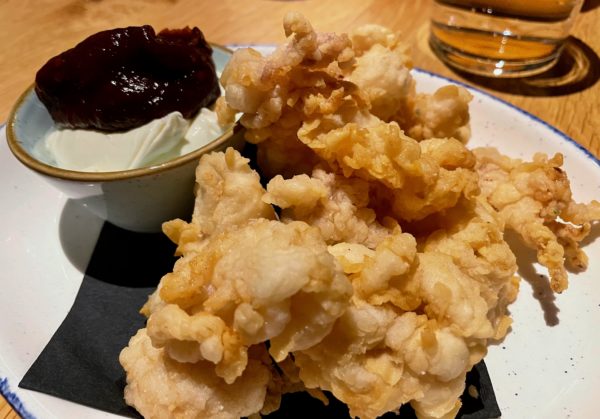 Crispy Squid
"Chili jam, crème fraiche".  Excellent and perfectly paired with some non-vintage Jagged Rock Sparkling Pinot Noir.  Again, plenty to share.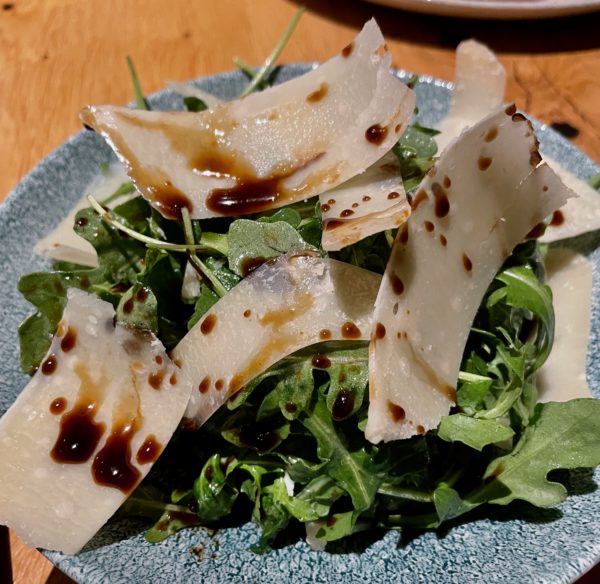 Rocket and Parmesan Salad
"Aged balsamic". We shared the salad which was flavourful and provided a great counterpoint to the entrees.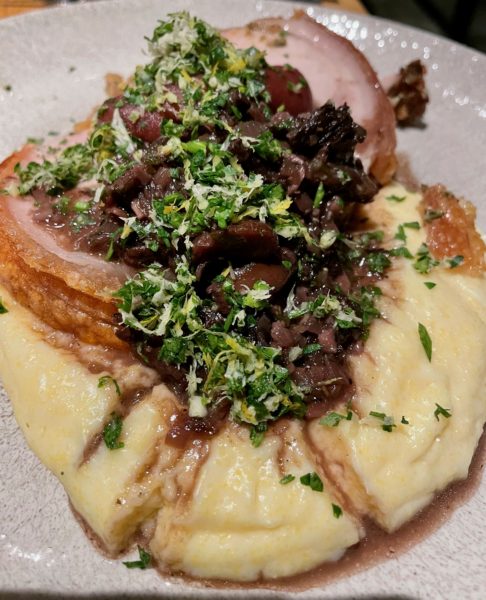 Slow Roast Porchetta
"Soft polenta, wild mushroom ragu, red wine and apple, horseradish gremolata".  This was served with the 2019 Estate Cabernet Merlot.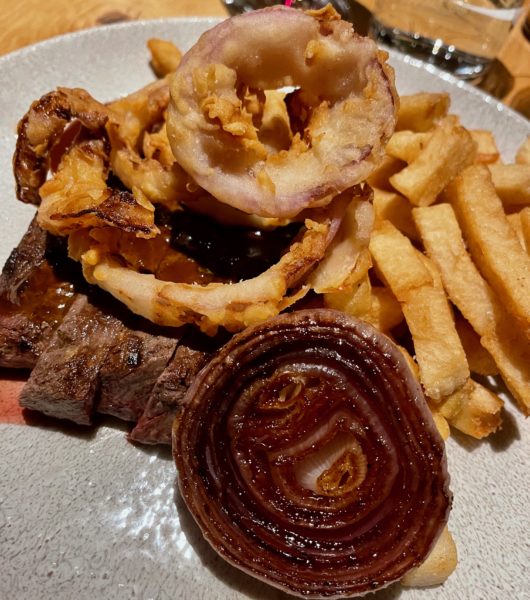 Char-Grilled Flat Iron Steak
"Roast onion, porcini and potato purée, buttermilk onion rings, marsala sauce".  I am one of those weird people who doesn't like mushrooms and Stefanie, mentioned that they were the dominant flavour in the purée (which is why it is so very popular), so she suggested substituting it for fries, which for me, was an excellent choice.  The 2019 Estate Meritage was suggested with this meal, but I found it a little too young and swapped it out for the 2018 Merlot which I found to be a much better match.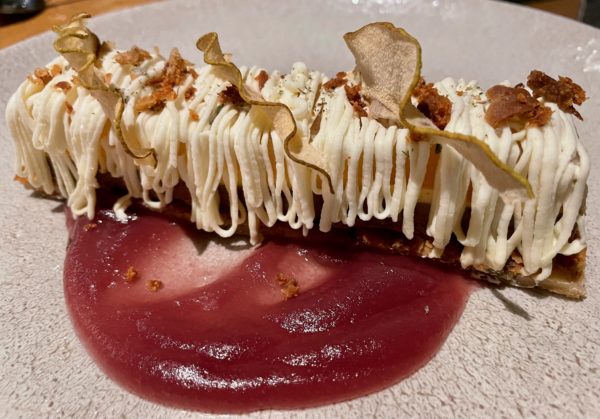 Pear and Walnut Sablé
"Pear mousse, blue cheese, tarragon and red wine"
For a less-sweet dessert.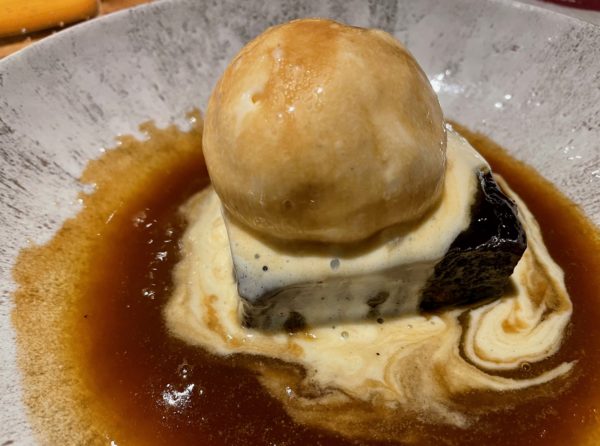 Sticky Toffee Pudding
"Vanilla ice cream and butterscotch sauce."
Absolutely decadent.
We decided to split a glass of their 2017 Platinum Riesling Icewine to enjoy with our desserts and it was divine.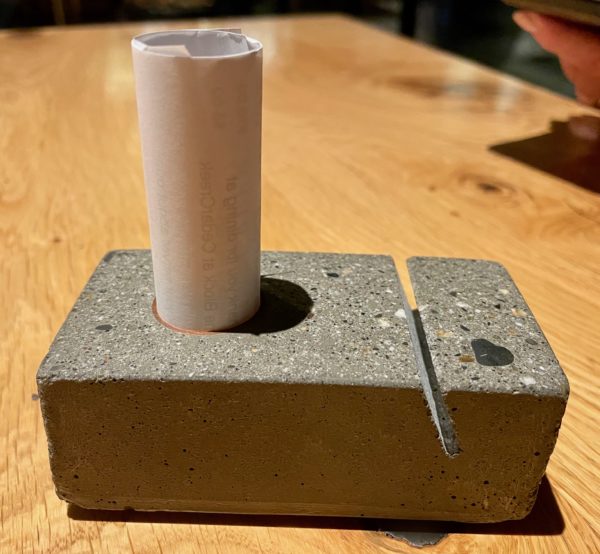 We left fully sated and pleased with our choices.  A couple of improvements I'd like to see include, a larger selection of beers, a full bar, and older vintages of wine available.
Overall, I love the fact that the menu changes frequently and we will be back soon to see what is new.  Home Block is one of the best wine restaurants, so if you are looking to impress or treat someone, this is the place to do it.
You can find them at:
Home Block at Cedar Creek Estate Winery
5445 Lakeshore Road
Kelowna, BC
(250) 980-4663
Feature image courtesy of CedarCreek Winery. All other images Sam Hauck.