"In this series we bring you our #FavouriteThings Holiday Gift Suggestions which we personally recommend"
Always a favourite anytime of the year but especially so for the holidays. Welcome back again this year Fort Berens for #FavouriteThings Holiday Gift Suggestions.
What a terrific line-up of wines for holiday entertaining and gift giving to your wine loving family and friends. These selections definitely give something for everyone on your list. They make super host/hostess gfifts too!
Visit the Fort Berens website for their Reserve 2 pack, Reserve 6 pack, Classic 2 pack and Classic 6 pack perfect for Holiday Gift Giving.
Here are our personal recommendations:
2019 Riesling Reserve

TASTING NOTES
Savour tropical notes of lychee, passionfruit, lime, and elderflower in this balanced and fruit-forward wine. On the palate, enjoy the round and fresh sensation of this slightly off-dry Riesling. It finishes dry with light green apple and limestone notes.
VINEYARD NOTES
100% Dry Creek Vineyard – Lillooet, BC
WINEMAKER NOTES
The grapes for our Riesling Reserve were grown exclusively in a special block on our estate in our Dry Creek Vineyard. The vines produced less than 1 ton of grapes per acre which led to a rich and concentrated wine. This wine was aged in bottles for over 12 months before release.
FOOD PAIRING NOTES
Enjoy this diverse wine on its own or with a wide variety of dishes including pea and feta risotto, saffron paella, or beet carpaccio.
PRODUCTION
198 cases
2019 White Gold

TASTING NOTES
White Gold is crafted from our finest estate grown Chardonnay grapes. Aged in French oak barrels, it is fruit-forward with hints of roasted almonds, honey, and tropical pineapple. This freshly-balanced, medium-bodied wine features notes of ripe peaches and apples.
VINEYARD NOTES
100% Dry Creek Vineyard
WINEMAKER NOTES
The estate grown Chardonnay grapes used in this ultra-premium Reserve Chardonnay are from a special block in our Dry Creek Vineyard. It was barrel fermented in seasoned French oak barrels to create a luxurious mouthfeel. It was aged in the same barrels for 6 months, and then in bottles for another 12 months before release.
FOOD PAIRING NOTES
Pair this elegant Chardonnay with roasted chicken and potatoes with herbs de provence, lobster alfredo, or pasta with shellfish and a cream sauce.
PRODUCTION
209 cases
2020 Chardonnay

TASTING NOTES
Fruit forward and well balanced, this Chardonnay is made primarily with estate grown grapes. It is lightly oaked and has expressive notes of peaches, nectarines, and pineapple.
WINEMAKER NOTES
The grapes for this Chardonnay were 83% sourced from Fort Berens Estate Winery's estate vineyard and 17% from the Riverbend Vineyard in the Similkameen. The berries were whole cluster pressed and settled at ambient room temperature for 12 hours. 75% of the Chardonnay was then fermented and aged in stainless steel tanks; 25% was fermented in French oak barrels. After fermentation wines were stirred twice a month to increase the wine's contact with the autolyzing yeast cells. Barrel aged 7 months.
FOOD PAIRING NOTES
Roasted chicken or turkey, creamy cheeses such as goat cheese, coq au vin, pasta with white sauce and mushrooms
Available at BC Liquor stores. On sale until January 1st $19.99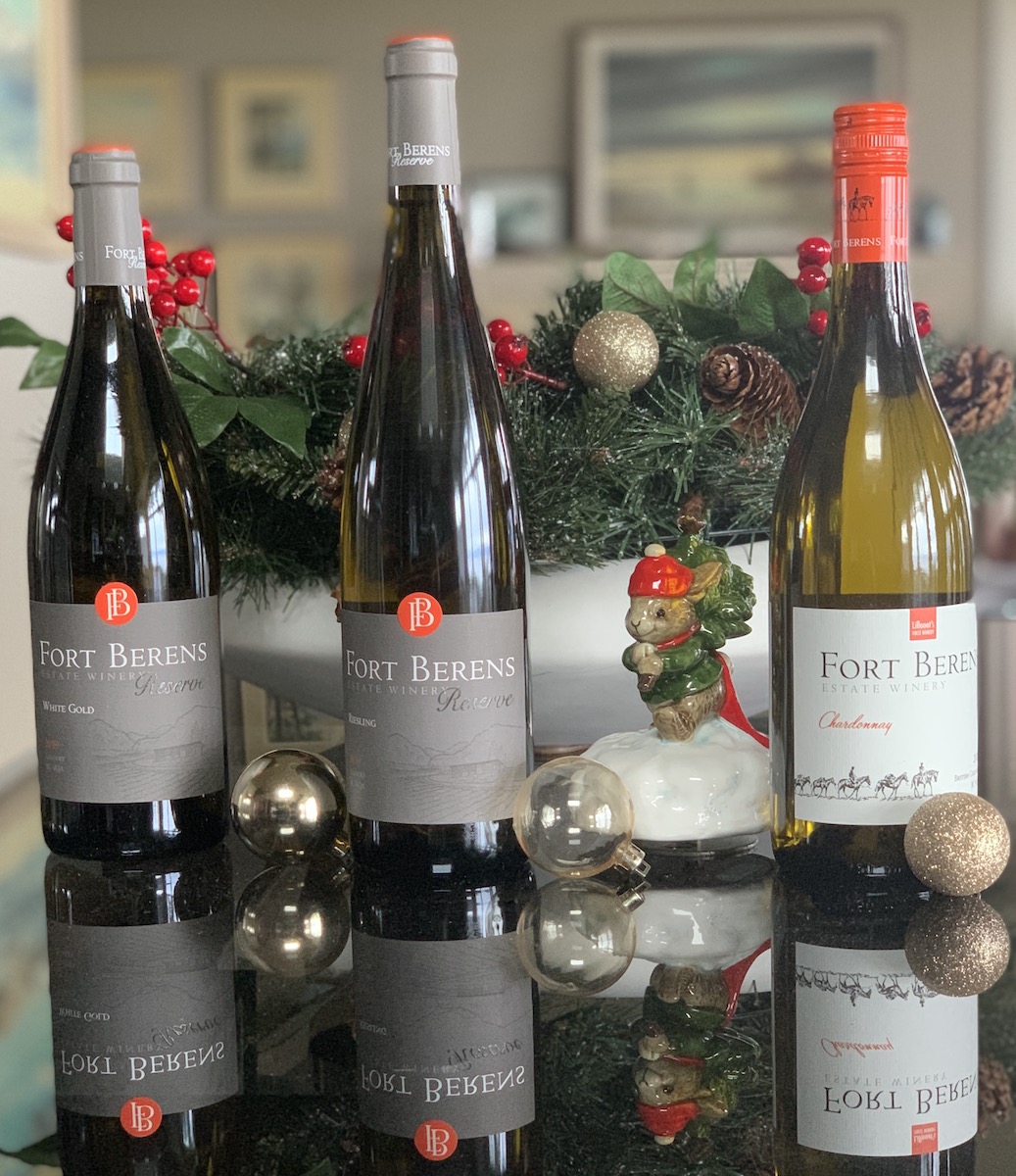 2019 Meritage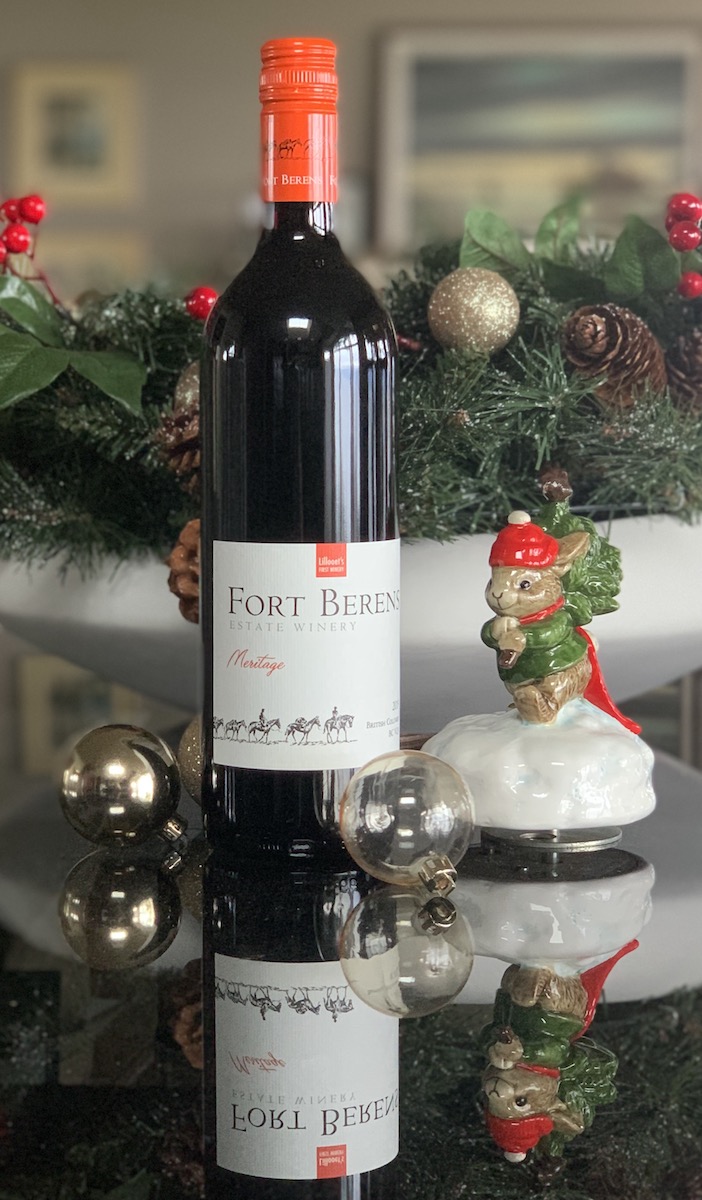 TASTING NOTES
Savour the aromas of ripe red fruit, spice box, and violets in our classic Merlot-predominant, fruit-forward Meritage. Enjoy this smooth and soft, medium-to-full-bodied wine with a long finish.
WINEMAKER NOTES
This Meritage is a blend of 88% Merlot, 11% Cabernet Sauvignon, and 1% Cabernet Franc. Each fraction of grapes was fermented separately and then carefully blended after 15 months of barrel maturation in a combination of seasoned French and American oak barrels. Mainly pump overs were used for extraction to create this fresh, fruit-forward wine. It was bottle-aged for an additional 6 months before release.
FOOD PAIRING NOTES
Pair this food-friendly Meritage with beef short ribs, Beef Wellington, steak, or vegetarian ratatouille.
2019 Cabernet Franc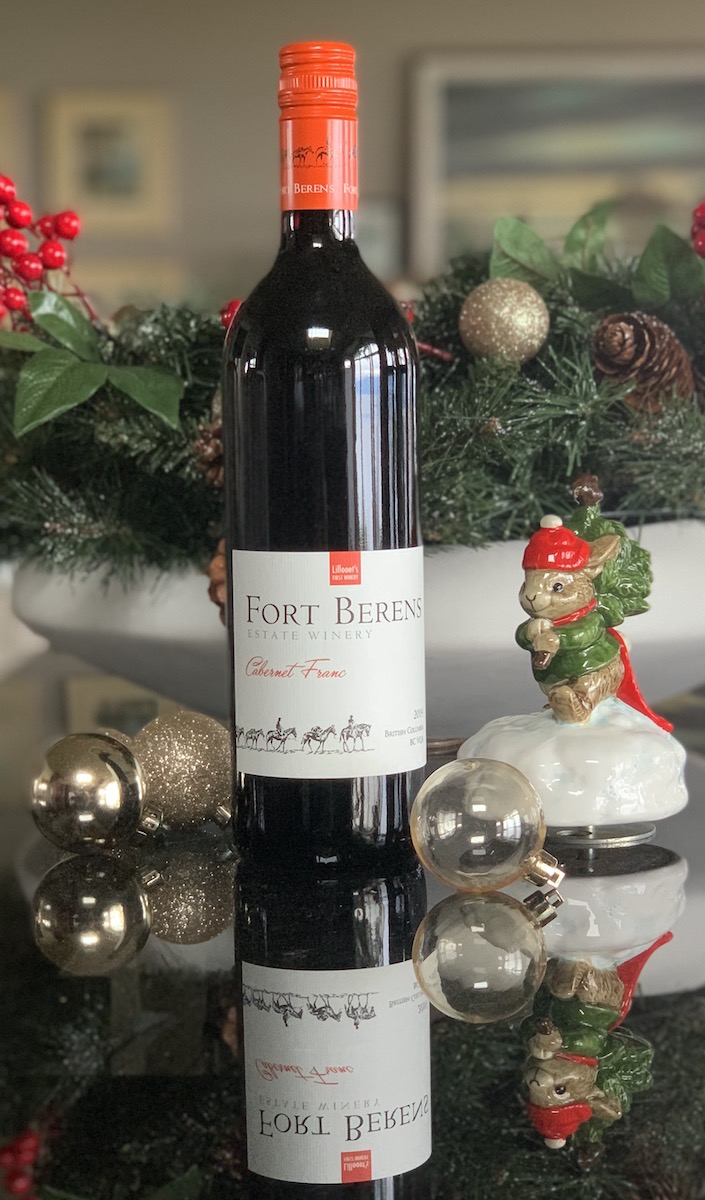 TASTING NOTES
On the nose, this dark burgundy wine has notes of blueberries, dark red cherries, and dark chocolate. This juicy and fruit-forward, medium-to-full-bodied wine is soft with pronounced tannins and beautiful blackberry flavours.
WINEMAKER NOTES
Made with predominantly estate grown grapes that were harvested late in the season for optimal ripeness. The extended hanging time created a ripe, smooth tannin structure. Punch downs and pump overs ensured good colour and flavour extraction. It was barrel-aged for 15 months in a combination of seasoned French and American oak barrels, and then bottle-aged for an additional 6 months before release.
FOOD PAIRING NOTES
Enjoy this wine with your favourite barbeque meals including grilled steak and portobello mushrooms, or with roasted lamb in tomato sauce.
2019 Pinot Noir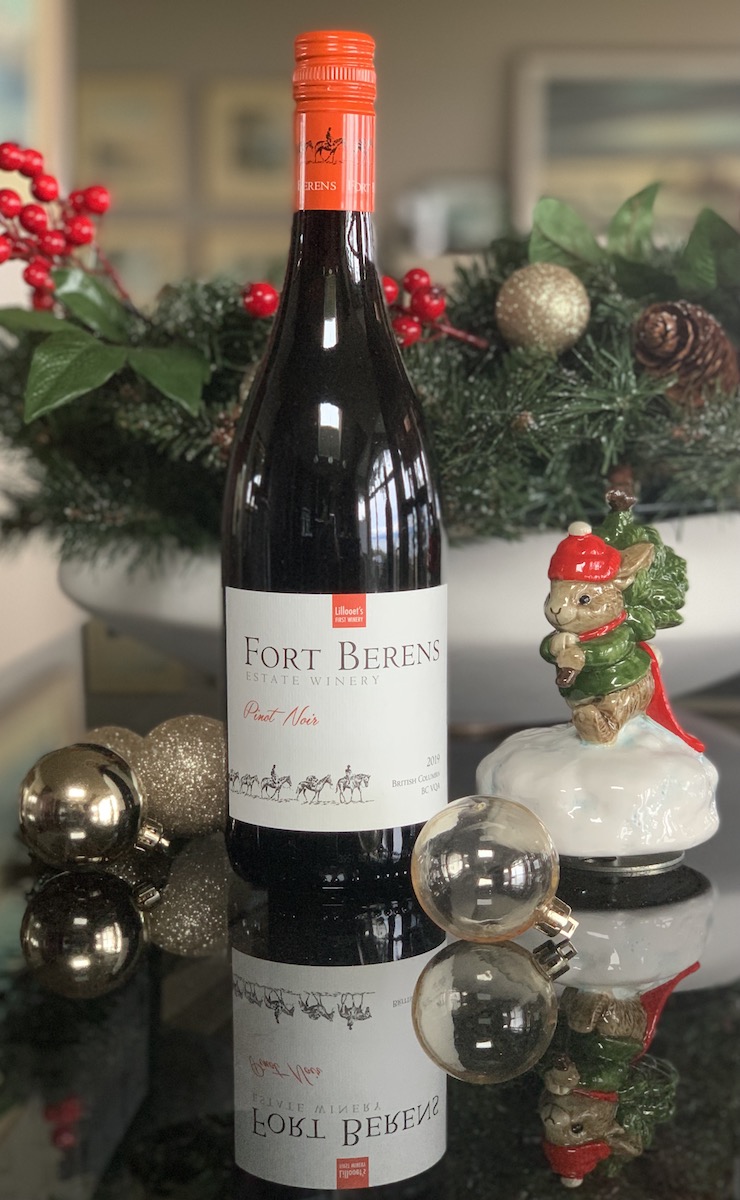 TASTING NOTES
Savour notes of sweet red fruit, red cherries, and bright summer strawberries. As this wine opens up, enjoy this medium-bodied wine with fresh acidity, a lingering back palate, and a long finish.
WINEMAKER NOTES
This wine was made with grapes sourced from Naramata. Only pump overs were used to ensure it was was not over extracted. This enhanced the fruit characteristics in the wine and created a beautiful tannin structure. To allow the fruit in this wine to age gently, our winemaker carefully selected mostly neutral oak barrels to age the wine for 9 months. It was further bottle-aged for 12 months before release.
FOOD PAIRING NOTES
Pair this fruit-forward wine with coq an vin, braised game hen, duck, grilled eggplant, or mushroom risotto.
OTHER NOTES
Cellar this wine, as it will continue to develop in the bottle and improve with age until 2023. With proper cellaring, it is cellar-worthy until 2027. If you drink it now, serve it slightly chilled with food.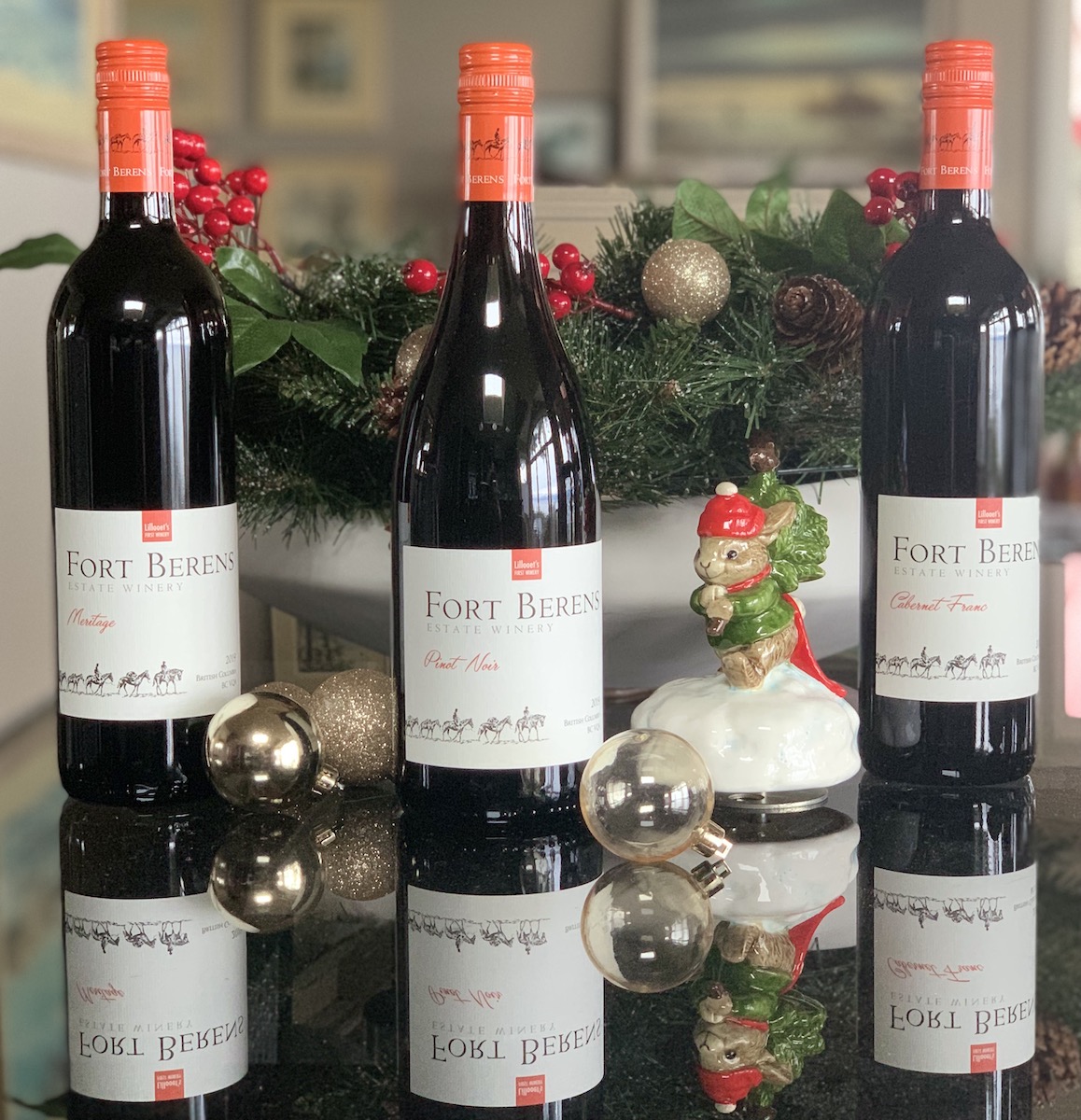 While the snow slowly journeys down the mountain-side, thoughts of the holiday season slowly come to mind. This year, let us help you check off your gift list with options for both corporate and personal gifts and experiences.
For your corporate gifting, we are able to tailor to any palate and budget. We can include hand-written or printed gift cards. Gifts can be shipped to individual addresses across Canada, delivered in bulk to your office or picked up at the winery. Small wine accessories, such as corkscrews can be added to wine shipments without additional shipping expense.
Order your individual gifts below or send us an email with your gift selection and mailing list. All holiday gift inquiries can be sent to nicole@nullfortberens.ca. She can be reached at 1-877-956-7768 x202
Check out the Fort Berens Holiday Gift Guide here.
Club Memberships also make great gifts, click here for more details.
A Gift Card is always a welcome gift. From $50. to $250. and available here.
Where to find Fort Berens in wine stores, click here.
Fort Berens
We would like to acknowledge that the winery and vineyards are located in the St'at'imc Nation territory that includes Bridge River (Nxwisten), Pavilion (Ts'kw'aylacw), Cayoose Creek (Sekw'el'was), Seton Lake (Chalath), Lillooet (T'it'q'et) and Fountain (Xaxl'ip).
Fort Berens Estate Winery
1881 Highway 99 North
PO Box 758
Lillooet, BC V0K 1V0
TF: 1-877-956-7768
P: 1-250-256-7788
F: 1-250-256-7780
E: info@nullfortberens.ca
Tasting Room winter hours
November-April
Thu-Mon: 10am-4pm
Tue & Wed: Closed
Wine profiles courtesy of the winery website. All images: MyVanCity. I received complimentary wine to facilitate this feature. #ThisWineThatDish featuring Fort Berens Cabernet Franc and Pinot Noir wine pairings and recipes, click here.