WSC welcomes Blue Grouse Winery for our next Winemakers Dinner!
… and there are still some seats left!
Join us as we sip the night away! Enjoy a selection of amazing local wines from Blue Grouse Winery with a carefully designed menu to pair perfectly, creating an unforgettable dining experience.
Reserve your table today!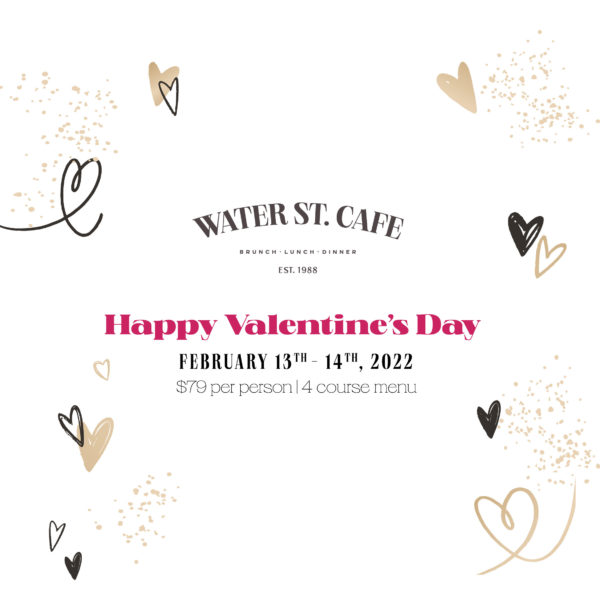 Celebrate & Spread Love!
Valentine's Day is only 1 week away! How are you going to celebrate your love?
How about with a delicious meal cooked by yours truly? Our Culinary Team have created a delicious 4-course meal just for you and yours.
Visit our website for the menu and reservation details!
Visit our website for Menus, Reservations, Take Out, and all things Water St. Cafe!
Nightly Music and Sunday Jazz Brunch Reservations at the 2nd Floor Gastown!
We're open DAILY from 11:00am!
Brunch & Lunch served DAILY 11:00am-3:00pm.
Happy Hour DAILY 3:00pm-5:00pm.
Dinner service DAILY from 5:00pm.
We look forward to hosting you soon!
Thank you for your continued support!
For all inquiries, please contact us at  info@nullwaterstreetcafe.ca.
www.waterstreetcafe.ca
604-689-2832
300 Water Street Vancouver, BC V6B 1B6