Big Changes at the Always-Innovating Okanagan Crush Pad
Among changes, the appointment of Darryl Brooker as CEO
Okanagan Crush Pad (OCP) announces the appointment of Darryl Brooker as chief executive officer. Brooker assumes this newly created position to take over roles played by founders Christine Coletta and Steve Lornie. The founders view the appointment of a CEO as a key part of their succession plan, as they turn their attention to the next phase of their company.
Brooker will lead a dynamic operations team that includes chief winemaker Matt Dumayne, director of viticulture Duncan Billing, and Andrew Raines, director of sales for OCP's sales division HQ Wine + Spirits. Coletta will be part of that team for transitional support.
"Steve and I had come to a critical point: plan to sell, or develop a dynamic succession plan. It's evident that we chose the latter by bringing Darryl into our wine family," says Coletta. "We are excited to drive forward doing what we love, and with Darryl's help build a stronger wine culture in our business and provide key support for Matt and Duncan, replacing our reliance on outside consultants. I'm confident that I speak on behalf of the entire BC wine industry in welcoming Darryl back. His talent and vast experience is rare in our field," she continues, "and we all felt the loss when he briefly departed to a different industry."
Brooker is a graduate of the Wine Executive Program at University of California Davis (2018), having previously earned a graduate diploma in wine business management at the University of Adelaide, Australia (2003) and a Bachelor of Applied Science, Wine Science at Charles Sturt University, Australia (2001). Prior to joining OCP, Brooker spent a year working in the cannabis industry.
Brooker also served in various capacities from vice president of winemaking to general manager and then president of a family-owned Kelowna-based winery from July 2015 to March 2021. Darryl has extensive experience in senior roles, also as vice president of winemaking and operations at CedarCreek Estate Winery from May 2010 to July 2015, and as senior winemaker at Andrew Peller Limited from April 2005 to May 2010.
"I always had in the back of my mind that I would work in the wine industry again," says Brooker. "I didn't feel my story had finished and I know I still have a lot more to give to BC and Canadian wine. It just had to be a winery that I truly believed in the vision and potential," he continues.
"OCP, Christine, Steve, Matt, and the entire team have impressed me since the beginning. Amazing fruit, unique organic vineyard sites, and a vision to be bold and push the boundaries."
He notes that these components were a must to pull him back in to wine. "The opportunity and challenge of being a part of the next chapter for OCP feels like an amazing fit."
Steve Lornie and Julian Scholefield, OCP's director of estates, are forming a development team with Brooker to oversee several projects umbrellaed under OCP's newly formed construction division, Fairmile Management Ltd. This takes Lornie back to his construction roots and utilizes Scholefield's post-secondary education in the field of building technology.
Another key goal for the founders was securing a long-term grape supply to support growth. "We are thrilled to have partnered with Rod, Don, and Ian King, who will supply grapes from their Naramata Bench vineyard. The Kings have been family friends for more than two decades and we are excited to form a working relationship with them that can help us flourish long into the future," notes Coletta. "Ian King is the fourth generation to work their family farm, and will work closely with Matt and Duncan to build a dynamic wine portfolio for OCP."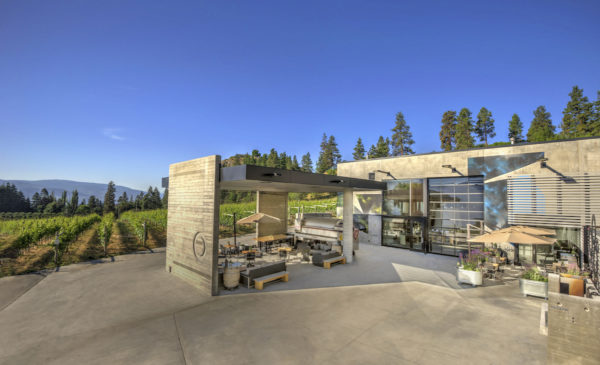 More about Okanagan Crush Pad
Respectfully Farming. Okanagan Organic Wines.
Located in Summerland, BC, on Switchback Vineyard, Okanagan Crush Pad has developed a reputation as a leading producer of Okanagan organic wines with chief winemaker Matt Dumayne at the helm since 2013. Dumayne utilizes a host of fermenting and aging vessels; concrete tanks, amphorae, large format oak and stainless steel, all crafted in a state-of-the-art facility that is a draw for wine enthusiasts. The winery offers four unique wine portfolios: Haywire, Narrative, Free Form and Bizou + Yukon, guaranteeing a wine for everyone's taste.
Okanagan Crush Pad is closed to visitors until late fall 2022 to accommodate expansion plans. In the meanwhile, customers can stay connected by following along on construction progress online and through its online wine club, THE [email protected]
The winery also owns the 320-acre Garnet Valley Ranch (Summerland), a rare piece of land, which is respectfully farmed with nature in mind. The ranch is home to organic vineyards and vegetables, hayfields, and a lavender farm, with space and places for wildlife to roam. OCP's club members have access to the ranch to tour and relax at the GVR Outlook which will open in 2022. To book a visit contact the winery's club manager. For more information visit okanagancrushpad.com
Media release and images provided by Leeann Froese, Town Hall Brands. Feature image: Darryl Brooker is the new CEO of Okanagan Crush Pad [Lionel Trudel Photo]