"Culture Tastic" online cooking class promotes culture and raises funds
Is Japanese cuisine only about ramen and sushi? Take a journey with EverythingGoesVirtual.com (EGV) to explore the taste of Japan beyond just that and master authentic Japanese culinary techniques for tasty, healthy, and easy dishes! The 3rd in the series of Culture Tastic virtual cooking class will be held on Saturday, April 23rd, 11:00 a.m. to 12:30 p.m.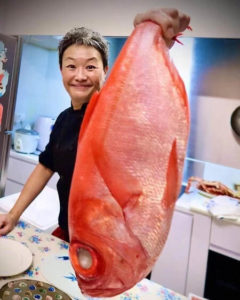 In the upcoming episode of Taste of Japan, celebrity chef Charmaine Cheung from Hong Kong will demonstrate how to use the best seasonal ingredients to create a Japanese traditional meal of five dishes. She is experienced in teaching both in person and online classes, hosting private experiences and team building events across Asia, with over 20,000 sessions throughout her career. The event will feature live demonstration and interaction at River Green Presentation Centre, where participants will cook with her virtually, experience the Taste of Japan cooking class with their friends, ask questions and receive real-time feedback from the chef. At $88 (with net proceeds donated to a local charity), all ingredients will be delivered to participants' doorsteps the day before the class.
Register for the Culture Tastic virtual cooking class here.
In 2022, EGV has introduced a series of five episodes of Culture Tastic presented by Trail Appliances to share culture and promote inclusivity through cooking and the love of food. Most recently, two of the series have received tremendous support from the community, Chef Yuyina Zhang celebrated the Year of the Tiger with a traditional dish from her hometown. Then a collaboration with the talented Chef Betty Hung from Beaucoup Bakery & Cafe on the theme "Baking with Kids", to raise funds for Ukraine Humanitarian Crisis Appeal through the Canadian Red Cross.
Since the pandemic, EGV platform has created a lifestyle in the new normal, focusing on building connection, engagement, and interaction via virtual events. The featured event "Culture Tastic" bridges the physical distance by inviting talented chefs to take us through exclusive online cultural journeys with food. Participants can join us via the interactive cooking class with a fee or the public can participate by preparing their own ingredients and watch on the website and Facebook Live, photos and videos can be shared on the website and social media. The event raises funds for Richmond Cares, Richmond Gives.
Register for the Culture Tastic virtual cooking class here.
Media release provided by Helen Yu, Choice Communication. Images courtesy of Everything Goes Virtual.