"My mother… she is beautiful, softened at the edges and tempered with a spine of steel."
— Jodi Picoult, A Mother's Love
Bringing you another option for dinner and a wine pairing for Mother's Day, or any other day for that matter. For those of us that enjoy a classic Sunday night dinner what could be more of a classic than Roast Chicken. For this one no recipe needed but it is nice to shake it up a little with a variation of herbs, fresh from the garden.
Some favourite flavours to pair with a roast chicken are of course sage, or rosemary. You can stuff the bird with whole cloves of garlic, Coating the bird with butter gives you crispy skin and juicy meat. No matter how you do your Roast Chicken dinner this wine will elevate the occasion.
Cambria Julia's Vineyard Pinot Noir
This flagship Pinot Noir invites you in with ripe blackberry and blueberry flavours. These flavours are followed by notes of cranberry, cherry and pomegranate. With a balance of earth and baking spice, this red wine offers firm tannins and a long finish.
Sustainably crafted from a single-vineyard, Julia's Vineyard Pinot Noir exemplifies the meaning of Santa Maria spice— aka the balance of earth, red fruit, and crushed seashells combined with the cool, coastal elegance that is a signature of the region and our proprietor Julia Jackson. With notes of red fruit, cranberry, wild cherry, and brilliant pomegranate, Cambria's flagship red wine is perfect to sip on or to savour, no matter the season.
PAIRINGS Enjoy with mushroom pizza, roast chicken, grilled salmon and a mild cheese platter.
Roast Chicken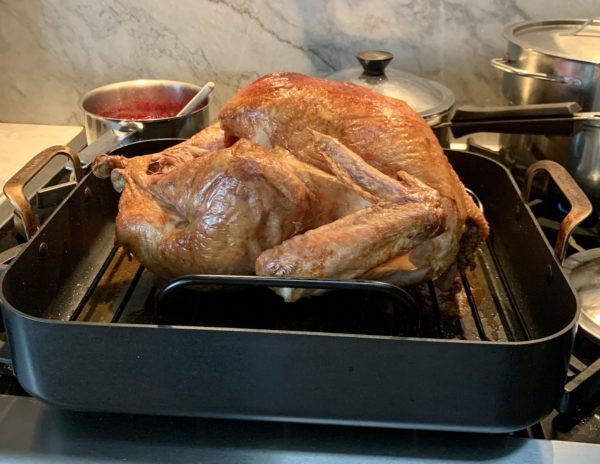 You can make a Roast Chicken as simple or as complicated as the mood strikes you. Stuffed or not stuffed, use fresh herbs from the garden, add garlic (or not) to taste. Serve with mashed potatoes and all your favourite vegetables.
When choosing your Roasting Chicken avoid a small grocery store bird. Instead go out and find either a poultry farm or a shop that carries a real, free range Roasting Chicken. For the most flavourful and moist bird look for one that weights between 6 and 7 pounds. Leftovers are always welcome in my house and chicken pot pie is always a favourite!
How ever you prep your Roast Chicken it is going to be delicious. At this time of year you can make it even easier by roasting the chicken on the BBQ. Hint: use a foil roast pan that is sturdy enough for gravy if you're making it, then throw it away – no clean up required.
Julia Jackson
Co-Proprietor
Julia's never been afraid to go all-in when it comes to learning the family business, whether it's picking grapes when temperatures are in the triple digits or traveling throughout the world to taste and train with others. She even lived in France for a bit, studying the language and wine — obviously.
Not only a proprietor of Cambria, Julia works on important philanthropic initiatives that unite Jackson Family with other like-minded organizations and was named a recipient of Travel + Leisure's 2019 Global Vision Award. As the founder of the nonprofit organization Grounded, she brings together policymakers, scientists, activists, and other professionals in order to urgently find solutions for climate change. Whether on the road at speaking engagements, lobbying policymakers, or working with groups like One Earth, she is a force.
Wine notes courtesy of the winery. Images: MyVanCity. I received complimentary wine to facilitate this feature.