"But behind all your stories is your mother's story, for hers is where yours begins."
—Mitch Albom, For One More Day
For those children lucky enough to be spending Mother's Day with their mom I salute you and humbly suggest you may want to make mom's day a little extra special this Sunday.
What could be more fitting than a wine made by a woman winemaker from a company owned and run by women, that's about as good as it gets. Not only that but the Cambria Katherine's Vineyard Chardonnay is a favourite that has been featured here before with great results.
Chardonnay is a classic and Sea Scallops are a classic so of course this duo goes together like a hand in a glove and it is ideal for a special dinner for your Mom. The recipe is fairly simple and if you would rather not use the Miso then a simple searing in butter with a splash of wine to finish will also do nicely.
Cambria Katherine's Vineyard Chardonnay

Winery notes:
Our flagship Chardonnay is barrel-fermented giving it toasted oak, vanilla, and crème brûlée characteristics complemented by notes of citrus and baked apples. This white wine is known for its balance of oak and a refreshingly crisp finish— sure to convert any wine lover into a Chardonnay drinker.
Each vintage, Katherine's Vineyard Chardonnay is a single-vineyard expression that captures our estate's "refrigerated sunshine"— aka Santa Maria Valley's ocean influence, warm sun, and cool breeze. This layered, elegant, and distinct wine is crafted exclusively from the fog-swept vines of Katherine's Vineyard, named after our proprietor Katie Jackson in 1986, and planted within ancient soils consisting of fossilized seashells, shale, limestone and sand.
Notes from BC Liquor Store:
92 points, Wine Spectator – "Lithe and powerful, featuring a vibrant core of apple and peach pastry flavors, with dried tropical fruit accents. Buttery midpalate, delivering a plush finish that lingers with intense spiciness."
Chardonnay is Rich & Full-Bodied.
Examples of great pairings: Cobb Salad, Pasta with Chicken, Roasted Chicken, Roasted Turkey, Pork or Veal in Cream Sauce with Mushrooms, Mild Soft Cheeses, Lobster with Drawn Butter, Crab with Drawn Butter, Mushroom Risotto, Poached Salmon.
$31.99 available at BC Liquor Stores (may be in the specialty section, select stores) Note: vintage varies and you may find either a 2018 or a 2019 at your local store.
Miso Sea Scallops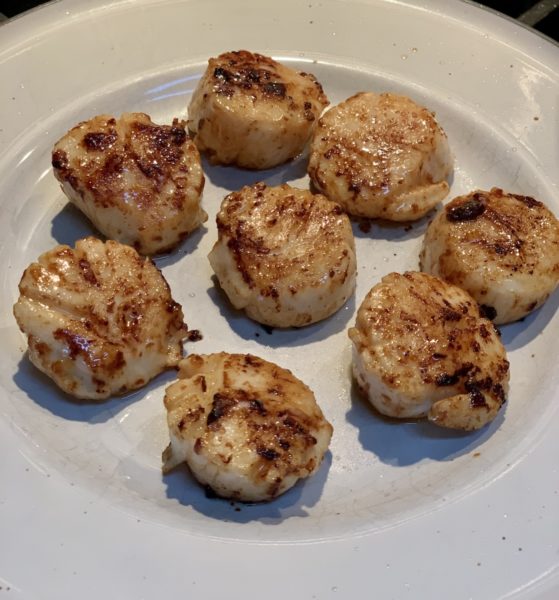 4-5 large sea scallops per person
yellow Miso paste (1-2 tbsp to taste)
2 tbsp mirin (or vodka or sake if you don't have mirin)
2 tbsp rice vinegar
1 tbsp sesame oil
1 tsp each of minced ginger and garlic (optional)
unsalted butter
olive oil
parsley or cilantro
Mix the Miso paste, mirin, rice vinegar and sesame oil together. Pat the scallops with a paper towel to dry them. Add the scallops to the Miso mixture and turn to coat.
Using a heavy bottomed pan, heat to medium high, add olive oil to the pan and give it a minute to heat, add the unsalted butter.
Add the scallops and sear on each side until golden (about 2-3 minutes per side) remove to a heated plate.
Add remaining Miso mixture to the frying pan, add a splash of the Chardonnay, scrape the pan to get all the good bits and bring to a quick boil. Pour over the scallops.
You can garnish the scallops with either parsley or cilantro on the side. Serve immediately.
It's okay to skip the Miso mixture if you prefer, just be sure to season the scallops after they are cooked with sea salt or a flavoured sea salt to taste.
Serve with a side dish of rice or soba noodles and gently cooked fresh asparagus.
Katherine Jackson
co-proprietor
There was never any doubt in Katie Jackson's mind that wine was her future. With a childhood spent playing in vineyards throughout California and after-school jobs in the marketing and PR departments of the family company, wine spoke to her. After college, Katie wanted to fully understand the business from all angles, and went to Stonestreet Winery to really dig into the entire winemaking process – from sorting grapes to cleaning barrels and tanks (whoever said wine was all glamour?)
Her knowledge of wine from the inside out made it easy for Katie to forge her own path in the family company; she now heads up all sustainability initiatives and is focused on government relations for Jackson Family Wines. In addition, she was named a "40 Under 40 Tastemaker" by Wine Enthusiast magazine in 2018. In 2020, under Katie's visionary leadership within the climate change space, Jackson Family Wines was awarded the Green Company of the Year award from Drinks Business, which is a recognition of global sustainability leadership in the beverage industry. She's told us that being hands-on at Cambria inspires her work and continues to drive her creativity. When not changing the world, Katie hangs out with her husband, Shaun Kajiwara, and their three children.
For more about Cambria and to view past features click here.
Wine notes courtesy of the winery and BC Liquor Stores. Images: MyVanCity I received complimentary wine to facilitate this feature.