"In this series I will be sharing my take on which BC Wine pairs well with some inspirational recipes"
One of the wine pairing doctrines I follow is very old school and rather primitive by today's standards. It's matching the colour of the dish with the colour of the wine in a manner of speaking. Take the old adage of white wine with poultry (white on white) and red wine with beef (red on red). So what better pairing then than a Rosé with salmon, a match made in heaven!
Once I had decided on the dish, inspired by a New York Times Cooking recipe, sans the Gochugaru (a spice similar to cayenne)  I really wanted to get a head start on patio and BBQ season by pairing this dish with a lovely Rosé wine. In this case with the TerreLab Tempranillo Rosé.
This wine is a special project of winemaker Valeria Tait, part of the Gold Hill Winemakers Series. Low yield with only 40 cases produced.
TerreLab 2020 Tempranillo Rosé

Introducing TerreLab Tempranillo
We would like to introduce a new line-up of wines exclusive to our wine club members. These wines are crafted by our winemaker Val Tait, in very small lots of 50 cases or less. Bottled under the label TerreLab, they reflect purely, the soils and microclimates of our vineyards and excellence in winemaking. The first offering is our bottle aged 2018 Tempranillo and our 2020 Tempranillo Rosé.
Hand-picked and whole bunch pressed, this unusual light, dry Rosé has floral and spice flavours, with aromas of red fruit and savoury herbs.
Textural with a resin finish, this is a very grown-up Rosé.
Only 40 cases made.
Fantastic with antipasto, or charcuterie.
The 2020 TerreLab Tempranillo Rose is an offering from our new, very exclusive label representing the best expression of our different vineyard sites. The Tempranillo Rosé is crisply dry with notes of green peppercorn, delicate strawberry and fresh Okanagan cherry.
I found this Rosé to be reminiscent of a Tavel with crisp and intense minerality. Spring blossoms on the nose.
Flavours of cantalope and fruit parfait. Delicate with great acidity levels. A lingering softness on the palate.
I really like this Rosé, it is a little bit light, but not too light. Subtle but forward at the same time. A finish of peaches and orange pith dancing with a touch of rhubarb.
This Rosé reminds me of the winemaker herself, both the wine and Tait exude confidence and strength but you know that there is a soft, gentleness underneath.
Currently a Wine Club exclusive $24.99 but may be available in a TerreLab Bundle.
SPECIAL EDITION
TerreLab Collection featuring our first offering. Mix and match 6 bottles of our TerreLab Tempranillo Rosé and our TerreLab Tempranillo.
Salmon with Crispy Rice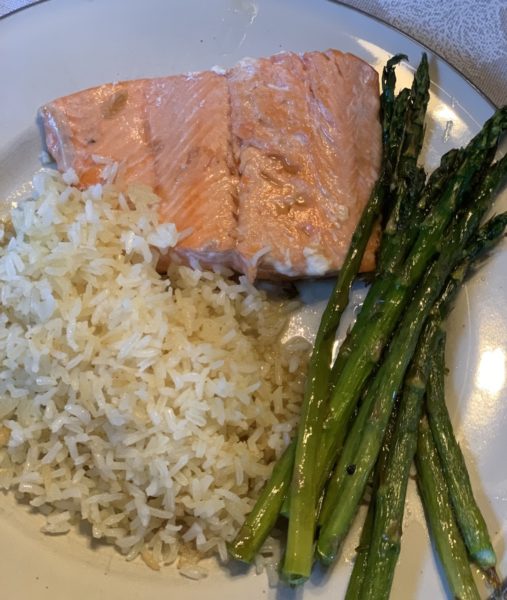 As I mentioned above I skipped with heat and used Sesame Oil to fry the skin-on Sockey Salmon filets. I kept the accompanying sauce which was a hit!
1 Sockeye salmon filet per person, 6 ounces or more
Sesame oil
rice wine vinegar
maple syrup
unsalted butter
Served with Umami chili oil, at the table (optional)
Heat the Sesame oil in a pan large enough to fit the number of Sockeye salmon filets you are serving. Add the salmon to the hot oil, skin side down. Turn once the skin is crispy and cook for a few mintues more to your desired doneness.
Remove the filets to a heated plate and quickly add rice wine vinegar and maple syrup to the frying pan. Bring to a rapid boil and add the unsalted butter to thicken into a glistening sauce. Pour over the Sockeye salmon filets and serve immediately.
Crispy Rice, not my finest hour so I will let you scope out your own recipe for this. If done nicely it would make a good side. Served with grilled asparagus with fresh thyme and olive oil.
The Sockeye salmon and the asparagus would both work on the BBQ.
GOLD HILL WINERY
Opened in May 2011 Gold Hill is a family based and operated winery. Our small lot wines are made from selected parcels from our own 65 acres of vineyards in Osoyoos and Oliver. Our bold, rich wines are 100% BC grown and BC VQA. With small production and a big reputation, visit our winery to taste these hard to find wines.
Wine notes (in italics) courtesy of the winery website. My notes (in bold italics) Images: MyVanCity I received complimentary wine to facilitate this feature.