"In this series I will be sharing my take on which BC Wine pairs well with some inspirational recipes"
This is a dish I served family during the holidays. It is not only very tasty and satisfying it is also simple to make. You can make it ahead the day before, set your oven on auto start and laze in bed until you get hungry! A win, win!
This is a fun brunch choice and it pairs well with a delightfully enjoyable off-dry wine like the Monte Creek Living Land Series Sparkling Rosé. The Sparkling Rosé is at a great price point and available at BC Liquor Stores making it easy to find, even as a last minute purchase.
Nothing better than a casual, easy to make breakfast or brunch dish for a lazy day weekend.
The wine pairing from Monte Creek:
Living Land Series 2020 Sparkling Rosé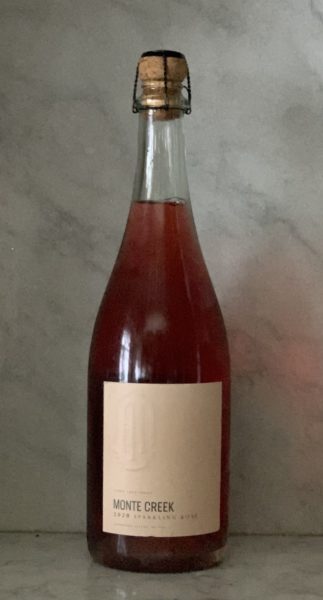 The Wine 
No special occasion is required for this elegant, bubbly rosé. With aromas  of strawberries, citrus and a hint of peach, it is crisp and worth celebrating  in itself. Ripe strawberry and juicy watermelon come through clearly on  the palate. Made from 100% estate grown Marquette, the fermentation was  transferred to Charmat tanks when a small amount of sugar still remained.  
The Vintage 
The 2020 vintage was characterized by a relatively cool and slightly  compressed season, with 50% budbreak occurring about a week later than  normal on the 10th of May and harvest coming to an abrupt end when  temperatures hit -11 Celsius on October 25th. The cool start to the season  combined with the warm late summer period created conditions where  phenolic maturity was on the same level as sugar maturity, something that  B.C. sometimes has trouble achieving. Our winemaker was able to leave  many batches on skins for extended periods thanks to the ripeness of the  skins and seeds. Accordingly, the wines from 2020 tend to have moderate  alcohol and well extracted but refined structure.
Food Pairings
Examples of great pairings: Fruit Salad, Ceviche, Gravalax, Pasta with Spicy Tomato Sauce, Sushi, Raw Fish, Spicy Chicken Stir-fry, Fresh Cheese, Cream Cheese, Chocoloate-dipped Strawberries, Crepes Suzette, Spicy Seafood hotpot and pho.
$19.99 available at BC Liquor Stores SKU: 228385
Croque-Monsieur Breakfast Casserole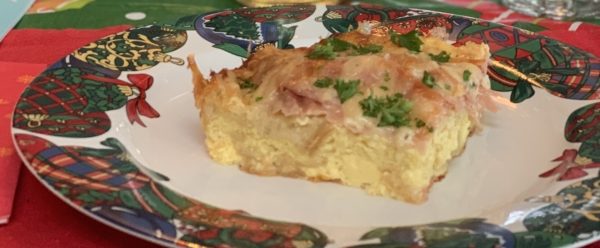 Ingredients
unsalted butter
day old baguette sliced to 1/2″
Dijon mustard
good quality ham slices
milk
cream
6 eggs
shredded Gruyere cheese
Method
Heat oven to 325 degrees and grease a 9-by-13-inch glass casserole dish with a generous amount of butter. (or use a smaller pan for two people, as pictured) Butter the slices of bread on one side and Dijon mustard on the other side. Arrange over the bottom of the pan, buttered side up. Add the ham on top or slip some between the bread.
Whisk together the milk, cream, eggs and pepper. Pour evenly over the bread and ham. Sprinkle with Gruyère cheese, allowing the ham to peek out in places. Cover and refrigerate overnight. Bake until set, and the cheese is golden brown, 40 to 45 minutes.
Remove from the oven and allow to set 10 minutes. Serve warm, with Dijon mustard and cornichons.
Enjoy!
Notes (in italics) courtesy of the winery. Food Pairing courtesy of BC Liquor Stores. I received complimentary wine to facilitate this feature.