"…A mother is the one who fills your heart in the first place. She teaches you the nature of happiness"
― Amy Tan, Saving Fish from Drowning
Happiness is something we all wish for and we wish happiness for others as well. Who could be more worthy of happiness than our mothers. This Mother's Day let's all strive for mutual happiness.
The sharing of food has always been at the centre of family relationships, it's what brings us together. Being together leads to familial happiness. So thist Mother's Day you can bring happinuess to mom and your family with this simple recipe pairing with a wine that is worth bringing to your table..
Murphy Goode 2018 Pinot Noir

This Pinot Noir sources grapes throughout the coast of California. From the marine-influenced vineyards of Sonoma County down to hills of the idyllic Santa Barbara. Cool conditions in these prime growing spots keep grapes at a perfect balance between vibrant dark fruit character and bright acidity. Notes of vanilla from aging in French and American oak add complexity to the intense black cherry aromas and flavours.
A medium-bodied Pinot Noir sourced from prime vineyards along California's coast that offers brilliant flavors and nuanced texture. This wine has flavors and aromas of raspberry, black cherry, and vanilla. Pair this red wine with cedar plank Salmon or your favorite pulled pork sandwich.
Examples of great pairings: Mixed Bean Salad, Tuna Salad, Nicoise, Antipasto, Grilled Vegetables, Olives, Grilled Salmon, Roasted Quail, Roasted Squab, Roasted Pheasant, Sausages, Mixed Grill
$28.99 at BC Liquor Stores currently on sale for $26.99 until June 4
Hot Mustard and Honey Glazed Chicken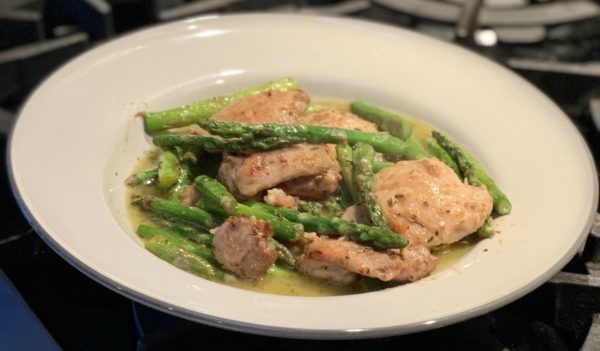 Ingredients
Hot Mustard (quantity to taste)
6 tablespoons honey, such as clove or acacia
3 tablespoons soy sauce
½ teaspoon grated garlic
salt and black pepper
3 lbs chicken thighs
scallions or chives for garnish
Method
Mix mustard, honey, soy sauce, garlic and salt, and whisk to combine.
Reserve half of the sauce in a small bowl for basting.
Season the chicken with salt and pepper, toss to evenly coat
Fry the chicken, basting as it cooks, until it is golden and cooked through
Serve with a fresh vegetable in season. Asparagus is ideal as it pairs nicely with both the chicken and the Hot Mustard and Honey.
WE MAKE OUR WINES FOR THE IMPORTANT
PEOPLE IN OUR LIVES – OUR FRIENDS –
Our goal is to put something on the table that leads to great
conversations and unfiltered joy – no additional thought required.
Wine nnotes courtesy of the winery. Wine notes in italics courtesy of BC Liquor Stores. Images: MyVanCity. I received complimentary wine to facilitate this feature.