What does 'sweet wine' conjure up in your mind?  For far too many people it harkens back to the bad old days of generic red or white plonk that came in gallon jugs.   Ugh.
But sweet wines, or more properly, after dinner or dessert wines can be an absolute delight.  After dinner wines include Ports, Sherries, and Madeiras, among other fortified wines.  Dessert wines run the gamut of late harvest wines, from those labelled as 'botrytis affected' to ice wine, and typically have alcohol levels no more than 14%.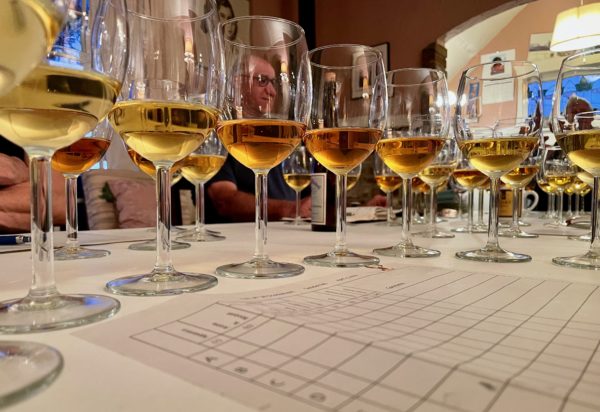 But the very sweet ones best come from southwestern France, in a region just south of Bordeaux called Sauternes.  'Sauternes', the name rolls off your tongue in an almost lyrical way that hints at the rich opulence of its namesake wine.  These wines are made from a blend of sauvignon blanc and semillon grapes with the occasional addition of a little muscadelle.  These grapes are affected by a special type of fungus known as botrytis cinerea.  Sauternes is one of the few regions that has a climate that is favourable to this fungus, though its appearance is not a guarantee.   This gray mould or 'noble rot' covers the skin of the grape and sends its roots through the skin of the grape which allows water to evaporate and shrivel the berries until they look like raisins, leaving behind concentrated, intensely flavoured juice, which is the secret to this world-renowned wine that can age for decades.  The Aszu wines of Tokaji in Hungary are made in a similar way as are the upper tiers of German riesling – Auslese, Beerenauslese and Trokenbeerenauslese.
Half bottles of current releases range from $50 – $524, while full 750ml bottles can cost anywhere from $100 – $1800 for the top tier Chateaux d'Yquem, which scores 100 points, year after year.
These steep prices reflect the high costs associated with its production and the few drops of nectar that each grape releases, coupled with the fact that harvests can vary greatly from year to year.
Barsac, which also makes these botrytis-affected wines, is located within the region of Sauternes and can use either name on its labels. You will often find both mentioned.
For those eager to try one of these decadent dessert wines, you can try looking for wines that are produced in the neighbouring regions of Monbazillac, Cérons, Loupiac and Cadillac (currently not listed in BC government stores).  These are somewhat similar but less expensive and typically less distinguished.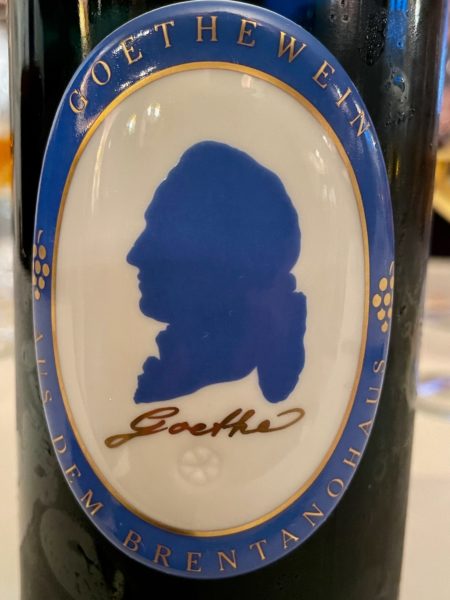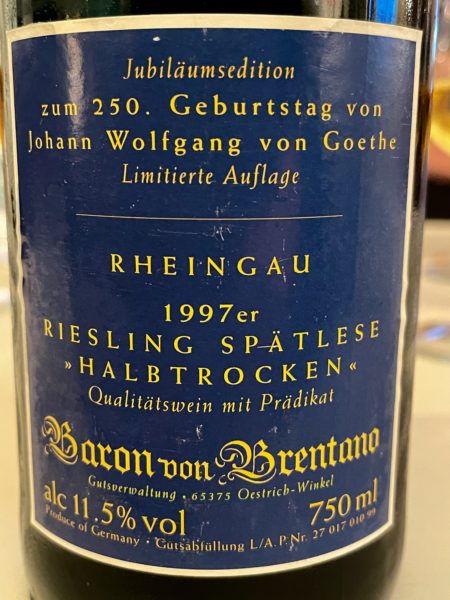 The greeting wine was a 1997 Riesling that had been gifted to Wayne.  It was a unique wine specially made to commemorate an event.  Baron von Brentano Riesling Spatlese Halbtrocken 1997 from the Rheingau.  It was golden yellow, almost amber in colour, with medium intensity.  The nose was delicate, yet fresh with stone fruit and honey standing out.  It was well balanced with bright pleasing flavours on the palate followed by a medium-long finish.  Very nice.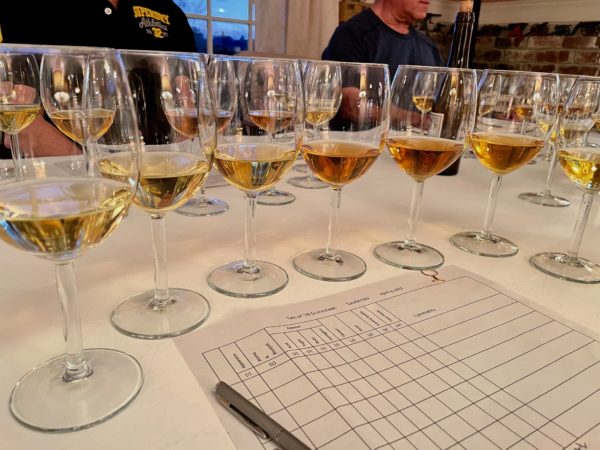 At the end, of our tasting, most people found a small spread between their favourite and least favourite wines.  In other words, while certain wines may have appealed more to some, any of them would have been enjoyed tasted on their own.  Number three to one were very close in group average scores.
Here are the wines we had in the flight: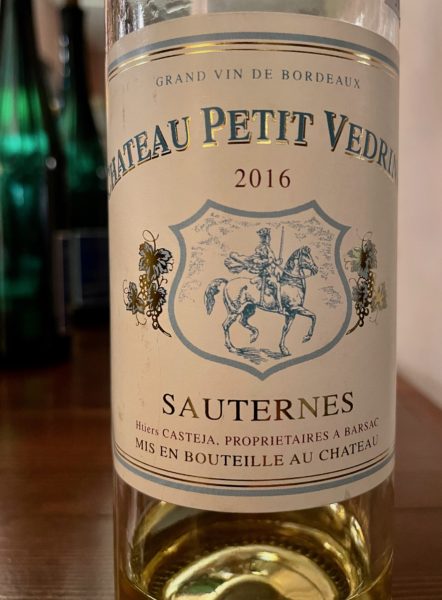 A. Chateau Petit Védrines               2016                13%                 $44.84
I enjoyed the stone and tropical fruit, and honey on the nose.  Some people commented on rhubarb, but I didn't notice any.  It was well balanced and showed mouth-watering fruit on the palate.  Very good.  Four people had this as their lowest scoring wine of the flight.  No one picked it as their best.  #8 overall.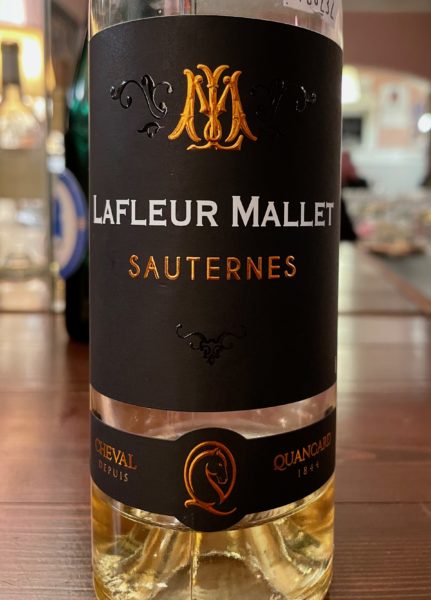 B. Lafleur Mallet                               2017               13.5%              $34.50
Orange marmalade dominated the nose.  A touch low in acid with pleasing fruit flavours on the palate.  #6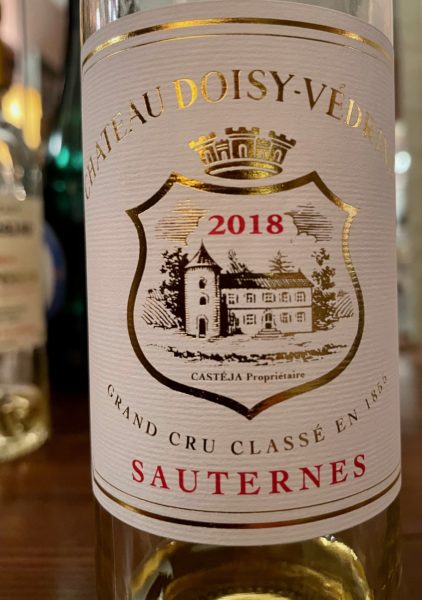 C. Chateau Doisy-Védrines              2018                13.5%              $57.50
Tree fruit, orange blossoms, honeysuckle, and menthol standing out on this one.  Sweet ripe fruit on the palate.  #5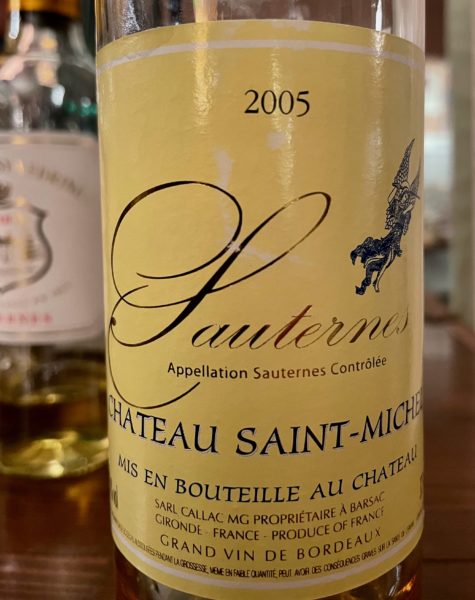 D. Chateau Saint-Michel                 2005                14%                 $44.84
Burnt orange, sponge toffee, cinnamon, and raisin aromas.  Well balanced.  It was clearly older than the previous wines.  Very good.  Three people had this as their lowest score.  #7 overall.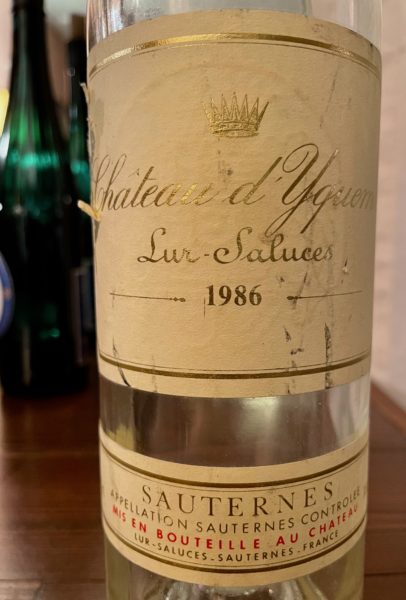 E. Chateau D' Yquem                        1986                NA                   NA
Rich apricot on the nose.  Some said they detected a note of iodine and a hint of smoke as well.  Not one of my top wines.  I was shocked to find out it was the Yquem.  Three people had this as their favourite.    Overall #3.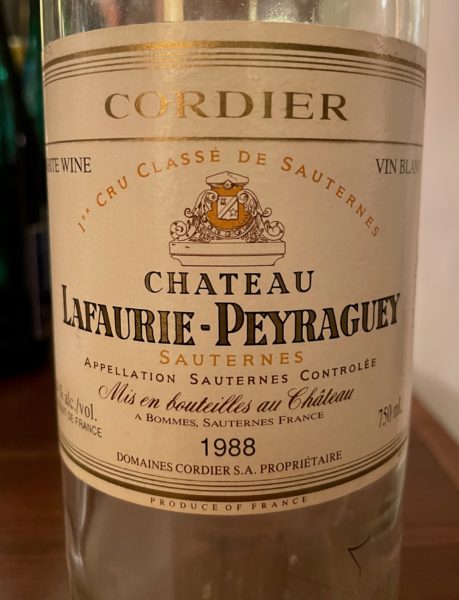 F. Chateau Lafaurie Peyraguey         1988             NA                  NA
Orange peel and cinnamon aromas.  Very good balance and a medium-long finish.  Very good.  High scoring for most people and three people had it as their favourite.  #1 by a slight margin.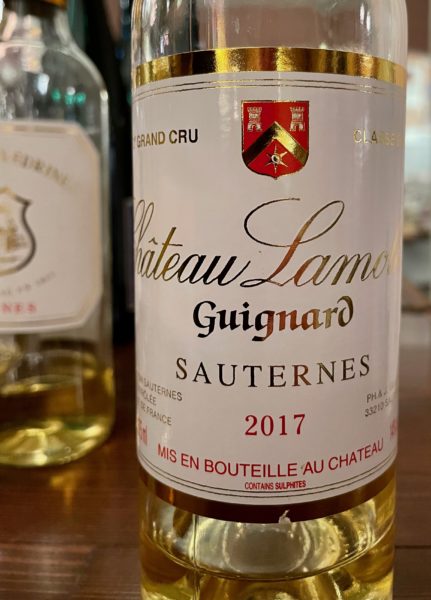 G.  Chateau Lamothe Guignard          2017             14%                 $34.50
The nose was intense, rich, layered and complex.  Honey and apricot topped the aromas.  Well balanced.  A long lingering finish.  My top wine.  High scores from all and two people's favourite.  #2 overall, but very close to #1.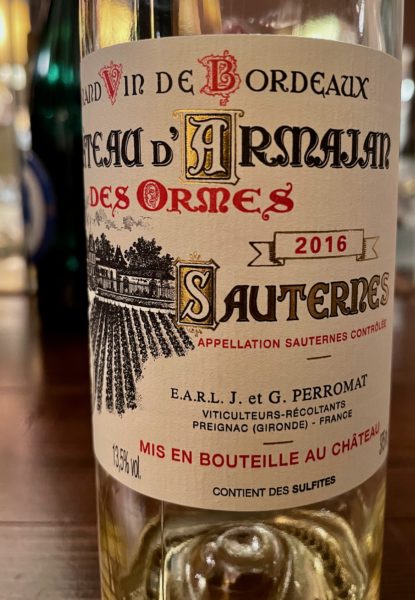 H. Chateau d' Armajan des Ormes 2016                13.5%                 $35.64
Apricot and peach aromas.  All good but I found it lacked the complexity shown by many of the others.  Middle of the pack for most people.  #4 overall.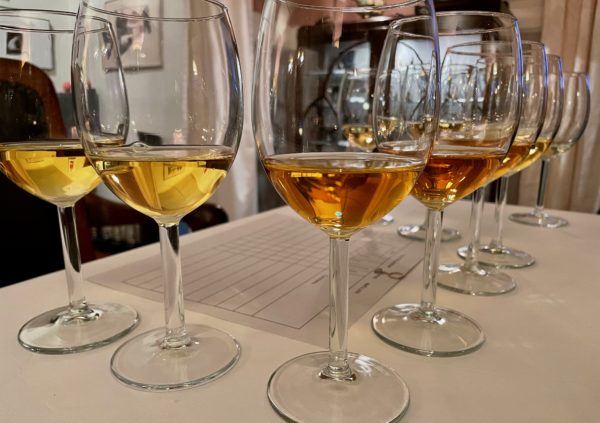 Sal had told us in advance to make sure we left enough wine in our glasses to enjoy with the desserts she had prepared, but before that she presented us with a blue cheese blind tasting.
Saint Agur – my favourite, very creamy
Castello Gorgonzola – my second favourite
Papillon Noir Roquefort – the most complex
Castello Classic Blue – the most gentle
A few of the wines that were at the bottom of my list for the tasting were all so much better with a bit of cheese to accompany them.  Sauternes with blue cheese is a delightful pairing.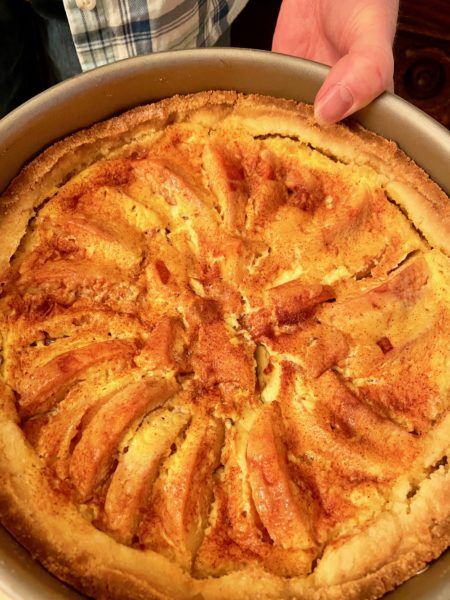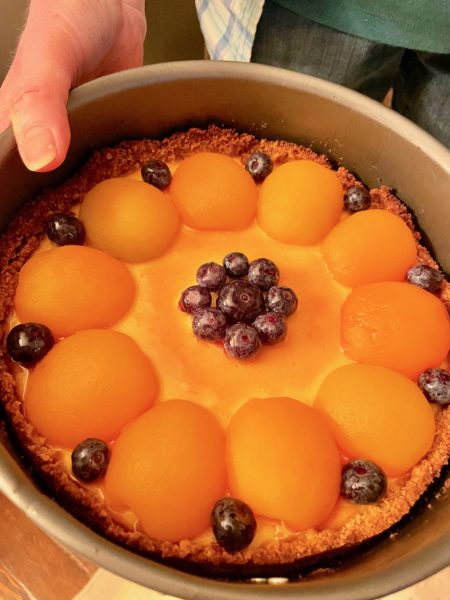 Sauternes should be served along with a not-too-sweet dessert or in place of dessert.  With this in mind, Sal opted for an Apfel Kuchen and a Cheesecake.  They both looked so delicious that I couldn't decide on one, so I had a small slice of each.  They were perfect accompaniments for the Sauternes.  As with the cheeses, the food and the wines complemented each other greatly.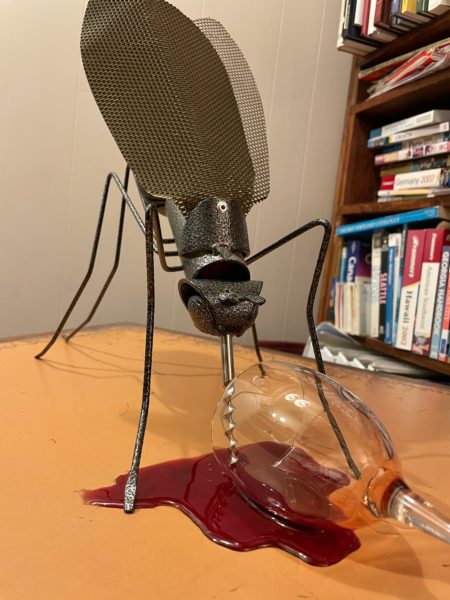 Wayne's monthly show and tell was this unique creation.  As he said, "Someone" made the mosquito corkscrew. I have never seen another one. I found the spilt wine glass and added it to the display. I named it the "Wineito".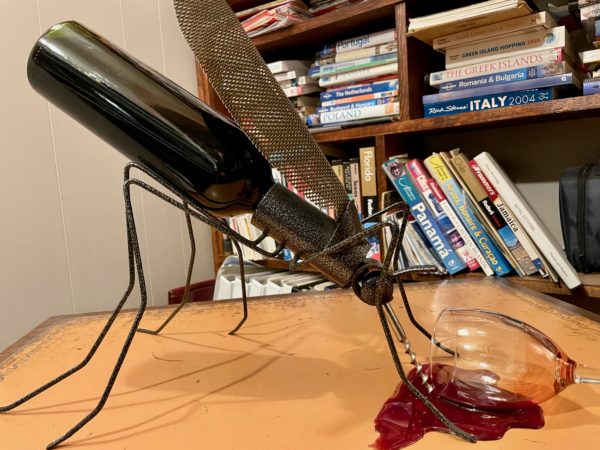 And here are some of Wanye's own special corkscrew creations: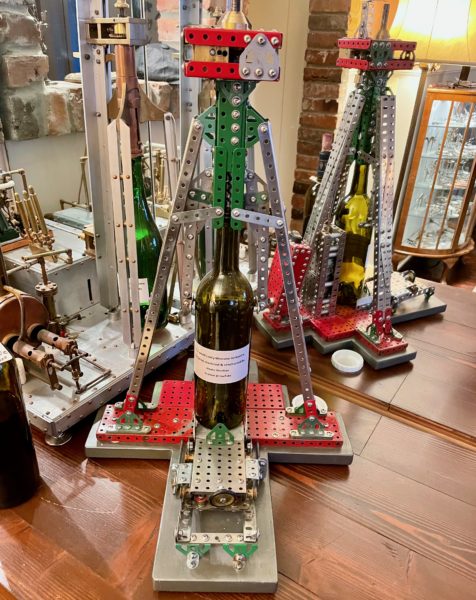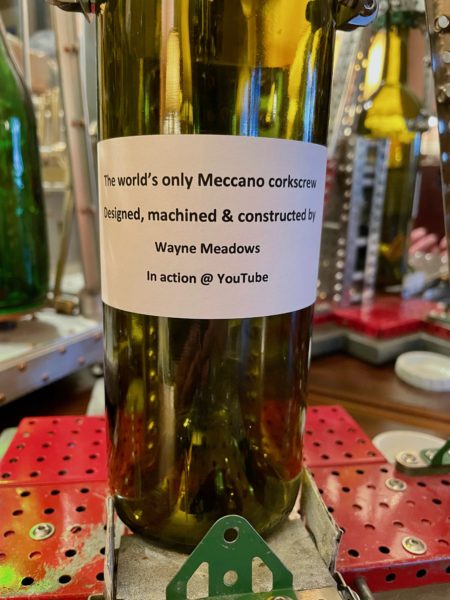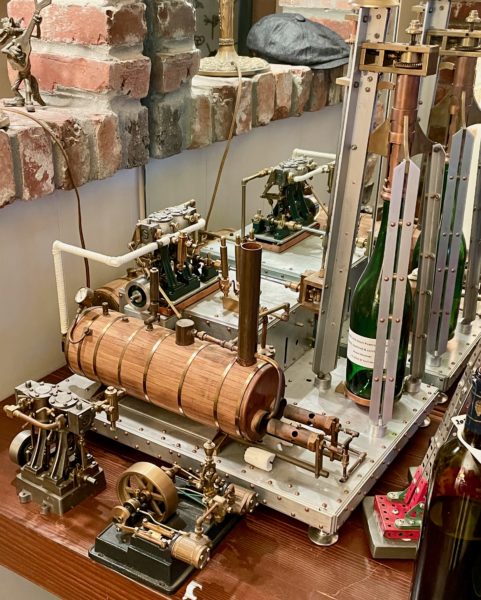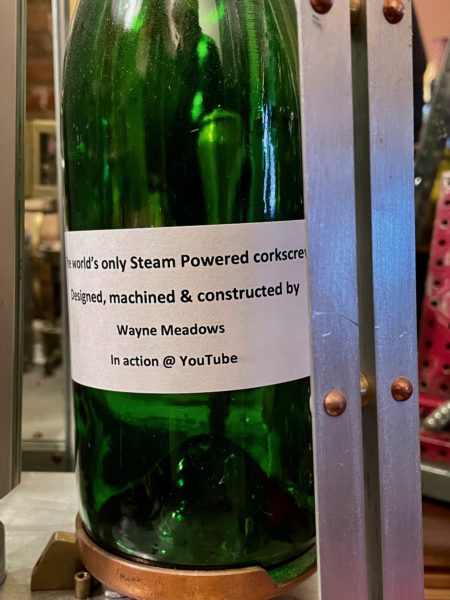 (All photos – Sam Hauck)